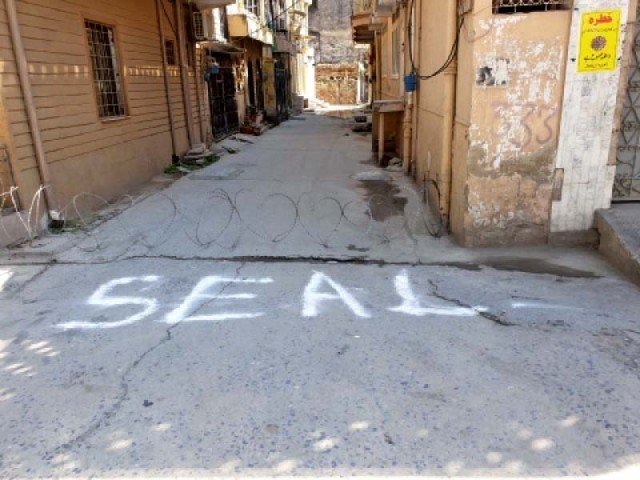 ---
LAHORE:
Following the lapse of the coronavirus restrictions notification and improvement in the situation on the ground, the district administration lifted smart lockdown from selected areas of the provincial capital on Wednesday.
On Tuesday, the provincial government had empowered the district administrations to decide about lifting smart lockdown as per local coronavirus situation, besides extending the strategy till July 15.
As the coronavirus situation improved after imposition of smart lockdown, the Lahore district administration removed the embargo from most areas except seven coronavirus hotspots, including Gulberg, Faisal Town, Garden Town, Model Town, Defence, Gulshan Ravi and the Walled City.
An official of the district administration said the government would re-evaluate the situation after three days to make any decision about lifting the smart lockdown from these areas. Field officials were instructed to remove obstacles erected during the lockdown period, after which life returned to normalcy for citizens in the opened areas.
However, as per Punjab Primary and Secondary Health Department directives, educational institutions, wedding and banquet halls, restaurants, public parks and cinema halls will remain closes, and no public gatherings are allowed across the province.
According to the latest government statistics, so far, 76,262 coronavirus cases have been reported in Punjab, of which 47,012 are active, and 27,488 patients have recovered. The figures show that 1,762 patients have lost the battle against the deadly virus.
The data shows that on average around 960 new coronavirus cases have been reported daily in the province during the past seven days. The highest number of cases surfaced in provincial capital at 11,463, and no recovery has been reported in the city during the past 24 hours.
The government has appealed to citizens to follow standard operating procedures (SOPs) devised for their safety. The government has warned citizens that coronavirus cases are on the rise in the country and pose a serious and imminent threat to public health. Social distancing and implementation of SOPs are necessary for reining in the highly contagious disease. Meanwhile, Lahore district administration launched a crackdown against violators of the SOPs across the metropolis.
A spokesperson for the administration highlighted that on directives of Lahore Deputy Commissioner Danish Afzal, field teams had imposed over Rs52,000 penalties on traders and transporters for violating various conditions of the SOPs.
Administration officials checked implementation of the SOPs at 1,285 spots in the metropolis and found violations at 99 points. They sealed 99 shops in the city and impounded 70 public transport vehicles for violating SOPs.
Afzal said field teams had been instructed to take strict action against violators. All shops and businesses flouting SOPs will be sealed, while transporters would face fines.
Published in The Express Tribune, July 2nd, 2020.