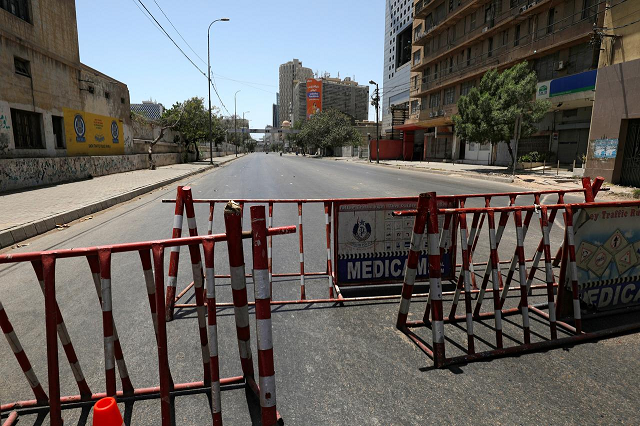 ---
LAHORE:
Punjab government has extended smart lockdown in the province till July 15 following an increase in the number of coronavirus cases in the province.
Punjab Primary and Secondary Healthcare Department, on Tuesday, issued an extension notification which will remain in force in the province till July 15. As per notification, educational institutions, wedding and banquet halls, restaurants, public parks and cinema halls will remain closed. Social and religious gatherings, sports activities will not be allowed during the smart lockdown period.
All business locations will remain open from Monday till Friday from 9am to 7pm. Medical stores, puncture shops, flour mills, tandoors, agricultural workshops will be allowed to remain open 24 hours a day.
As per details, call centres will be allowed to open with 50% staff while inter-district transport will be allowed to operate 24 hours a day. Grocery stores will be allowed to open all week, from 9am to 7pm. All churches will open for worship only on Sundays from 7am to 5pm.
No going back to another lockdown: PM
Earlier, the government imposed smart lockdown on June 15 which came to an end Tuesday night. The government noted that there had been an increase in the number of coronavirus cases in the province as well as in Pakistan which poses a serious and imminent threat to public health and public order.
Meanwhile, Punjab government had also empowered all deputy commissioners to make decisions about lifting smart lockdown after evaluating on ground situation of coronavirus in their respective districts.
The decision was made in a high-level meeting, held on Tuesday, to review strategy after ending smart lockdown in various districts of the province. The meeting was chaired by Senior Punjab Minister Abdul Aleem Khan and attended by Punjab Chief Secretary Jawwad Rafique Malik, Lahore Division Commissioner Saif Anjum, Lahore CCPO Zulfiqar Hameed and other senior officials. Punjab Police IG, divisional commissioners, regional police officers and deputy commissioners also joined in via video link.
The meeting also reviewed security situation in the province in backdrop of terrorist attack on Pakistan Stock Exchange in Karachi. It also reviewed supply and prices of essential commodities and essential lifesaving drugs in the province.
Following an end to the smart lockdown, the chief secretary highlighted that deputy commissioners will decide whether to continue or lift smart lockdown in affected areas while keeping in view the number of coronavirus cases in their districts.
He directed administrative officers to notify at least four pharmacies in their districts to ensure the availability of medicines used in the treatment of coronavirus disease. He stated that these notified pharmacies would operate round the clock and would be advertised in the media for public awareness, adding that in case of a high number of patients more than four pharmacies could be notified.
The provincial health secretary told meeting participants that there was no shortage of essential medicines in the province. The meeting also took notice of complaints about emergence of the black market of blood plasma and directed officials concerned to take stern action against this illegal and unethical sale of blood plasma.
Lockdown to collapse economy, warns Imran
The blood plasma or convalescent plasma was currently being trialed as a possible treatment for coronavirus disease in different countries, including Pakistan, as it contains antibodies developed by the immune system of people who had recovered from the virus.
Punjab IGP Shoaib Dastagir briefed the meeting participants about the law and order situation in the province. Additional force had been deployed at all sensitive buildings and places to avoid any untoward incident.
Published in The Express Tribune, July 1st, 2020.