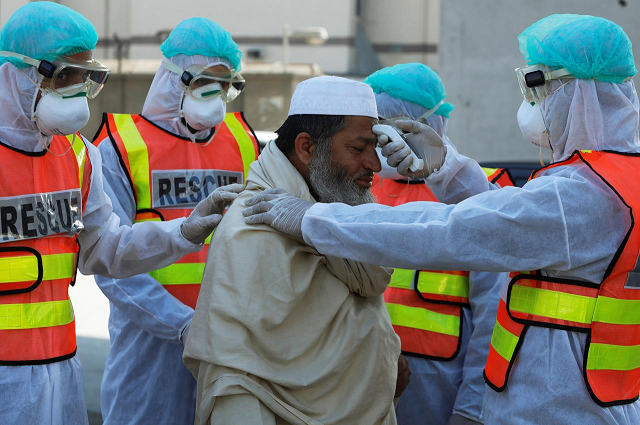 ---
LAHROE:
Some trainees deployed as coronavirus rescue paramedics at Covid-19 centres in government hospitals have been found involved in violation of discipline by absconding from duty to visit their families while on the way back to the Emergency Services Academy (ESA).
ESA Adjutant Dr Ali Imam said that after the outbreak, a standard procedure had been devised to ensure that no one would enter the academy or leave it except for joining duty at the coronavirus centres.
He maintained that the trainee workers were escorted to and from their duty points on a truck. "The purpose of the measures was to ensure the safety of the families of the cadets," he said.
He added that as the trainee officials were deployed at the coronavirus wards, there was a possibility that they might spread it after being infected.
The issue was reported on Monday after a trainee paramedic met an accident near the Doctors Hospital.
Over 3,000 Covid-19 patients critically ill in Pakistan
The victim has been identified as Emergency Medical Technician (EMT) Nasir. He was deputed at Mayo Hospital. Reportedly, on Friday, on his way back to the academy on the truck, he managed to escape and stayed at the house of a relative. Saturday was his day off.
On Monday, Nasir was going to the academy along with his brother on a motorbike when they were injured in an accident near Doctors Hospital. They were shifted to Jinnah Hospital, from where Nasir was released after treatment, while his brother was admitted as he had suffered serious injuries.
When the rescue authorities came to know about the issue, they looked into the matter and found that it was not an isolated incident, rather a large number of trainee workers were involved in absconding after returning from duty.
To probe into the matter further, an inquiry has been launched. In this regard, Emergency Officer Muhammad Hassan issued a hearing notice to Rizwan Arif and Naveed Aftab on Monday.
The respondents were summoned for the inquiry through the notice.
Published in The Express Tribune, July 1st, 2020.