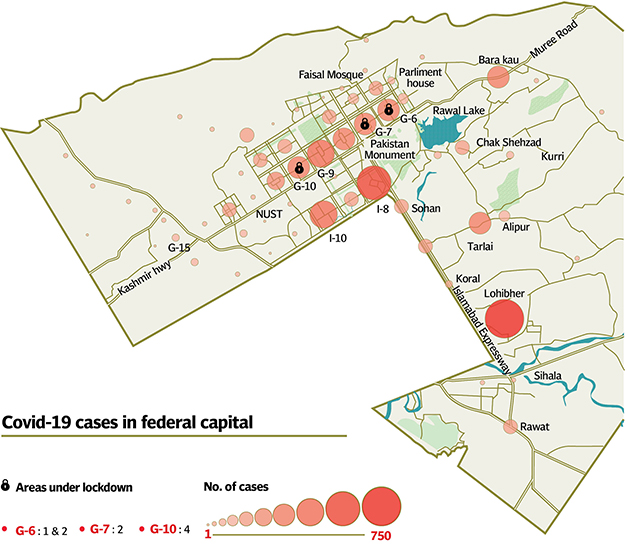 ---
ISLAMABAD:
The health services department of the federal capital has decided to conduct contact-tracing for the novel coronavirus (Covid-19) in the ignored slums of the federal capital even as the district administration decided to lift the 'smart lockdown' in two sub-sectors of Sector G-9.
Dr Hasan Orooj, the director-general of the Health Services Department of the Islamabad Metropolitan Corporation (IMC), on Sunday said that the slums of the federal capital are at high risk from infectious diseases. "Slum areas are where people are poor, [live in] compromised hygienic and poor health conditions [hence] are more at risk," Dr Orooj said.
Consequently, the health services chief said that it is important to survey the prevalence of the pandemic disease in these areas on the principles of equity.
Dr Orooj said that the health directorate has constituted teams under the supervision of Dr Iqbal and they will be facilitated by Kamran and Fazal Subhan in collecting samples for testing. Sample collection will commence from Masjid Taqweet-ul-Islam in 48 Quarters of Sector G-7/3 near the Capital Development Authority Aamm Saraey.
Lifting lockdown
Meanwhile, Islamabad Capital Territory (ICT) Administration Deputy Commissioner (DC) Hamza Shafqaat on Sunday ordered to immediately lift the smart lockdown from Sectors G-9/2 and G-9/3. A decision on reopening the commercial centre of the sector, Karachi Company, will be taken on June 29.
Through a notification, DC Shafqaat ordered the de-sealing of these localities after two weeks. Both areas were put under the 'smart lockdown' on June 13 after the emergence of a Covid-19 cluster there.
Even though the lockdown is being lifted, Shafqaat said that locals will have to follow all precautionary guidelines imposed in the city under Section 144 of the Criminal Procedure Code (CrPC). This includes wearing face masks while stepping outside and other standard operating procedures (SOPs) devised by the government.
Meanwhile, all roadblocks from the sector were removed on Sunday.