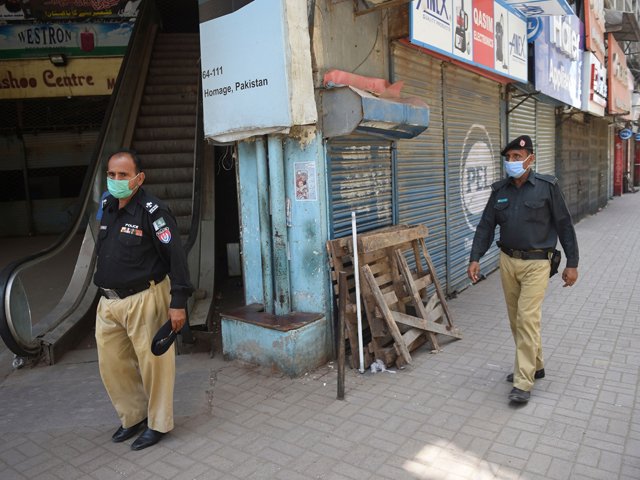 ---
FAISALABAD/ ISLAMABAD/ KARACHI/ PESHAWAR/ QUETTA/ MUZAFFARABAD: The novel coronavirus emerged in the central China city of Wuhan towards the end of last year and proliferated to almost the whole world within a couple of months. It's not the virulence or fatality, but the infectivity of the new virus – also known as SARS-CoV-2 – that has set off a global frenzy.

The Covid-19 respiratory illness caused by this mysterious contagion has so far infected more than 10 million people in 202 countries and territories of the world – and over 499,000 of them have died and counting.

Pakistan, despite its close proximity with China, remained coronavirus-free until February 26 when a young man from Karachi tested positive after returning from Iran – one of the worst-hit countries. After a brief hiatus following the first case, Covid-19 cases spiked as more pilgrims returning from Iran tested positive for the virus.

Nearly one-and-a-half months after imposing the lockdown across the country, Prime Minister Imran Khan announced to ease the lockdown in phases.

The nationwide tally of Covid-19 patients stands at 205,688 with 74,202 cases in Punjab, 80,446 in Sindh, 25,788 in Khyber-Pakhtunkhwa, 10,376 in Balochistan, 1,442 in Gilgit-Baltistan, 12,395 in Islamabad and 1,049 in Azad Jammu and Kashmir.

The virus has claimed at least 4,154 lives while around 93,703 coronavirus patients have recovered.

The situation remains fluid and we're updating stats as soon as new figures are officially released.

Follow The Express Tribune's live coverage of the pandemic here.




11:14pm: 19 more cases of Covid-19 bring G-B tally to 1,442

The Gilgit-Baltistan (G-B) government has confirmed another 19 cases of coronavirus to bring the region's tally to 1,442.

The virus has claimed 24 lives while 1,099 patients have recovered in the region so far.


District wise cases of Covid-19 in Gilgit-Baltistan pic.twitter.com/drfUTOSlC6

— Health Department Gilgit-Baltistan (@HealthDeptGB) June 28, 2020


10:45pm: 22 new cases raise AJK's coronavirus tally to 1,049

Azad Jammu and Kashmir (AJK) health officials have confirmed 22 new cases of Covid-19 to bring the state's tally to 1,049.

28 people have lost lives while 520 have recovered from the contagion so far. Active cases stand at 501.




10:30pm: Eight more deaths, 398 new cases of coronavirus reported in K-P

Health officials in Khyber-Pakhtunkhwa on Sunday said that eight more people have succumbed to Covid-19, bringing the province's death toll to 922.

Five deaths were reported from Peshawar, and one each in Buner, Hangu and Charsadda.

They also confirmed 398 news cases including 43 through international flightsta to bring the total to 25,778.

199 more patients recovered, taking tally to 12,348. 145,410 total tests have been conducted in the province so far.


398 news cases confirmed (43 Int'l flights) taking total to 25,778. 8 more lives were lost (5 Peshawar, 1 each in Buner, Hangu, Charsadda) taking total to 922. 199 patients recovered taking tally to 12,348. 145,410 total tests conducted in KP. @Jhagra pic.twitter.com/NOWtJotKhR

— Health Department KP (@HealthKPGovt) June 28, 2020


10:20pm: Two more die of Covid-19 as 115 new cases raise Balochistan tally to 10,376

Balochistan health department has confirmed two more casualties due to coronavirus in the past 24 hours to bring the provincial death toll to 116.

It also reported 115 new cases to raise the province's count to 10,376. 3,939 patients have recovered so far.




6:30pm: Smart lockdown brings down daily virus count from 771 to 189 in Islamabad hotspots

Islamabad Deputy Commissioner Hamza Shafqaat has said that the policy of locking down selective coronavirus hotspots has helped flattening the curve, bringing down the daily cases count from 771 to 189 in 14 days.

Taking to Twitter, he said Sector I-8/3, I-8/4, I-10/1 and I-10/2 of the federal capital will soon be reopened.


After completion of 14 days Sector I-8/3, I-8/4, I-10/1 and I-10/2 will also be opened in sha Allah. The policy of locking down sectors may not eradicate the diseases completely but it surely is flattening the curve. Brought down the daily cases count from 771 to 189 today ✅🇵🇰 pic.twitter.com/vNi5jeoVJN

— Muhammed Hamza Shafqaat (@hamzashafqaat) June 28, 2020


5:50pm: Sindh reports 26 more deaths, 2,179 new coronavirus cases

Sindh Chief Minister Murad Ali Shah has confirmed 26 more casualties due to Covid-19 in the past 24 hours to bring the provincial death toll to 1,269. He said 2,179 new cases were also reported from across the province to raise its tally to 80,446.

44,523 patients have recovered while the number of active cases stands at 33,110 in the province.




4:30pm: 'Reduction in daily tally owed to less number of tests'

Addressing a joint press conference, president of Pakistan Islamic Medical Association (PIMA) Prof Muhammad Afzal Mian claimed that the reduction in the daily tally was not owing to an actual reduction in number of cases, but was correlated with the less number of tests being conducted by the government on a daily basis.

The press conference was jointly held by PIMA, Pakistan Medical Association and Young Doctors Association in Lahore.

He appreciated the government's efforts, especially of the fixing the price of tests, but called for a further reduction in the price as it was still too expensive.

However, the professor called upon the state to put in more efforts to control the spread of the pandemic, such as implementing it's own laws regarding lockdowns being taken seriously and citizens wearing masks.




3:30pm: PTI to run social media Covid-19 awareness campaign tonight

The Pakistan Tehreek-e-Insaf announced running a social media campaign regarding Covid-19 awareness on Sunday, 7pm, on its official Twitter account.

The purpose of the campaign was to encourage people to follow SOPs in order to save lives.


Dear Pakistanis, we are going to run a campaign on #Covid19 awareness at 7pm on Sunday June 28. The hashtag will be shared on @PTIOfficial twitter account at 7pm. Big motivation for the campaign is to save lives by spreading awareness and encourage people to follow SOPs

— PTI (@PTIofficial) June 28, 2020


2:30pm: Capacity to admit Covid-19 patients in public sector hospitals to be enhanced in K-P

Adviser to Khyber-Pakthunkhwa (K-P) chief minister Ajmal Wazir said the provincial government is working to enhance the capacity to admit Covid-19 patients in public sector hospitals.

Addressing a media briefing in Peshawar, the adviser said the premier is taking steps to resolve challenges faced by the country.
1:40pm: HEC announces Certification from Home Platform for Microsoft Certifications across Pakistan

Pakistan has joined the league of some of the top countries of the world by providing a Certification from Home Platform for Microsoft Certifications for its students.

An agreement was reached between the Higher Education Commission (HEC) of Pakistan and Microsoft to provide this certification free of cost to the first 2,000 students who register for the opportunity.

The certification platform has been launched to provide students with a prescribed curriculum roadmap, a kind of a blueprint for technology skill development and certification.

The initiative was dubbed as a major step not only for bridging the gap between education and employment, but also for helping students acquire professional skills while they have more time amid the pandemic.


1:05pm: CPEC chairman says Covid-19 can only be contained by following SOPs, implementing smart lockdown

China-Pakistan Economic Corridor (CPEC) Chairman Lt Gen Asim Saleem Bajwa said balancing life and livelihood has been the main focus, since the disease first emerged.

The chairman took to microblogging website Twitter and said the pandemic can only be contained by following SOPs and implementing smart lockdown.

He said the nation showed remarkable improvement by wearing face masks and maintaining social distance.

Balancing life & livelihood has been prime focus since start of the disease spread.Key to fighting this pandemic has been to contain disease through smart lockdown downs&adherence to SOPs.Our nation adapted/shown remarkable improvement in wearing masks/social distancing https://t.co/Myhq2BMekU

— Asim Saleem Bajwa (@AsimSBajwa) June 28, 2020
12:50pm: Dr Shahbaz Gill conveys PM's message of appreciation to healthcare workers at District Hospital, Rahim Yar Khan

Special Assistant to the Prime Minister on Political Communication Dr Shahbaz Gill conveyed the prime minister's message of appreciation to doctors, nurses and paramedics at District Hospital in Rahim Yar Khan.

He told the healthcare workers that Pakistan and Prime Minister Imran Khan appreciate their work, fighting on the frontline against Covid-19 and reiterated the commitment to follow SOPs issued by the government to mitigate the spread of the virus.

رحیم یار خان کہ ڈسٹرکٹ ہسپتال میں ڈاکٹرز نرسز اور طبی عملے کو وزیراعظم پاکستان عمران خان کی طرف سے پھول اور شکریہ کا پیغام دیا۔آپ ہمارے ہیرو ہیں کیونکہ آپ فرنٹ لائن پر لڑ کر ہم سب کی زندگی بچا رہے ہی۔وزیراعظم اور پوری قوم آپکو سلام پیش کرتی ہے اور ہم SOPs پر عمل کا عہد کرتے ہیں pic.twitter.com/JdMpw3TB1F

— Dr. Shahbaz GiLL (@SHABAZGIL) June 28, 2020
12:40pm: Smart lockdown implemented in eight more areas of Rawalpindi 

In order to control the epidemic in Rawalpindi, the administration has decided to implement a smart lockdown in eight more hotspot areas.

According to a notification issued by the deputy commissioner's office, eight different areas will be sealed for the next 10 days, effective from June 30.

Smart lockdown is already underway in 22 areas of Rawalpindi.


12:30pm: Lahore police taking action to ensure ban on bathing in canals

Lahore police are taking necessary measures to ensure ban on bathing in canals.

Deputy Inspector General of Police (DIG) Ashfaq Ahmad Khan said citizens are being reportedly informed about the ban and have been requested to avoid violating government orders.

He said special teams of police are patrolling along canals and have sent citizens back home for attempting to bathe in them.


12:20pm: Challan tickets issued to 72,194 vehicles in Lahore

Eight joint teams of district government and traffic police have been formed to carry out proceedings against drivers without face masks.

Lahore Chief Traffic Officer (CTO) Syed Hammad Abid said challan tickets were issued to 72,194 vehicles - 56,938 motorcycles and 7,324 cars during the crackdown.

Challan tickets were issued to 7,832 public transport vehicles for violating standard operating procedures (SOPs) issued by the government.


12:15pm: First batch of ventilators manufactured in Pakistan to be delivered to NDMA

Federal Minister for Science and Technology Fawad Chaudhry said the first batch of ventilators manufactured in Pakistan will be delivered to the National Disaster Management Authority (NDMA) this week.

He said the next three designs are also in their final stages, after which Pakistan will be among the few countries in the world that manufacture complex medical machines, in accordance with European Union (EU) standards.

الحمدللہ #MadeInPakistan #ventilators کی پہلی کھیپ NDMA کو اس ہفتے حوالے ہو جائیگی، #NRTC کو بہت مبارک اگلے تین ڈیزائن بھی آخری مراحل میں ہیں جس کے بعد ہم دنیا کے ان چند ممالک میں شامل ہوں گے جو پیچیدہ میڈیکل مشینیں بناتے ہیں، یہ تمام مشینیں EU Standards کے مطابق ہیں

— Ch Fawad Hussain (@fawadchaudhry) June 28, 2020
11:40am: Punjab reports 1,322 new cases

Punjab health authorities reported 1,322 new cases, raising the provincial tally to 74,202.

17 more persons succumbed to the virus as Punjab's death toll reached 1,673.


10:30am: PIA's 7th special flight to repatriate citizens from US

A special flight of the Pakistan International Airlines (PIA) will repatriate more Pakistani citizens stuck in the US owing to the pandemic.

Flight PK-9277 will reach the Lahore airport today in the evening.

Pakistan's consul general in New York, Aisha Ali, said the consulate and the Pakistani government will facilitate the country's citizens in every way.




10:00am: PM Imran says his team first to enforce 'smart lockdown'

Sharing a Bloomberg article on 'smart lockdowns' being the future of Europe in a tweet, Prime Minister Imran Khan took pride in his team for coming up with the idea of 'smart lockdowns'.

The premier said if Pakistan continues to follow standard operating procedures (SOPs), the country will successfully tackle the crisis.


My team was amongst the first to enforce smart lockdowns. I am proud of it for helping me continue to navigate our country through the Covid19 crisis. InshaAllah, from now onwards if we follow SOPs we will see off the worst of this crisis.https://t.co/xC3kBWdxo3

— Imran Khan (@ImranKhanPTI) June 28, 2020


9:15am: Around 83 more people succumb to the virus in a day

According to the National Command and Control Centre's fresh updates, 83 more people succumbed to coronavirus in the last 24 hours as the country's Covid-19 death toll reached 4,118.




9:00am: Pakistan records 4,072 fresh cases in 24 hours

According to the government portal, the country recorded a total of 4,072 new cases in 24 hours, taking the total tally to 202,955.

The number of tests carried out in a day was recorded at 25,013.