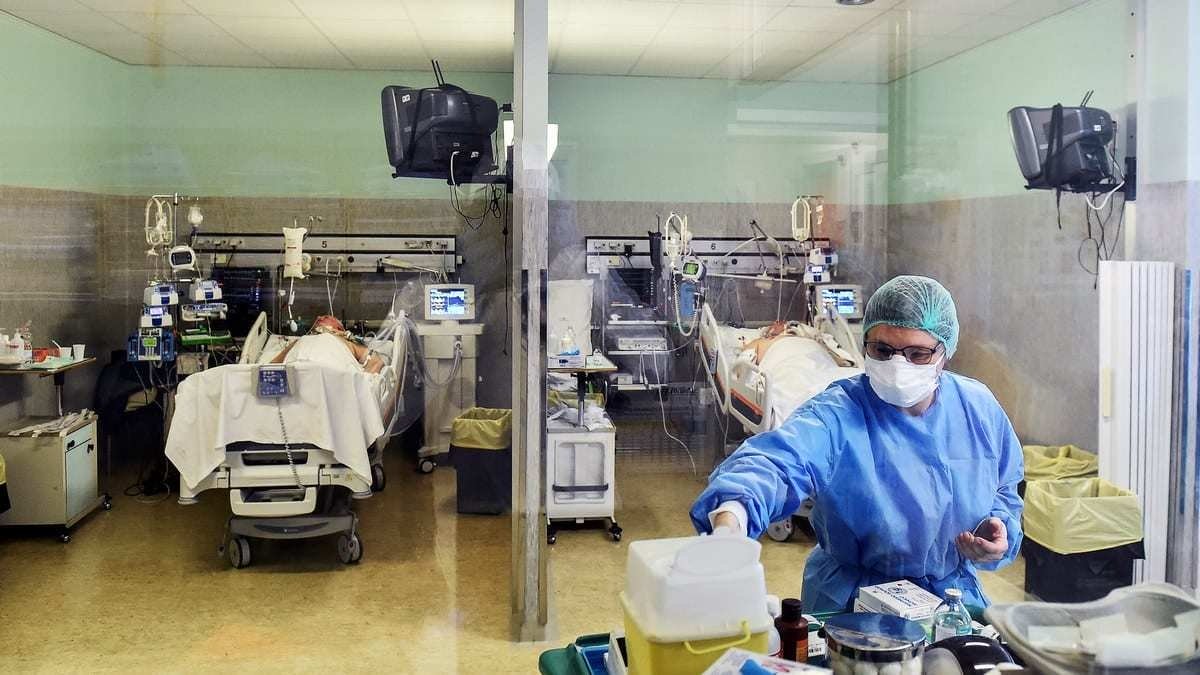 ---
Covid-19: Life on the frontline
Doctors deal with death, disdain, fear, separation
---
KARACHI: Sorry, he is no more.

Dr Amna Zubia, 25, a house officer volunteering at a field isolation centre in Karachi, whispered the words. And yet, they rang loud for her and for the trembling man she was addressing.

It took some time to sink in and then there was chaos, mayhem, cries. As the man broke down, right there in the intensive care unit ward, an attendant rushed in to make futile attempts at consoling him.

Then silence, helplessness and submission prevailed. The man resigned himself to the fact that his brother had fallen prey to the deadly coronavirus and now a greater ordeal awaited him. He had to be the bearer of the tragic news to the widow, at home with her newborn child.

It was just a day after Eid and the air in the isolation facility was sombre. For Dr Zubia, it was the toughest day since she began her house job.

"This was the third time today I had to tell a person of his loved one passing away," she sounded exhausted. "The first death was of an elderly woman aged above 60. I found out as soon as I reached the hospital in the morning," she said. "I would often ask her about her health and she would always say 'I am fine, beta [my child].'"

The next was a man in his mid-50s.

"His daughter couldn't believe that her father was no more and putting all precautions aside, I couldn't help but hug her out of empathy," narrated Dr Zubia.

She had been working at a private hospital after graduating in 2019 when she decided to volunteer at the isolation centre and took two weeks off work. Her husband, Dr Amin Imran, and one of her colleagues, Dr Kumail, too, volunteered along with her.

Since then, she said, she had been either sleepless at night or had nightmares, of people dying helplessly, dreary ICUs, hospital corridors and people crying.

And the next morning, when Dr Zubia wakes up, the nightmares await her at work, where she often seeks seclusion, a breather from the misery surrounding her. But on her return home, it all comes rushing back and she cries in solitude.

Waiting for it to sink in

According to Dr Imran, when they joined the hospital after two weeks of volunteering, everything had changed.

"Most wards housed coronavirus patients," he said. "Now we witness pain every day, with patients dying in our hands. We see the panic preceding the last breath and yet, many still fail to realise the gravity of the situation."

He related that one of the bereaved had told him that he never believed the virus existed until his father fell prey to it. But then, it was too late.

Saying that the sudden escalation in the pandemic was a result of carelessness during Eid and Ramazan, he said, "We can only plead to people to take the matter seriously. Their reckless attitude puts doctors' life at stake too, but we continued to serve on the frontline."

In the line of duty. But it is not easy.

According to Dr Kumail, life has changed drastically for him and many others on the forefront of the battle against the coronavirus.

"There is anxiety, there is adrenaline and everything seems to be moving too fast," he said, adding that doctors were carrying the weight of a humungous responsibility. "We wear three layers of personal protective equipment, a face shield, goggles and a tight mask for nine straight hours. We are putting our lives at risk. And yet, we find ourselves at the centre of people's wrath and conspiracy theories."

In his eyes, the role of doctors at this time was similar to that of soldiers. "But unlike soldiers, we lack public support. When we look back, it is mostly just our families standing behind us."

Speaking along similar lines, Dr Imran said, "For the past three months, we have had to distance ourselves from our families, thinking of their wellbeing."

Dr Kumail, too, told The Express Tribune that he had hardly met his parents over the past three months. "I try to go home late at night when they are asleep and leave early morning. I have begun to miss the taste of food cooked by my mother," he sighed, distressed.

But what choice are they left with?

As Dr Kumail said, "Dar lagta hai, bhai. Hamari bhi families hain." [We are scared. We, too, have families.]

Published in The Express Tribune, June 28th, 2020.