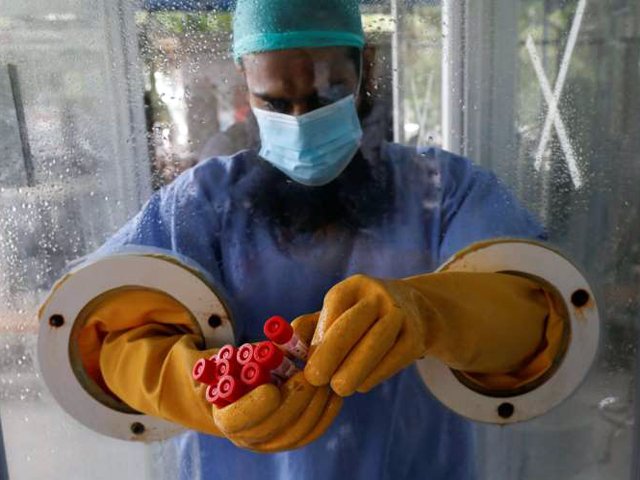 ---
FAISALABAD/ ISLAMABAD/ KARACHI/ PESHAWAR/ QUETTA/ MUZAFFARABAD: The novel coronavirus emerged in the central China city of Wuhan towards the end of last year and proliferated to almost the whole world within a couple of months. It's not the virulence or fatality, but the infectivity of the new virus – also known as SARS-CoV-2 – that has set off a global frenzy.

The Covid-19 respiratory illness caused by this mysterious contagion has so far infected more than 9.7 million people in 202 countries and territories of the world – and over 493,000 of them have died and counting.

Pakistan, despite its close proximity with China, remained coronavirus-free until February 26 when a young man from Karachi tested positive after returning from Iran – one of the worst-hit countries. After a brief hiatus following the first case, Covid-19 cases spiked as more pilgrims returning from Iran tested positive for the virus.

Nearly one-and-a-half months after imposing the lockdown across the country, Prime Minister Imran Khan announced to ease the lockdown in phases.

The nationwide tally of Covid-19 patients stands at 201,444 with 72,880 cases in Punjab, 78,267 in Sindh, 25,380 in Khyber-Pakhtunkhwa, 10,261 in Balochistan, 1,423 in Gilgit-Baltistan, 12,206 in Islamabad and 1,027 in Azad Jammu and Kashmir.

The virus has claimed at least 4,099 lives while around 88,358 coronavirus patients have recovered.

The situation remains fluid and we're updating stats as soon as new figures are officially released.

Follow The Express Tribune's live coverage of the pandemic here.




12:40am: 24 fresh Covid-19 cases bring AJK tally to 1,027

Health officials in Azad Jammu and Kashmir (AJK) have confirmed another 24 coronavirus cases to takle the state's tally to 1,027.

The virus has claimed 28 lives while 465 patients have recovered in the region so far. Active cases stand at 534.




12:00am: 'Cattle markets may worsen Covid-19 spread'

Cattle markets for the sale of sacrificial animals ahead of Eidul Azha will create the risk of rapid spread of the coronavirus, warned Sindh Health Minister Dr Azra Fazal Pechuho.

In a video statement issued on Saturday, the minister highlighted the likelihood of an increase in Covid-19 cases due to the absence of appropriate measures to contain the pandemic. "Cases will also rise as a result of greater interaction between people at Eidul Azha," she opined.

Read more here




11:03pm: G-B reports six new Covid-19 cases with one more fatality

The number of Covid-19 cases in Gilgit-Baltistan (G-B) reached 1,423 on Saturday with the addition of six new infections.

The region's health department said one more patient succumbed to the coronavirus, bringing death toll to 24.

It added that as many as 1,062 infected patients have recovered so far.




9:45pm: Balochistan reports one more death, 145 new cases of coronavirus

The Balochistan health department on Saturday reported another 145 Covid-19 cases, bringing the total number to 10,261.

With one more fatality, the coronavirus death toll has reached 114 in the province while 3,810 patients have recovered so far, said the health department in a statement.




9:00pm: Sindh nears 80,000 Covid-19 cases

As many as 1,949 fresh coronavirus cases were reported in the province overnight, shared Sindh Chief Minister Murad Ali Shah on Saturday, adding that the contagious disease had claimed 38 more lives, taking the death toll to 1,243

The CM apprised that 11,901 samples were screened for the virus on the day, of which 22 per cent tested positive, lifting the total number of infections in Sindh to 78,267.

Read more here




8:44pm: NCOC observes decline in Covid-19 testing due to 'dip in demand'

The National Command and Control Center (NCOC) has observed a decline in the number of Covid-19 testing across the country particularly in Sindh and Punjab.

This was revealed in a meeting of NCOC on Saturday headed by Planing Minster Asad Umar to review the overall Covid-19 situation including the implementation of smart lockdown in the virus hotspots, according to an official statement.

Read more here




8:00pm: K-P reports 24 more Covid-19 deaths, 437 new cases

Khyber-Pakhtunkhwa on Saturday reported 437 new Covid-19 cases, taking the tally to 25,380.

According to provincial health officials, as many as 24 people lost their lives during the last 24 hours as the death total soared to 914.

They further said that 345 more patients recovered from the deadly disease, taking the total to 12,149 in the province.


437 new cases confirmed (2 Int'l flights) taking the total to 25,380. 24 more lives were lost (10 Peshawar, 4 Nowshera, 2 Swat, 1 each in Mardan, Swabi, Haripur, Dir Lower, Bajaur, Bannu, Kohat, Kurram) taking total to 914. 345 patients recovered taking tally to 12,149. pic.twitter.com/Ltv63m9lCx

— Health Department KP (@HealthKPGovt) June 27, 2020


6:40pm: Karachi administration restricts sale of sacrificial animals amid pandemic

As the coronavirus continues to spread in Karachi, the city's administration has sought the services of prominent welfare organisations for Eidul Azha.

A meeting of representatives of welfare organisations was held under the chairmanship of Karachi Commissioner Iftikhar Shallwani on Saturday.

It was decided that the bookings of sacrificial animals will be made online or at the centres of welfare organisations including Edhi Foundation, Chhipa Welfare Association, Saylani Welfare Trust, Al-Khidmat Foundation and others.

It was decided that the meat of sacrificial animals would be delivered door-to-door or at the centres of aforementioned organisations.

On the occasion, Shallwani urged other organisations to come forward and cooperate with the administration in this noble cause, adding that it would not only help efforts to curb coronavirus but would also keep the city clean.




3:15pm: 1,949 new cases reported in Sindh

As many as 11,901 were conducted in the past 24 hours out of which 1,949 have tested positive. The provincial tally now stands at 78,267.

38 deaths were reported in Sindh taking the provincial tally to 1,243.

A total of 1,452 patients recovered from the virus in the past 24 hours.


2:30pm: Balochistan government spokesperson Liaquat Shahwani addresses the media
#Live: Liaquat Shahwani, Spokesperson of the Govt of #Balochistan briefs media in #Quetta. #TogetherWeCan #COVID19Pandemic #COVID__19 #CoronavirusPandemic https://t.co/ln9CZKXovv

— Radio Pakistan (@RadioPakistan) June 27, 2020
12:50pm: '30,000 doctors, nurses have been trained under 'We Care' programme'

Special Assistant to the Prime Minister on National Health Services Dr Zafar Mirza said 30,000 doctors, nurses and paramedics have been trained under the 'We Care' training programme.

Under this programme, special doctors are providing healthcare workers with free training on the proper use of personal protective equipment.

The special assistant said the welfare and safety of healthcare workers is the government's top priority.

3,500 doctors and paramedics from Azad Jammu and Kashmir, Gilgit-Baltistan and Islamabad have been trained under this programme.

In addition, 9,700 from Islamabad, 6,500 from Punjab and 8,700 from Sindh have completed the training.

Over 1,600 from Balochistan also completed the training programme.

Thousands of healthcare workers from across the country have registered to participate in this training programme.


12:00pm: IHC establishes e-court system

The Islamabad High Court (IHC) has established an e-court system and lawyers have received Skype facility for arguing cases.

The circular said that the learned counsels must observe dress code and provide a Skype ID with an alternative ID.

Government departments may also avail the e-court facility and appoint focal persons, the circular said.

In addition, neither party of the court can record the proceedings of the e-court through any device.


11:10am: Another doctor in K-P dies due to Covid-19

Another doctor in Khyber-Pakhtunkhwa, Dr Naseer Ghazi passed away after contracting Covid-19.

He was undergoing treatment at the Teaching Hospital, Abbottabad and was in critical condition.

K-P health authorities said the total number of doctors who have succumbed to the virus in the province has risen to 12, and over 450 have contracted the deadly disease.


10:40am: Pakistan to reopen Kartarpur Corridor on June 29

Foreign Minister Shah Mahmood Qureshi said Pakistan is preparing to reopen the Kartarpur Sahib Corridor for all Sikh pilgrims on June 29, 2020 - the occasion of the death anniversary of Maharaja Ranjeet Singh.

As places of worship open up across the world, Pakistan prepares to reopen the Kartarpur Sahib Corridor for all Sikh pilgrims, conveying to the Indian side our readiness to reopen the corridor on 29 June 2020, the occasion of the death anniversary of Maharaja Ranjeet Singh.

— Shah Mahmood Qureshi (@SMQureshiPTI) June 27, 2020
10:15am: Shops, markets in Lahore to remain closed today, tomorrow

Capital City Police Officer (CCPO) Lahore Zulfiqar Hameed said shops and markets across the city will remain closed today and tomorrow.

He has directed divisional officers to ensure strict implementation of standard operating procedures (SOPs) issued by the government to mitigate the spread of the virus.

The capital city police officer maintained that violators of government guidelines should be dealt with.

Movement will not be allowed in 40 hotspot areas of seven specific areas, he added.

1,047 cases have been registered for violating SOPs in the city. Police have inspected over 42,250 shops and 1,500 bazaars.

29,872 shopkeepers were fined for minor violations.


9:40am: Govt to refund Hajj intending pilgrims 

The government has made the decision to refund Hajj intending pilgrims from Thursday.

According to the spokesperson of the Ministry of Religious Affairs, the decision has been taken in light of an initiative of the Saudi government about Hajj this year.

The spokesperson said the amount will be refunded through scheduled banks, adding that applicants must come in person to collect the amount in cash.

In case of any difficulty in the refund process, the spokesperson said applicants can contact the accounts officer refund on 0519208465.


9:05am: Shibli Faraz says govt reduced petroleum prices due to citizens affected by pandemic

Federal Minister for Information and Broadcasting Shibli Faraz said the virus has affected economies around the world. However, there has not been an increase in the price of petroleum products in other countries.

The minister underscored that the federal government must provide relief to citizens affected by the pandemic, thereby reducing petroleum prices.

کروناوباءنے دنیا بھر کی معیشتوں کو متاثر کیا۔بین الاقوامی سطح پر پٹرولیم مصنوعات کی قیمتوں میں ایسااضافہ نہیں دیکھا۔اسی وجہ سے قیمتوں میں نظرثانی کرنا پڑی۔تاہم خطے کے دیگر ممالک کی نسبت پاکستان میں کم اضافہ ہوا۔عوام کی فلاح پہلی ترجیح ہے،انہیں ریلیف دینے کی کوشش کرتے رہیں گے۔

— Senator Shibli Faraz (@shiblifaraz) June 27, 2020
8:20am: Nationwide tally stands at 198,883

The National Command and Operation Centre (NCOC) said the nationwide tally stands at 198,883 cases.

Over 3,000 persons tested positive for Covid-19 in the last 24 hours, while 74 persons succumbed to the contagion.

Pakistan's death toll has reached 4,035 lives, while at least 86,906 patients have recovered from Covid-19.

21,033 tests have been conducted during the last 24-hour period.


8:00am: Former Sindh minister dies of Covid-19

Haji Munawar Ali Abbasi, former Pakistan Peoples Party (PPP) leader and provincial minister in Sindh, has passed away due to Covid-19 in Karachi.

Abbasi, who had later joined Grand Democratic Alliance (GDA), was a close aide of late Benazir Bhutto. He was father of Moazam Abbasi, who recently defeated PPP's Jameel Soomro in a by-election from Larkana.

Governor Imran Ismail, Sindh Education Minister Saeed Ghani and GDA's parliamentary leader Hasnain Mirza among other politicians expressed grief over the demise of Munawar Abbasi.