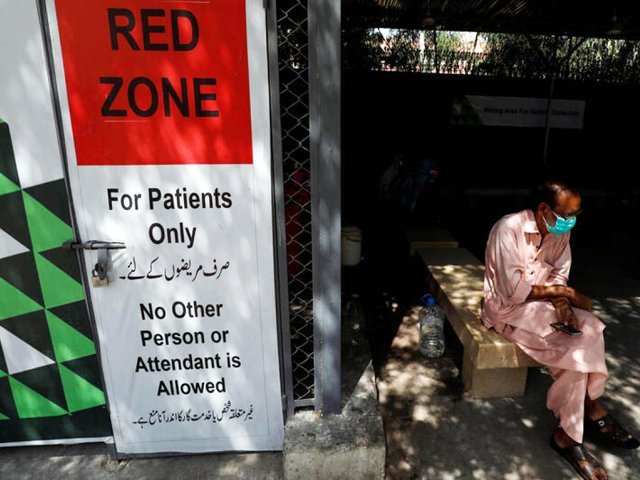 ---
ISLAMABAD / KARACHI / PESHAWAR / LAHORE / QUETTA / MUZAFFARABAD: The novel coronavirus emerged in the central China city of Wuhan towards the end of last year and proliferated to almost the whole world within a couple of months. It's not the virulence or fatality, but the infectivity of the new virus – also known as SARS-CoV-2 – that has set off a global frenzy.

The Covid-19 respiratory illness caused by this mysterious contagion has so far infected more than 9.6 million people in 202 countries and territories of the world – and over 490,000 of them have died and counting.

Pakistan, despite its close proximity with China, remained coronavirus-free until February 26 when a young man from Karachi tested positive after returning from Iran – one of the worst-hit countries. After a brief hiatus following the first case, Covid-19 cases spiked as more pilgrims returning from Iran tested positive for the virus.

Nearly one-and-a-half months after imposing the lockdown across the country, Prime Minister Imran Khan announced to ease the lockdown in phases.

The nationwide tally of Covid-19 patients stands at 197,705 with 71,987 cases in Punjab, 76,318 in Sindh, 24,943 in Khyber-Pakhtunkhwa, 10,116 in Balochistan, 1,398 in Gilgit-Baltistan, 11,981 in Islamabad and 962 in Azad Jammu and Kashmir.

The virus has claimed at least 4,004 lives while around 85,420coronavirus patients have recovered.

The situation remains fluid and we're updating stats as soon as new figures are officially released.

Follow The Express Tribune's live coverage of the pandemic here.








10:15pm: Former Sindh minister dies of Covid-19

Haji Munawar Ali Abbasi, former Pakistan Peoples Party (PPP) leader and provincial minister in Sindh, has passed away due to Covid-19 in Karachi.

Abbasi, who had later joined Grand Democratic Alliance (GDA), was a close aide of later Benazir Bhutto. He was father of Moazam Abbasi, who recently defeated PPP's Jameel Soomro in a by-election from Larkana.

Governor Imran Ismail, Sindh Education Minister Saeed Ghani and GDA's parliamentary leader Hasnain Mirza among other politicians expressed grief over the demise of Munawar Abbasi.


Read more here


10:00pm: K-P Speaker Mushtaq Ghani recovers from Covid-19

Khyber-Pakhtunkhwa Assembly Speaker Mushtaq Ghani has recovered from coronavirus disease, two weeks after testing positive for the highly contagious respiratory illness.

His daughter and son-in-law, who were also diagnosed with Covid-19, have also tested negative for the virus.

Ghani, in a statement issued on Friday, thanked all those who prayed for his health.




9:25pm: Balochistan reports four more deaths, 170 new coronavirus cases

The Balochistan health department has confirmed four more deaths due to Covid-19 in the past 24 hours to bring the provincial death toll to 113.

Health officials also reported 170 new virus cases to raise the tally to 10,116.

A total of 3,768 patients have recovered from the respiratory illness in the province so far.




8:10pm: 11 more deaths, 640 new Covid-19 cases reported in K-P

Health officials in Khyber-Pakhtunkhwa have confirmed 11 more fatalities due to coronavirus to bring the provincial death toll to 890. Five deaths were reported from Peshawar, two from Bajaur, and one each in Mardan, Swat, Buner and Kohat.

They also confirmed 640 new cases – 197 from Int'l flights – taking the total to 24,943.

Another 355 patients have recovered in the past 24 hours, taking the tally to 11,804. A total of 139,913 tests have been conducted in the province so far.


640 new cases confirmed (197 Int'l flights) taking the total to 24,943. 11 more lives were lost (5 Peshawar, 2 Bajaur, 1 each in Mardan, Swat, Buner, Kohat) taking total to 890. 355 more patients recovered taking the tally to 11,804. 139,913 total tests conducted in KP. pic.twitter.com/wRnHFEpaqX

— Health Department KP (@HealthKPGovt) June 26, 2020


6:40pm: PM Imran launches Ehsaas Cash Emergency Programme in AJK

Prime Minister Imran Khan has launched Ehsaas Cash Emergency Programme in Azad Jammu and Kashmir (AJK) to help the people hit by Indian ceasefire violations along the Line of Control (LoC).

"I am grateful today that we have been given an opportunity to help the people living around LoC braving hardships and economic losses due to cross border firing," the premier said while addressing the ceremony in Muzaffarabad on Friday.

Read more here




6:20pm: Nationwide Covid-19 tally to be near 225,000 by month-end: Asad Umar

The nationwide tally of coronavirus cases by June 30 is likely to be around 225,000, which is 75,000 less than what was predicted earlier, said Federal Minister Asad Umar on Friday.

Earlier, on June 14, Umar, who heads the National Command and Operations Centre (NCOC) to lead the national response against the Covid-19 pandemic, had said that experts believe the number of confirmed cases nationwide may hit 300,000 by the end of the current month.

People have complied with precautionary measures, and while the threat of the virus remains, the situation seems to be improving, said Umar while briefing on the pandemic on Friday.

Read full story here




5:40pm: Army chief inquires after Covid-recovered Sheikh Rashid

Chief of Army Staff (COAS) General Qamar Javed Bajwa has inquired after the health of Federal Minister for Railways Sheikh Rashid Ahmed, who has recently recovered from Covid-19.

He, during the telephonic conversation on Friday, congratulated the AML chief on defeating the highly contagious disease and advised him a further two-week bed-rest.

Rashid apprised the army chief about excellent facilities at the military hospital in Rawalpindi, where he was treated for coronavirus. Doctors and paramedics took great care of him during his stay at the hospital, he added.

The minister told Gen Qamar that he would never forget his efforts for his swift recovery from the respiratory ailment.




4:20pm: Special PIA flight to bring back Pakistanis from SE Asia

A special PIA flight is bringing back around 257 Pakistanis who were stranded in Malaysia, Brunie, Cambodia and Singapore.

The flight will land at Islamabad International Airport.




3:30pm: 1,150 new cases surface in Sindh

Sindh on Friday reported 1,150 new cases—22% of the total test conducted— taking the provincial tally to 76,318.

As many as 27 deaths were reported in the last 24 hours taking the death toll to 1,205 across the province.

5,103 tests were conducted the previous say while 41,992 patients have so far recovered.


1:55pm: PM to announce special Ehsaas Cash package for families in AJK

Special Assistant to the Prime Minister on Poverty Alleviation and Social Protection Dr Sania Nishtar said the premier will announce a special Ehsaas Cash package worth Rs3 billion 138,000 families of 219 villages in Azad Jammu and Kashmir (AJK), situated along the Line of Control (LoC).

It is the biggest package ever announced for the people in that area, she added.

آج وزیر اعظم عمران خان آزاد جموں و کشمیر لائن آف کنٹرول پر واقع 219 دیہاتوں کےتمام ۱ لاکھ 38 ہزار سے زائد خاندانوں کیلیئے 3 ارب روپےمالیت کےخصوصی احساس کیش پیکج کااعلان کریں گے۔ کسی ایک علاقے کے تمام لوگوں کیلیئے سماجی تحفظ کایہ سب سے بڑا پیکج ہے۔#EhsaasForLoC @PakPMO @pid_gov

— Sania Nishtar (@SaniaNishtar) June 26, 2020
1:10pm: Punjab reports 796 new cases

Punjab health authorities reported 796 new cases, taking the provincial tally to 71,987.

27 more persons succumbed to the virus and the province's death toll reached 1,629.


12:30pm: 'Following precautionary measures is the only way to control spread' 

Federal Minister for Planning and Development Asad Umar said following precautionary measures is the only way to control the spread of the virus.

The minister, briefing the media alongside Senator Shibli Faraz, said a smart lockdown has been implemented in areas where Covid-19 cases are increasing.

The federal minister maintained that citizens must follow standard operating procedures (SOPs) issued by the government, adding that it will lead to smooth functioning of the country's economy and business.

The number of beds and ventilators allotted to hospitals across the country are constantly increasing, the minister added.


11:05am: 40 hotspot areas in Lahore sealed until June 30

Capital City Police Officer (CCPO) Lahore Zulfiqar Hameed, on the second day of the selective lockdown, has instructed divisional officers to ensure strict implementation of government guidelines and standard operating procedures (SOPs).

40 hotspot areas of seven designated areas will remain sealed until June 30, he said, adding that offices, shops and bazaars in those areas will also remain closed.

The capital city police officer has appealed to citizens to cooperate with police and follow government orders.


10:50am: Sheikh Rashid discharged from hospital 

Federal Minister for Railways Sheikh Rashid has been discharged from Military Hospital Rawalpindi.

He had been undergoing treatment at the hospital since June 11 after contracting Covid-19.

The minister thanked the hospital staff and lauded their efforts to help patients suffering from the deadly disease.


10:10am: 250 Indian nationals in Pakistan to return home via Wagah border

A second group of 250 Indian nationals residing in Pakistan will return to India via Wagah border today.

Special arrangements have been made for immigration and custom clearance at the border and strict implementation of standard operating procedures (SOPs) will be followed.

On Thursday, 204 Indian nationals returned to India and on Saturday (tomorrow) the final group will return via the border.


9:40am: 'Pakistan fighting Covid-19 through robust national response'

Special Assistant to Prime Minister on National Health Services Dr Zafar Mirza said Pakistan is fighting Covid-19 through a robust and coordinated national response.

Speaking to the Regional Director of the World Health Organisation (WHO) Dr Ahmed Mandhari via video link, the special assistant said Pakistan has implemented a smart lockdown because the premier is cognizant of the financial suffering of around 25 per cent of the population living below the poverty line.

The purpose of the meeting was to discuss Pakistan's response to the contagion and to explore areas where the WHO could provide technical guidance and support to help the country fight the virus.

Mirza apprised the regional director that 35-point standard operating procedures (SOPs) have been developed in the country.

The regional director lauded Pakistan for its effort to tackle the virus and expressed the World Health Organisation's support to help the country.


9:05am: Shibli Faraz says govt taking steps to combat Covid-19

Federal Minister for Information and Broadcasting Shibli Faraz has lauded Prime Minister Imran Khan's address in the National Assembly (NA) where he discussed the federal government's success pertaining to Covid-19 and the national economy.

Talking to a private news channel, the minister said the government is taking steps to successfully mitigate the spread of the virus.


8:30am: 189 additional oxygenated beds allotted to government hospitals in Islamabad

The National Command and Operation Centre (NCOC) said 189 additional oxygenated beds have been allotted to government hospitals in the federal capital.

491 ventilators out of the 1,562 ventilators in the country have been allocated for Covid-19 patients.


8:00am: Nationwide tally stands at 195,745 

The National Command and Operation Centre (NCOC) said 2,775 persons tested positive for Covid-19 in the past 24 hours, taking the nationwide tally to 195,745.

The virus claimed 59 more lives as the country's death toll stands at  3,962, while at least 84,168 coronavirus patients have recovered.