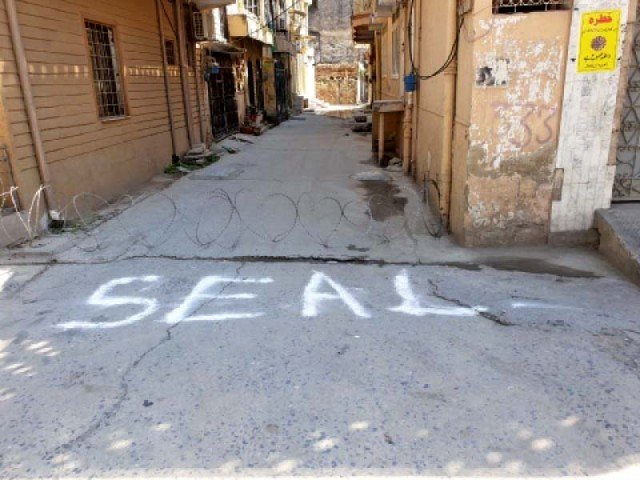 ---
RAWALPINDI: With the district administration placing 22 neighbourhoods of the Rawalpindi under a 'smart lockdown' as the novel coronavirus (Covid-19) cases in the city topped 5,584, a large number of residents of these areas have started to relocate.

Many have shifted to the homes of their relatives in nearby vicinities which do not fall under the lockdown, locals said. Many others have left the city and its cantonment areas altogether, preferring to wait out the lockdown in their native villages and towns, spending this time as summer holidays, they said.

In this regard, some residents of areas where the government is mulling imposing a smart lockdown, have started preparations for relocation.

At the moment, the densely populated areas of the city which have been completely sealed include Sadiqabad, Muslim Town, Kurri Road, Qayyumabad, Iqbal Town, Satellite Town, Magistrate Colony, Effendi Colony, Tench Bhatta, People's Colony, Allama Iqbal Colony and Chauntra.

These areas were sealed as part of a smart lockdown policy of the government after a large number of Covid-19 patients emerged there, sparking fears of a cluster. The administration then sealed these areas and deputed personnel of the police and Rangers at all entry and exit points. They are also monitoring these localities, ensuring that only one person leaves the home for essential shopping with the requisite safety precautions.

However, keeping in view the lockdown and the restrictions on the movement in the sealed areas, residents slip out during the relaxation hours. Many leave their homes on the pretext of shopping but instead flee to live with their relatives' in other localities of the city.

District health and administration officials said that while many are worried about being locked up at home, but leaving their neighbourhoods could accelerate the spread of Covid-19 and would defeat the very purpose of the lockdown.

The official added that most of the families of these areas remain quarantined in their homes as part of the precautionary measures. He further claimed that they are now beginning to have a positive effect. Data from the District Health Authority shows that there has been a decline in the number of new Covid-19 patients.

The smart lockdown, being imposed in a relatively smaller area than the whole district, is easier to manage for the administration, police and the Corona Tiger Force volunteers are also monitoring the sealed areas.

The district administration is also preparing a list of areas to be included in the further lockdown with the consultation of the health department and special branch. Officials said that the special branch of police which was responsible for intelligence gathering was these days busy in identifying coronavirus patients. 

Published in The Express Tribune, June 25th, 2020.