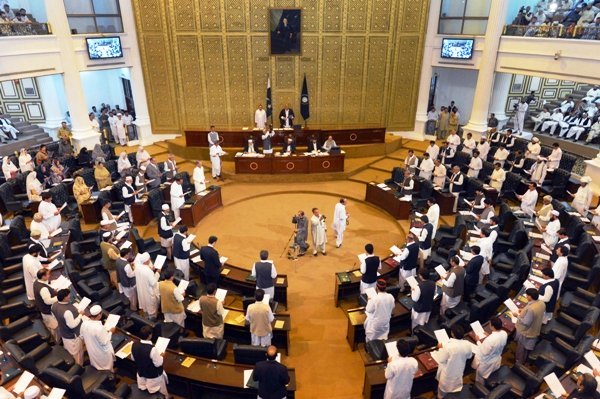 ---
PESHAWAR: The Khyber-Pakhtunkhwa (K-P) government on Friday unveiled a balanced and tax-free budget of Rs923 billion for the next fiscal year 2020-21 with special focus on reviving the economy crippled by the Covid-19 pandemic and protecting investment in service deliveries, particularly the health sector.

Finance Minister Taimur Saleem Jhagra presented the budget in the provincial assembly. A key feature of the budget is that the provincial government has made a record allocation of Rs124 billion for the health sector as compared to Rs85 billion in the outgoing year, reflecting an increase of 46%.

The provincial government, keeping in view the health emergency created due to the coronavirus pandemic, has also allocated Rs24 billion alone for Covid-19 emergency.

The budget statement issued by the K-P Finance Department read that the total budget expenditure is Rs923 billion – Rs739 billion for settled and Rs184 billion for merged districts. The current budget is Rs605 billion, of which Rs517 billion is for settled and Rs88 billion for merged districts.

According to the budget documents, the total development amount is Rs318 billion, of which, Rs222 billion is for settled and Rs96 billion for erstwhile Federally Administered Tribal Areas (Fata), which have now been merged with the province.

As per the breakdown of expenditures, Rs52 billion has been allocated for salaries, Rs36 billion for non-salary, Rs24 billion for provincial Annual Development Plan (ADP), Rs10.3 billion for district ADPs, Rs49 billion for Accelerated Implementation Programme (AIP) and Rs12.7 billion for FDA.

The statement said the government was taking concrete steps to revamp and expand the health system by recruiting, purchasing equipment and medicine, besides prioritising initiatives such as giving every family an insurance coverage of up to Rs1 million via Sehat Insaf Card at a total cost of Rs10 billion. An amount of Rs36 billion has been allocated for operations and enhancement of the flagship tertiary hospitals.

Govt prints 'shorter' version of budget-in-brief

The budget document stated that total revenue was expected to be Rs923 billion, including Rs404 billion in the federal tax assignment, Rs48.6 billion as 1% from the divisible pool on war on terror, Rs24 billion as straight transfers, Rs58.3 billion as net hydel profit payments, Rs49 billion as provincial tax and non-tax revenue, Rs73 billion as Foreign Project Assistance (FPA) for settled districts and Rs12.7 billion for merged areas, Rs161 billion grants for merged districts and Rs91 billion as other receipts.

The budget document claimed that despite being hit by Covid-19 pandemic in March this year, the provincial revenue authority, the KPRA, had shown a record growth of 81% as compared to last year.

Tax relief

Taxes have been eliminated for 200 small businesses. No bed tax on hotels, zero professional tax for 18 categories, zero professional tax on all medical profession and services, abolition of entertainment tax, free-of-charge re-registration of cars, besides reduction in UITP location factors have been proposed.

Further, sales tax on services has been reduced for 27 categories, while incentives to support construction were maintained. Admission fees for government schools and government art colleges have been waived.

Development budget

The total development budget of Rs318 billion would be spent on the existing flagship projects with Rs121 billion allocated for the construction sector. It further said that 100% allocation has been provided to complete Rashakai Economic Zone schemes during next year.

A total of Rs18 billion would be spent to build roads, universities and promote tourism in the Hazara Division. Schemes worth Rs28 billion would be spent on the development of southern districts of the province. The Rescue 1122 service would be initiated in all the remaining districts of the province. Over 22,000 teachers would be recruited to enhance education quality and outreach.

Merged districts

The total budget for the newly merged areas is Rs185 billion with Rs96 billion as development spending. Major development projects are being expedited to ensure service delivery is not only expanded but improved.

Over Rs10 billion would be spent on major health projects, including establishment of new secondary and tertiary hospitals, in the merged districts. An amount of Rs1.3 billion would be spent on recruitment of specialist doctors and Rs550 million for the procurement of essential supplies and medicine.

Similarly, Rs11 billion would be spent on major education programmes, including provision of missing facilities, upgradation of schools, and provision of education vouchers whereas Rs16 billion would be spent on construction of various roads across the newly merged districts.