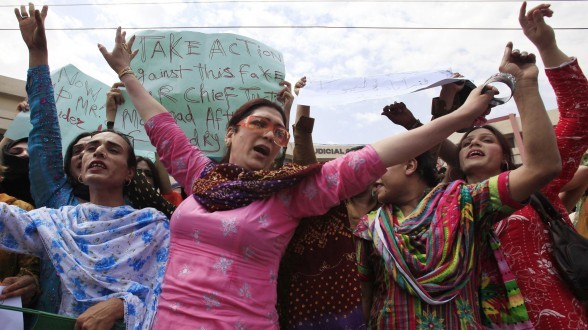 ---
KARACHI: More than 55% of the Pakistani population says that transgendered persons (eunuchs) should have a special quota in educational institutes and offices, although 60% would not like to be friends with them.

The figures are the result of a survey conducted by Gallup Pakistan.

The question "Some people believe that educational institutes and offices should have a specific/ special quota for eunuchs so that like other people they can get educated and earn a living while others do not think so. What is your opinion?" got a 55% positive answer, 25% negative answer, while 20% stated they did not know.

The follow up question "If an eunuch wants to be friends with you, will you agree or not?" got a 60% negative and a 14% positive response overall. According to the surveyors, only 10% of women responded in the positive, while the positive result stood at 17% for men.

The survey also revealed that willingness to be friends with eunuchs also differed by age. It was higher at 21% among people aged 51 and above, while the under 30 population accounted for 13%.

Only recently has the Supreme Court ordered that the transgender community be surveyed, given NICs which specify their gender as 'other', given small loans and have access to medical facilities. These ID cards are supposed to be the first step in the transformation of the transgender community from beggars and sex workers on the fringes of society to industrious citizens employed as tailors, beauticians, cooks and health workers contributing to the nation.

The transgender community has also been in the media light in recently due to the Raani and Iqbal episode.