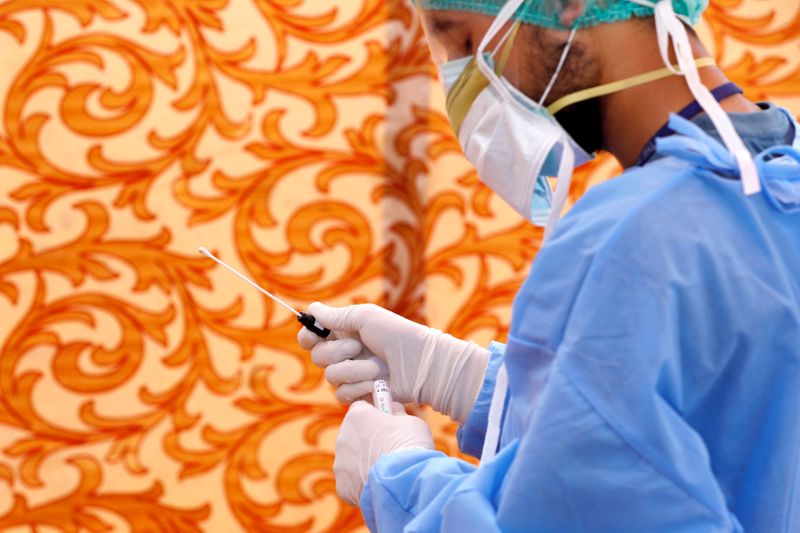 ---
ISLAMABAD / KARACHI / PESHAWAR / LAHORE / QUETTA / MUZAFFARABAD: The novel coronavirus emerged in the central China city of Wuhan towards the end of last year and proliferated to almost the whole world within a couple of months. It's not the virulence or fatality, but the infectivity of the new virus – also known as SARS-CoV-2 – that has set off a global frenzy.

The Covid-19 respiratory illness caused by this mysterious contagion has so far infected more than 7.9 million people in 202 countries and territories of the world – and over 432,000 of them have died and counting.

Pakistan, despite its close proximity with China, remained coronavirus-free until February 26 when a young man from Karachi tested positive after returning from Iran – one of the worst-hit countries. After a brief hiatus following the first case, Covid-19 cases spiked as more pilgrims returning from Iran tested positive for the virus.

Nearly one-and-a-half months after imposing the lockdown across the country, Prime Minister Imran Khan announced to ease the lockdown in phases.

The nationwide tally of Covid-19 patients stands at 154,760 with 58,239 cases in Punjab, 57,868 in Sindh, 19,107 in Khyber-Pakhtunkhwa, 8,437 in Balochistan, 1,164 in Gilgit-Baltistan, 9,242 in Islamabad and 703 in Azad Jammu and Kashmir.

The virus has claimed at least 2,975 lives while around 58,437 coronavirus patients have recovered.

The situation remains fluid and we're updating stats as soon as new figures are officially released.

Follow The Express Tribune's live coverage of the pandemic here.








10:40am: 'Sindh govt taking effective steps to provide best healthcare facilities'

Adviser to Sindh Chief Minister Nisar Ahmed Khuhro said the provincial government is taking effective steps to provide the best healthcare facilities to those in need.

He said more funds would be allocated for health in the new provincial budget.


10:10am: 603 cases registered for violating SOPs in Lahore

Capital City Police Officer (CCPO) Lahore Zulfiqar Hameed said 603 cases have been registered against persons violating standard operating procedures (SOPs) issued by the government.

Police inspected 1,058 markets and 25,930 shops, out of which 1,741 shops were sealed for violating government protocol.

14,622 shopkeepers were warned for minor violations.


9:50am: Punjab govt to impose smart lockdown in affected areas

The Punjab government has decided to impose a smart lockdown in most affected areas in seven cities of the province.

These cities include Lahore, Rawalpindi, Faisalabad, Multan, Gujranwala, Sialkot and Gujarat.

Punjab Chief Secretary Jawad Rafique Malik said police will be deployed at entrance and exit points of the locked areas, adding that army personnel and Rangers will be on standby.

The provincial chief secretary said the Tiger Force would provide services to help those affected by the lockdown.


9:20am: Dr Zafar Mirza says Pakistan to consider inclusion of Dexamethaone 

Special Assistant to Prime Minister on National Health Services Dr Zafar Mirza said the United Kingdom (UK) showed positive results in the use of Dexamethaone in critical patients, adding that the expert committee in Pakistan is to consider inclusion.

The special assistant said this was welcomed by the World Health Organisation (WHO) and is the first treatment to show a reduced mortality rate in patients requiring oxygen or ventilator support.

Mirza said Dexamethaone is an old and cheap anti-inflammatory medicine and has multiple producers in Pakistan.

In another tweet, Mirza said the medicine is only for critically ill Covid-19 patients and must not be used by patients suffering mild to moderate symptoms as the medicine may be dangerous due to its side effects.

<318> Positive results from UK on use of Dexamethaone in critical patients welcomed by WHO as a 1st treatment to be shown to reduce mortality in patients with COVID-19 requiring Oxygen or ventilator support. Expert Committee in 🇵🇰 to consider inclusion. https://t.co/3RbVQrWdPp

— Zafar Mirza (@zfrmrza) June 17, 2020
8:50am: Shibli Faraz urges public to follow SOPs

Federal Minister for Information and Broadcasting Shibli Faraz has urged citizens to follow standard operating procedures (SOPs) issued by the government to contain the spread of the virus.

He said the government is sealing hotspots to stop the spread of the pandemic.

The minister said the government faced immense difficulty announcing a budget in the ongoing crisis, adding that the government cannot afford to increase salaries and pensions for employees.


8:30am: 'Testing capacity to increase from 50,000 to 100,000'

Federal Minister for Planning and Development Asad Umar said the government is utilising all its resources to increase Covid-19 testing capacity from 50,000 to 100,000 per day by July.

Talking to a private news channel, the minister said the pandemic can be contained by following standard operating procedures (SOPs) and increasing testing capacity for the contagion.

The minister said a complete lockdown policy would not be effective for the country's poor economy, adding that daily wage workers would suffer.


8:00am: Nationwide tally stands at 154,760

The National Command and Operation Centre (NCOC) reported 5,839 new coronavirus cases in the last 24 hours, taking the nationwide tally to 154,760.

The death toll from the virus stands at 2,975 after 136 more persons succumbed to the virus within the 24 hour-period, while at least 58,437 patients have recovered from the deadly disease.