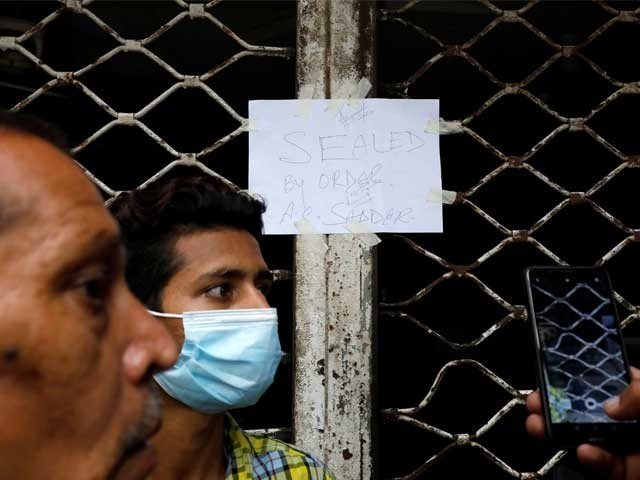 ---
HYDERABAD/ KARACHI: In the wake of the spike of Covid-19 cases across Sindh, the provincial government and district administrations have now decided to identify and seal coronavirus hotspots.

The Hyderabad district administration has decided to enforce a smart lockdown from June 18, primarily in Qasimabad taluka. Almost entire Qasimabad taluka will undergo the lockdown, affecting a population of 255,475.

Two localities populated by 6,600 people in union council (UC)-I of City taluka and parts of three UCs of Latifabad taluka, with a population of 26,220, will also be sealed.

Only people supply essential commodities will be allowed to enter the sealed areas during the lockdown. All the shops except pharmacies, grocery stores, vegetable and fruit shops and dairy shops will remain closed and the movement of public transport will be banned. Even essential service providers, except pharmacies, will be allowed to open from 7 am to 12 noon. However, home delivery to houses in sealed localities will be allowed.

Infection tally

A total of 1,642 residents of Hyderabad have tested positive for the coronavirus over the past three months. Some 747 cases are still active in the district with 671 in home-isolation. Moreover, Hyderabad has, thus far, seen 36 coronavirus-related deaths- less than two% of the total cases reported in district.

"Majority of Covid-19 positive cases has surfaced in Qasimabad," Hyderabad deputy commissioner Fuad Ghaffar Soomro said while talking to The Express Tribune. "One of the reasons [behind the higher number of cases in the area] is likely the movement of people from Qasimabad to all the other districts of Sindh," he added.

He said that while City and Latifabad talukas had a far greater number of commercial areas and densely populated localities, the number of positive cases in Qasimabad equalled the cases in both the larger talukas combined.

As many as 770 Covid-19 positive cases have been reported from Qasimabad among whom 399 have recovered while 361 are still active and there have been nine deaths in the taluka.

In comparison, 374 coronavirus cases have surfaced in City taluka and 438 in Latifabad taluka over the past three months. In City, some 59 per cent of the infected people have recovered and in Latifabad 50 per cent, with 14 deaths reported in the former and 12 in the latter.

In Hyderabad Rural taluka, 36 out of a total of 60 positive cases are still active while only one resident has died due Covid-19.

Three healthcare facilities, including the Liaquat University of Medical and Health Sciences, Isra University hospital and Sindh Government Hospital, Kohsar, with the combined capacity of 333 beds are admitting coronavirus patients in Hyderabad. However, only 31 beds are occupied in the three hospitals. Meanwhile, the field isolation facility at Hyderabad Club, with 220 beds, remains completely vacant.

Karachi hostspots

Meanwhile, West district health officer (DHO) has written a letter to the deputy commissioner recommending smart lockdowns in 16 UCs of the district to curb the spread of the deadly pathogen.

The letter states that 755 coronavirus case have been reported from different areas of West district so far, with SITE Area and Baldia Town being the most affected by the pandemic. The DHO has asked the deputy commissioner to enforce smart lockdown in the affected UCs.

According to a notification issued by West deputy commissioner's office, two UCs in Gadap Town, three in Keamari, five in Baldia, three in SITE Area and as many in Orangi Town will be sealed to contain the virus.

Besides, some areas of East and Korangi district will also be sealed.

Areas to be sealed in East district include Muhammad Ali Society, Bahadurabad, Essa Nagri, Gulshan-e-Iqbal, Safoora Goth, Askari-IV, Gulistan-e-Johar Block-13, among others. Areas to be sealed in Korangi include Natha Khan Goth, Khokhrapar, Bhitai Colony, Zaman Town, Chakra Goth, Landhi, Malir Shah Faisal Colony, among others.

Larkana hotspots

Larkana deputy commissioner Muhammad Nooman Siddique, in a notification issued on Tuesday, has ordered the sealing of twelve localities of Larkana and Ratodero talukas in Larkana district for a period of seven days, from June 17 to June 23.

Localities that are to be sealed include Khichi Muhallah Larkana, Shahi Bazar, Bundar Road, Main Bus Stand, Barra Alam Road in Rato Dero, Beef Market in Ratodero, area between Jalbani Muhallah and Hotel of Moor Shah in Rato Dero, localities lying between Peer Bux Ghanghro Gate to Habib Bank in Ratodero, some areas of Resham Gali  in Ratodero, areas between Main Railway crossing and Bazaar road, Allah Wala Chowk in Naudero and Main Bazar in Naudero.

In the notification, police and Rangers officials have been directed to restrict the movement of persons in these areas, ensure the observance of standard operating procedures (SOPs) and take action against persons violating the SOPs.
WITH ADDITIONAL INPUT FROM APP 

Published in The Express Tribune, June 17th, 2020.