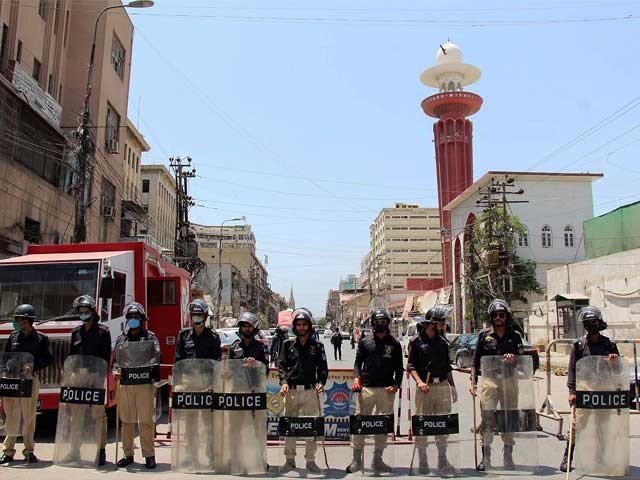 ---
Federal, provincial govts decide to impose 'smart lockdown' at virus hotspots
At least 12,400 violations of SOPs were recorded in the last 24 hours
---
The federal and provincial governments decided on Tuesday to seal areas that are affected most by the coronavirus outbreak across the country under the 'smart lockdown' strategy.

The decision was taken amid rising numbers of Covid-19 patients. The administrations have started the process of sealing hotspots which will be completed by midnight tonight.

Islamabad's administration has decided to seal two sectors due to the rapid increase in coronavirus cases. At least 200 cases of Covid-19 have been reported in one day in Sector I-8 and about 400 cases in Sector I-10.

According to Deputy Commissioner Hamza Shafqat, notification to seal these areas might be issued in the next 24 hours.

In Lahore, a meeting was held under the chairmanship of Punjab Chief Secretary Jawad Rafique Malik in which it was ordered to seal all the areas with containers. Officials said 55 such places in the city would be sealed, the final list of which has been submitted to the chief secretary.

Meanwhile in Karachi, two Union Councils (USCs) in Baldia and Site,  according to Deputy Commissioner (West Karachi) Gharbi Fayyaz Solangi, would be sealed as per the report received from the provincial Health Department.

According to sources, more than 15 different areas of the port city can be sealed.

District Health Officer (DHO) West Karachi wrote a letter to the deputy commissioner recommending smart lockdowns in 16 UCs to curb the spread of the deadly pathogen.

Earlier today, at least 12,400 violations of standard operating procedures (SOPs), formulated to curb the spread of the novel coronavirus, were recorded in the country over the previous 24-hour period.

Provinces appraised the National Command and Operation Centre (NCOC) regarding the smart lockdown and enforcement measures in various areas based on the trace, tests and quarantine (TTQ) strategy, according to an NCOC press release.

"More than 1,512 markets, 14 industries and cautioned, fined, sensitised or sealed," the press release stated.