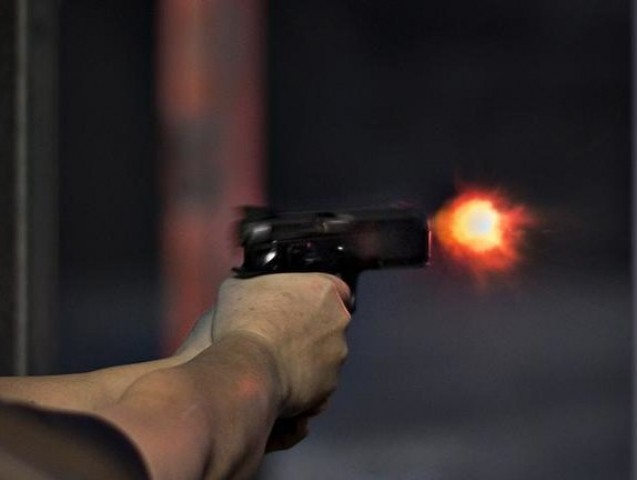 ---
FAISALABAD: Two people were shot dead while another was injured in separate incidents in Faisalabad on Monday.

Police officials said two people entered a water tank factory and murdered a man and injured his son during a robbery bid. Police, on receiving information, reached the crime scene and took the dead body into custody. The injured man was shifted to a hospital and a case was registered against unidentified attackers.

The victim Farooq Ahmed Butt, a resident of Mohalla Sharifpura, had established the plastic water tank factory in Chak No 229, Mukwana area.

The two armed robbers, who came on a motorcycle, knocked on the factory gate and, while claiming to be buyers of tanks, barged into the premises.

The victim offered resistance during the robbery bid, after which they opened fire, murdering him and leaving his son, Omar Farooq, injured.

Farooq breathed his last while on the way to the hospital, while Omar was stated to be in a stable condition in hospital.

Khurarianwala police, after the autopsy, handed over Farooq's body to his family and registered a case under sections 302 and 324.

In another incident, Idris Javed, son of Javed Ahmed and resident of Chak 230, was shot dead by two relatives while he was sleeping on the rooftop of his house.

Police said the victim had a dispute with his relatives, Adnan, son of Nasir, and Hamza, son of Naseer, over a financial issue.

The suspects stormed into his home and opened fire on him. He was shifted to a hospital where he succumbed to the injuries.

Satiana police took the body into custody handed it over to the family after medico-legal proceedings. The police registered a case against the nominated suspects on the complaint of Aasia Javed, the mother of the deceased.

Published in The Express Tribune, June 16th, 2020.