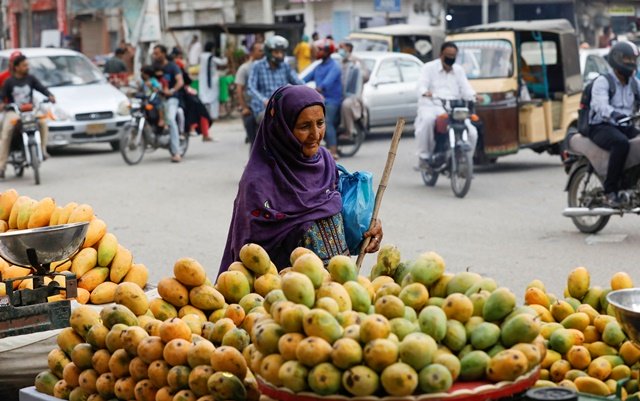 ---
ISLAMABAD/KARACHI/LAHORE/PESHAWAR/QUETTA/MUZAFFARABAD: The novel coronavirus emerged in the central China city of Wuhan towards the end of last year and proliferated to almost the whole world within a couple of months. It's not the virulence or fatality, but the infectivity of the new virus – also known as SARS-CoV-2 – that has set off a global frenzy.

The Covid-19 respiratory illness caused by this mysterious contagion has so far infected more than 7.7 million people in 202 countries and territories of the world – and over 428,000 of them have died and counting.

Pakistan, despite its close proximity with China, remained coronavirus-free until February 26 when a young man from Karachi tested positive after returning from Iran – one of the worst-hit countries. After a brief hiatus following the first case, Covid-19 cases spiked as more pilgrims returning from Iran tested positive for the virus.

Nearly one-and-a-half months after imposing the lockdown across the country, Prime Minister Imran Khan announced to ease the lockdown in phases.

The nationwide tally of Covid-19 patients stands at 146,879 with 54,138 cases in Punjab, 55,581 in Sindh, 18,472 in Khyber-Pakhtunkhwa, 8,327 in Balochistan, 1,143 in Gilgit-Baltistan, 8,569 in Islamabad and 663 in Azad Jammu and Kashmir.

The virus has claimed at least 2,784 lives while around 53,721 coronavirus patients have recovered.

The situation remains fluid and we're updating stats as soon as new figures are officially released.

Follow The Express Tribune's live coverage of the pandemic here.




12:28am: Asad Umar criticised for morbid Covid comparison

Planning Minister Asad Umar, who heads the National Command and Operations Centre (NCOC) to fight coronavirus pandemic, has sparked a new debate by indicating that Pakistan was doing better than India in terms of fatalities from contagious disease.

Hours after issuing a warning that the nationwide tally of coronavirus cases might double within the next two weeks and could reach 1.2 million by the end of July, the minister, in a tweet, shared a comparison between Pakistan and India that are totally different in size and population.

"Total cumulative deaths due to covid on 14th may : Pakistan 770, India 2,649. Cumulative covid deaths on 14th June : Pakistan 2632, India 9,485. Increase in deaths last month : Pakistan 242% India 258%. There is much we are still learning about covid spread and mortality," Umar tweeted.

Read full story here




12:14am: PM Imran directs NDMA to ensure availability of Covid drugs

Prime Minister Imran Khan on Monday directed the National Disaster Management Authority (NDMA) to ensure supply and availability of the medicines, including necessary injections for the treatment of coronavirus patients.

Chairing a review meeting on pandemic situation in Islamabad, the prime minister emphasised the pivotal role of the public in curbing the spread of coronavirus across the country by adopting precautionary measures.

Taking notice of the shortage of medicine and injections for Covid-19 patients, Imran directed the NDMA chief to ensure their availability and easy access. He said a proper treatment and following of the standard operating procedures (SOPs) could help control the spread of the disease.

Read full story here




11:07pm: AJK president urges welfare organisations to help lockdown-hit people

Azad Jammu and Kashmir (AJK) President Sardar Masood Khan has urged social welfare organisations to address the financial challenges being faced by the marginalise segment of the society due to the coronavirus-induced lockdown.

"The social organisations besides helping the needy people, should also play their role to create awareness among them about the preventive measures so that the pandemic is responded jointly and effectively," he said while speaking to a five-member delegation of a social welfare organisation 'Be The Merciful' (BTM) on Monday.

The delegation, led by BTM Chairperson Sumaira Farrukh, was consisted of President BTM Azad Kashmir chapter Areeba Ilyas, Secretary General Amna Munir, Vice-President Basit Naqvi and member of Board of Directors Faizan Riasat Masih.

The AJK president said that the coronavirus pandemic challenge has necessitated all segments of the society to jointly respond to it with coordinated efforts. The masses, he added, also need to be sensitised about the preventive measures.

Read full story here




10:44pm: In a first, Sindh Assembly summons virtual budget session amid virus fears

The Sindh Assembly amended its rules on Monday to become the first assembly in the country to summon a virtual session amid the Covid-19 pandemic. The budget will be presented in an online session on Wednesday.

The amendment to Rule 267 of the Rules of Procedures, 2013, was moved by Sindh Parliamentary Minister Mukesh Kumar Chawla.

"In case of an emergency that makes it impracticable or unsafe for members to assemble at a single location, the speaker may give orders for holding the session by using electronic communication, including video conference or audio visual arrangements," states the amendment.

Read full story here




10:05pm: One more dies of Covid-19, 14 new cases reported in G-B

Health officials in Gilgit-Baltistan have confirmed one more casualty due to coronavirus in the past 24 hours to bring the region's death toll to 17.

They also reported 14 new cases to take the coronavirus tally to 1,143.

728 patients have recovered while active cases stand at 728 in the area.


Daily #COVIDー19 cases statistics in Gilgit-Baltistan. #CombatCoronaVirus #CoronaFreeGB #InshAllah #StayHomeStaySafe pic.twitter.com/uYvR3JMJXb

— Health Department Gilgit-Baltistan (@HealthDeptGB) June 15, 2020


8:45pm: Sindh allows hotels, restaurants to operate on weekends

Sindh government has issued an amended order regarding the timings and working days of restaurants and hotels in the province under coronavirus-induced restrictions.

According to a notification issued on Monday, the restaurants and hotels will be allowed to work seven days a week. Home delivery service will be allowed till 10pm whereas takeaway is allowed till 7pm with strict implementation of standard operating procedures (SOPs), reads the notification.




8:40pm: Sindh govt mulls sealing coronavirus hotspots

As Covid-19 cases continue to rise in the province and people continue to flout standard operating procedures (SOPs), the Sindh government decided on Monday to seal virus hotspots for at least 15 days, in accordance with the World Health Organisation's recent guidelines.

In a meeting with Sindh Health Minister Dr Azra Fazl Pechuho and all of Sindh's divisional commissioners, it was pointed out that many citizens were failing to follow the requisite SOPs put in place to curb the spread of the coronavirus, putting others at risk and increasing the burden on the government.

Read full story here




8:30pm: Balochistan reports 150 cases in 24 hours to take its tally to 8,327

The Balochistan Health Department has confirmed another 150 cases of coronavirus in the past 24 hours to bring the provincial tally to 8,327.

No new deaths were reported from the province on Monday.

The virus has claimed 85 lives while 2,916 patients have recovered in the region so far.




7:55pm: Four Peshawar neighbourhoods sealed amid upsurge in Covid-19 cases

The Khyber-Pakhtunkhwa government has sealed four neighbourhoods of capital Peshawar due to an upsurge in coronavirus cases from these parts of the city.

According a notification, issued by the office of Peshawar Deputy Commissioner on Monday, "smart lockdown" areas include Ashrafiya Colony, Chinaar Road, University Town, Danishabad and Sector E/2 Phase-1 Hayatabad.




The notification further states that only people supplying essential commodities shall be allowed in these areas, whereas all types of gatherings within these localities are strictly prohibited.

On the other hand, all shops, with the exception of pharmacies, general stores, food supplies, tandoors, drinking water supplies and emergency services, will not be allowed to operate.




7:00pm: 16 new Covid-19 cases take AJK tally to 663

Health officials in Azad Jammu and Kashmir (AJK) have confirmed 16 new cases of novel coronavirus in the past 24 hours to bring the state's tally to 663.

No new casualties were reported from the area.

The virus has claimed 13 lives while 264 patients have recovered from the disease in the state so far. Active cases stand at 386.




6:05pm: 32 more fall prey to Covid-19 as K-P reports highest single-day deaths

Khyber-Pakhtunkhwa has reported 459 new Covid-19 cases, taking the total to 18,472.

According to provincial health authorities, 32 patients also lost their lives, battling against the deadly disease, which was the highest single-day death toll since the virus was first reported in late February.

They said that 10 patients fell prey to coronavirus in Swat, six in Peshawar, three in Kohat, three in Abbottabad, two in Mardan, two in Upper Dir and one each in Khyber, Swabi, Malakand, Chitral Lower, Hangu and DI Khan.

A total of 707 people have succumbed to Covid-19 in K-P so far, they added.


459 new cases confirmed taking total to 18,472. Highest daily death toll reported at 32 (10 Swat, 6 Peshawar, 3 Kohat, 3 Abbottabad, 2 Mardan, 2 Dir Upper, 1 each in Khyber, Swabi, Malakand, Chitral Lower, Hangu, D I Khan) taking total to 707 in KP. pic.twitter.com/fCIWs7h1ss

— Health Department KP (@HealthKPGovt) June 15, 2020


5:24pm: 'Locally manufactured Covid-19 testing kits to have 90pc accuracy'

Federal Minister for Science and Technology Fawad Chaudhry on Monday claimed that locally manufactured coronavirus diagnostic kits would have 90 per cent accuracy which is about 20 per cent more than imported testing equipment.

In an interview with a private news outlet, Fawad said Pakistan has developed indigenous Covid-19 diagnostic kits that have been approved by the Drug Regulatory Authority of Pakistan (DRAP) for commercial use.

"Locally manufactured diagnostic kits would considerably bring down the cost of coronavirus tests in the country," said Fawad

The minister also expressed the hope that domestic ventilators would also be ready within the next few weeks as clinical trials of four machines have already entered their final phase.

Read more here




5:00pm: Housing ministry's offices to also be closed till June 17

According to a circular, the housing ministry's offices are to be closed till June 17. Officials have been directed to tend to office work from their homes. Only necessary officials have been directed to come to the office.

The decision has been taken in consideration of the over 60 cases reported within the ministries of food and overseas, also located in the B block.




4:30pm: Another K-P MPA tests positive for coronavirus

Khyber-Pakhtunkhwa Member Provincial Assembly Shah Faisal also tested positive for Covid-19 on Monday.




4:00pm: Peoples' cooperation key in fighting the pandemic: PM

Prime Minister Imran Khan while presiding over a meeting to review the current Covid-19 situation observed that provinces were doing all they can to deal with the pandemic. However, the cooperation of citizens was key to contain the spread of the virus.

Taking note of the difficulty in availing medicines and injections required for Covid patients, the PM directed the chairman of NDMA to ensure easy access to all medication.

The meeting was informed that there were 107 laboratories across the country that are conducting tests. Approximately 25,000 tests were being conducted everyday.

Different hospitals across the provinces will be provided with 2,000 beds for Covid-19 patients by July.

The prime minister was also informed about the 20 cities identified by the NCOC with potential hotspots.


3:40pm: Ajmal Wazir addresses the media
Live: Adviser to CM KP on Information Ajmal Wazir Khan talking to media in Peshawar https://t.co/GscEW5g4AP

— Radio Pakistan (@RadioPakistan) June 15, 2020


3:00pm: Sindh reports new cases

Provincial authorities reported 1,776 new cases, pushing the provincial tally of Covid-19 cases to 55,581.

At least 22 more patients succumbed to the virus in the province over the last 24-hour period.




2:15pm: Senator calls for adjourning Senate session

Senator Kauda Babar on Monday requested Senate Chairman Sadiq Sanjrani to adjourn Senate session due to the worsening Covid-19 situation.

In a letter written to the Senate Chairman, the senator suggested that the standing committees on finance and planning should compile their suggestion on the Finance Bill 20-21 and the recommendations could be presented before the house on a later date.

He further said that in these testing times phenomenal advances were needed for the greater good.




2:05pm: 20 cities with COVID-19 hotspots identified

National Command and Operation Center through TTQ identified top 20 cities across Pakistan with potential Covid-19 hotspots and clusters.

In line with prime minister's announcement of containment of Covid -19 through smart lockdown strategy, NCOC undertook a comprehensive review of potential Covid-19 clusters and hotspots across Pakistan .

A total of 20 cities across Pakistan have been identified as having likely increase in ratio and speed of infection which needs restrictive measures for containment of Covid -19.

In Islamabad, more than 300 cases were reported from G-9/2 and G-9/3. The areas were sealed along with Karachi Company.

Hotspots in Islamabad which are being monitored and might be sealed include I-8, I-10, Ghauri Town, Bharakhau, G-6 & G-7.

Various cities which have increase infection cases and have been identified by NCOC for necessary restrictive measures include Karachi, Lahore, Quetta, Peshawar, Rawalpindi, Islamabad, Faisalabad, Multan, Gujranawala, Swat, Hyderabad, Sukkar, Sialkot, Gujarat, Ghotki, Larakana, Khairpur, DGKhan, Malakand and Mardan.




1:30pm: Saba Hamid asks Covid-19 patients to not consume 'sana makki'

Veteran TV star Saba Hamid is making a point to clear misconception about the consumption of sana makki/senna plant to cure coronavirus.

Earlier, photos and videos detailing how consuming leaves of the senna plant or sana makki can cure Covid-19 had gone viral.

However, The Express Tribune found the claim to be misleading as health experts concede that the herbal treatment can boost immunity, however, it is in no way a cure for the deadly virus.

Posts on social media platforms and WhatsApp messages proliferated after Nazir Ahmed, a herbal doctor based in the United Kingdom, claimed that he had cured over 150 Covid-19 patients with the tea specially prepared with the plant.

But that wasn't the case.

Now, the TV legend has also warned people about using the aforementioned plant.

Read story here




1:15pm: PPP leader Shehla Raza test positive for COVID-19

Sindh Assembly Deputy Speaker and Pakistan Peoples Party Leader Shehla Raza took to Twitter on Monday to announce she had contracted the coronavirus.

She said results of tests of her family members were being awaited.

میرے لیے دعا کی درخواست۔۔۔۔باقی گھر والوں کی رپورٹ کا انتظار سب کے لیے دعا کی درخواست۔۔ pic.twitter.com/kcN76TG5Rf

— Syeda Shehla Raza (@SyedaShehlaRaza) June 15, 2020


12:50pm: Punjab to lock down several areas in Lahore

Punjab Health Minister Yasmin Rashid has said that the provincial government has decided to impose a complete lockdown in some areas of Lahore due to rising coronavirus cases being reported from the city.

During a press conference on Monday she stated that many areas of Lahore would be shut down at 12 midnight.

The provincial health minister said the areas that will experience a complete lockdown include Shahdra, Shad Bagh and Harnispura and the areas will undergo a complete lockdown for at least two weeks.

Yasmin Rashid said food stores and pharmacies will remain open in these areas.

Dr Yasmin Rashid urged people to follow the government's announced standard operating procedures to stop the spread of the virus.

Read story here


12:20pm: Punjab Health Minister Dr Yasmeen Rashid addresses news conference in Lahore
Live: Punjab Health Minister Dr. Yasmeen Rashid addressing news conference in Lahore https://t.co/8nQxDMjzca

— Radio Pakistan (@RadioPakistan) June 15, 2020


11:15am: 10,557 violations of health guidelines across the country during last 24 hrs

During last 24 hours more than 10,557 violations of health guidelines and instructions observed across Pakistan.

More than 1,252 markets/shops, 12 industries and 1,148 transports were cautioned, fined, sensitized and sealed.

Basing on TTQ strategy, complete Muzaffarabad city is under lockdown with a population of 200,000, two sectors of Islamabad are sealed with approximately 50,000 population and more than 1,200 other areas under lockdown in different part of the country.

In line with PM instructions for compliance to health guidelines and instructions particularly working places, industrial sector, transport, markets and shops, NCOC daily morning situational brief in progress.

To ensure the implementation of the health guidelines and instructions and preventive measures including wearing of face mask in public as per WHO new guidelines on the subject particular special teams are operating all across the country to ensure that the SOPs are being implemented

Details of Violations of health guidelines across Pakistan and enforcement measures as under:-

AJK

Violations – 589

Closed/ Sealed: Markets/ Shops – 16; Transport – 226

GB

Violations – 128

Closed/ Sealed: Markets/ Shops – 28; Transport – 30

KP

Violations – 3878

Closed/ Sealed: Markets/ Shops – 222; Transport – 193

Individuals fined – 1157

Punjab

Violations – 4929

Closed/ Sealed: Markets/ Shops – 801; Industries – 12; Transport – 691

ICT

Violations - 21

Unit Sealed; Hotel – 1; Shops – 7; Transport – 8; Individuals Arrest - 4




11:00am: Singer Rahim Shah tests positive for Covid-19

Pakistani pop artist Rahim Shah tested positive for coronavirus, the singer shared on Sunday. Taking to social media, Shah informed fans and followers that he has already isolated himself.

"This is to inform you all that I am diagnosed as Covid positive and staying in self-isolation," the Kabhi Kabhi singer shared. "Please take this seriously for the safety of every Pakistani as it is not a joke and do pray for my fast recovery."

Read story here




10:00am: Sindh to amend rules to hold online assembly sessions

Advisor to CM Sindh on Law & Environment Murtaza Wahab said on Monday that the Sindh Assembly will be amending its rules today to add a provision allowing for the speaker to hold online sessions of the assembly in case of emergency or when it is impracticable.

Sindh will become the first assembly in Pakistan to hold online sessions.

The provincial assembly last month made it compulsory for all MPAs to be tested for coronavirus ahead of the assembly session.

So far 22 Sindh MPAs have test positive for Covid-19.

#Sindh Assembly would be amending its Rules today to add a provision allowing for the Speaker to hold online sessions of the Assembly incase of emergency or when it is impracticable. Thus Sindh will become the 1st Assembly in Pakistan to use technology for its sessions

— SenatorMurtaza Wahab (@murtazawahab1) June 15, 2020


9:45am: Confirmed coronavirus cases in Pakistan soar to 144,478

As many as 5,248 new coronavirus cases have surfaced in the country over the last 24 hours taking the total tally to 144,478.

These include 54,138 in Punjab, 53,805 in Sindh, 18,013 in Khyber Pakhtunkhwa, 8,177 in Balochistan, 8,569 in Islamabad, 1,129 in Gilgit Baltistan and 647 in Azad Kashmir.

The death toll from the virus stands at 2,729 with 97 deaths reported over the last 24 hours. 29,085 corona tests were carried out during this period.

53,721 patients have so far recovered from the disease.




9:00am: Pakistan to start commercial manufacturing of COVID-19 diagnostic kits: Fawad

Pakistan has developed indigenous COVID-19 diagnostic kits that have been approved by Drug Regulatory Authority of Pakistan for commercial use.

In an interview with Arab News, Federal Minister for Science and Technology Chaudhry Fawad Hussain said the locally manufactured diagnostic kits would considerably bring down the cost of coronavirus tests in the country.

He said the kit was developed by experts at the National University of Science and Technology with more than 90 percent accuracy, which is about 20 percent better than the imported tests.

The Minister also expressed the hope that domestic ventilators would also be prepared within next few weeks, since clinical trials of four machines have already entered their final phase.

He said once these trials are over, the commercial entities would be asked to start manufacturing the ventilators.




8:30am: Govt following clear COVID-19 policy, based on ground realities: Information Minister

Minister for Information and Broadcasting Shibli Faraz says the government is following a clear COVID-19 policy, based on ground realities, since outbreak of the pandemic in the country.

Talking to a private news channel, he said the National Command and Operation Center is taking decisions on the basis of daily analysis of the situation.

About the government's preparation for the expected peak of COVID-19 next month, he said no health infrastructure in the world can absorb such a big crisis, however the government would try its best to effectively handle the situation.

Shibli Faraz said despite meager financial resources, the government has enhanced health facilities to almost three times.

He said these include increasing the number of ventilators from 2800 to 4800 with additional 1400 in pipeline, enhancing the number of beds to 800 alone in the federal capital hospitals with thousands in Khyber Pakhtunkhwa and Punjab, besides provision of oxygenated beds.




8:00am: Pakistan's Covid-19 tally surpasses 142,000

The nationwide tally of Covid-19 patients surpassed 142,000 on Sunday as there has been an exponential increase in cases since the start of the current month while the death toll from the disease exceeded 2,600.

The tally of cases in Sindh has moved past 53,000 after 2,287 new cases were confirmed.

Chief Minister Murad Ali Shah said 11,197 tests were conducted in the last 24 hours, of which 2,287 came back positive.

More here