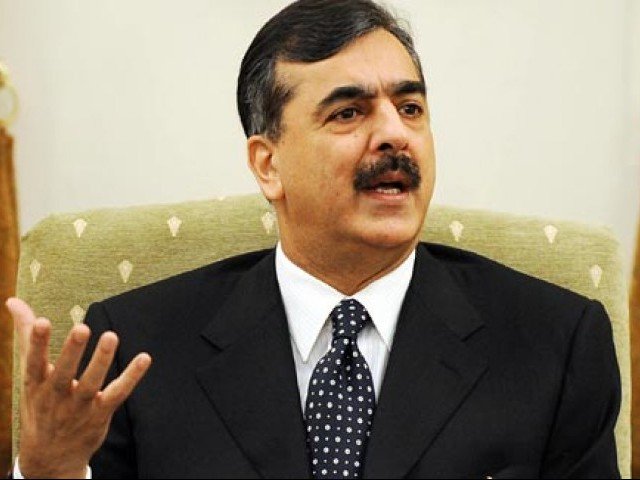 ---
Former premier Yousuf Raza Gilani tests positive for Covid-19
PPP leader's son blames NAB and the prime minister for his father contracting the virus
---
Former prime minister and senior PPP leader Yousuf Raza Gilani has tested positive for the novel coronavirus, his son, Kasim Gilani, confirmed in a tweet on Saturday.

Kasim blamed Prime Minister Imran Khan and the National Accountability Bureau (NAB) for his father contracting Covid-19.


Thank you Imran Khan's govt and National Accountibilty Burearu! You have successfully put my father's life in danger. His COVID-19 result came postive. pic.twitter.com/VxiEXFOkZA

— Kasim Gilani (@KasimGillani) June 13, 2020


On Thursday, Gilani appeared before NAB in the Toshakhana (gift depository) reference. The proceedings of the case were carried out in an accountability court presided by Judge Syed Asghar Ali Shah.

The NAB prosecutor Sardar Muzaffar Abbasi, investigation officer and former premier appeared before the court, while Nawaz Sharif and Asif Ali Zardari remained absent.

Gilani had requested a permanent exemption from personal appearance before the anti-graft body since many lawmakers had recently tested positive for the deadly pathogen.

Zardari's counsel Farooq Naek argued that the health of his client was not stable and pleaded the court to not summon him in the prevailing virus situation.

The judiciary accepted Zardari's plea for exemption from appearance for the day and ordered that the PPP co-chairperson should appear in person in the next hearing.

Pakistani politicians and parliament members are facing a huge increase of coronavirus cases in their ranks as about 100 parliamentarians have contracted the virus in recent days.

Five senior MPs, including Shehbaz and former interior minister and senior opposition leader Ahsan Iqbal, also tested positive for the virus.

A day earlier on June 12, former National Assembly speaker and Pakistan Muslim League-Nawaz (PML-N) leader Ayaz Sadiq also tested positive for the novel coronavirus.