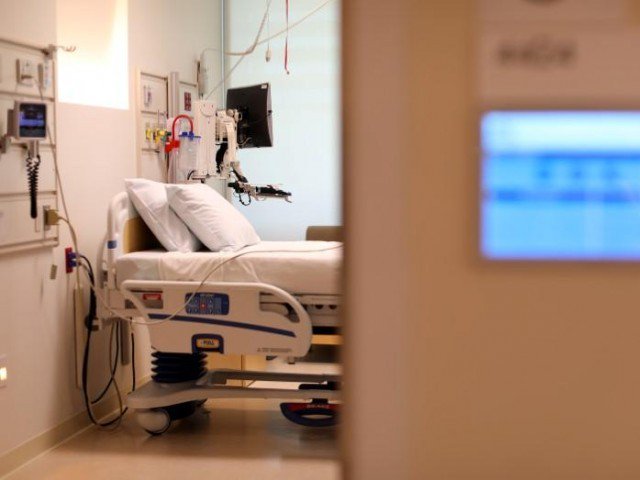 ---
LAHORE: As the number of novel coronavirus cases continues to spike all over the country, government hospitals in Punjab are finding themselves buckling under pressure.

Even before the Covid-19 outbreak, teaching hospitals in the province were far below the World Health Organisation's recommended ratio of intensive care units to beds. But with more and more people falling prey to the pandemic, the hospitals are finding it hard to provide every patient the care they desperately need.

When it comes to intensive care, the WHO recommends that 10 per cent of total of the total number of hospital beds be allocated to ICU facilities. According to official data, Punjab's teaching hospitals have a combined total of 27,718 beds. In ideal situation as such, the hospitals should have at least 2,700 ICU beds. But sources in the Punjab health department revealed that actual number of ICU beds in the province's teaching hospitals stood at 1,021, less than half the number WHO recommends.

To set up an ICU facility, a hospital must arrange ventilators, monitors, infusion pumps and other lifesaving equipment, the sources. "So in essence, we are missing not just 1,750 beds but also 1,750 ventilators, monitors and other vital items," a health department official said.

Beyond a dearth of ICU facilities, most teaching hospitals in the province are also missing incinerators, officials said. According to them, only 14 major hospitals had incinerators and as many as 35 operated without one.

"Funds were allocated in the outgoing fiscal year but they were only enough to cover the cost of five incinerators," said another official. "One incinerator costs roughly Rs75 million, meaning we require Rs2.25 billion in order to procure 30."

"Government hospitals in Punjab are far short of the WHO recommendations for ICU facilities," admitted Punjab Medical Association President Dr Ashraf Nizami. "Not only is the total number of ICU beds far short of 10 per cent of all hospital beds, even hospitals that have ventilators don't have staff trained to operate them. There is massive mismanagement," he said.

However, Dr Asad Aslam, who heads the province's Coronavirus Centre and Mayo Hospital, denied hospitals were unable to cope with the number of Covid-19 patients. "There are 455 ICU beds and 220 ventilators presently in Lahore hospitals, which are capable of meeting demand," he claimed.

Punjab Health Minister Dr Yasmin Rashid also denied that there was a shortage of ventilators and ICU beds in the province. "We have dedicated 52 per cent of ICU facilities and 53 per cent of high-dependency units for Covid-19 patients in all hospitals. There is no shortage," she insisted when contacted by The Express Tribune.

Even so, sources said the Punjab health department has conveyed the urgency of the situation to both the federal and provincial governments along with a plan for emergency procurement of ventilators and other ICU equipment for teaching hospitals. The provincial departments of both specialised health and primary and secondary health have sought Rs37 billion in total, at Rs9 billion of which will have to be released immediately.

"Ventilators are expected to cost over Rs6 billion and beds and monitors will cost more than Rs1 billion each. Infusion pumps, meanwhile, will cost around Rs350 million," the health department official said. The department would spend remaining money on setting up more labs and on labour, staff training and other upkeep. He added that the department also wants to set up regional blood centres in Sargodha, Rawalpindi and Gujranwala for a total cost of Rs2.1 billion, along with a Rs5 billion institute for blood diseases.

Published in The Express Tribune, June 12th, 2020.