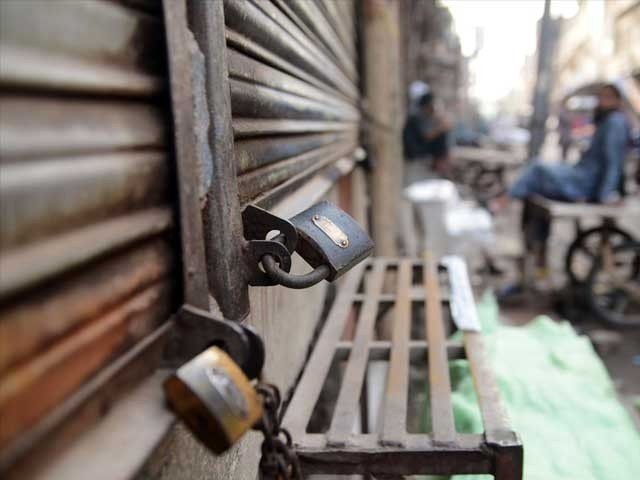 ---
PESHAWAR: With the province registering 521 new novel coronavirus (Covid-19) cases on Tuesday with 23 associated deaths, the government continued its action against businesses defying the standard operating procedures (SOPs) and sealed as many as 1,715 stores.

This was disclosed as Khyber-Pakhtunkhwa (K-P) Chief Secretary Dr Kazim Niaz directed deputy commissioners throughout the province to take strict action against the businesses violating the guidelines.

He said that no one will be spared for violating the precautionary guidelines against Covid-19.

Meanwhile, deputy commissioners (DCs) from across the province submitted reports to the chief secretary office on implementing the Covid-19 guidelines.

The reports were also submitted to the Performance Management and Reforms Unit (PMRU) in the chief secretary's office.

The report showed that at least 40,563 shops were inspected across the province. Around 10,700 shopkeepers were warned for violating the SOPs and fines worth Rs2.9 million were imposed on 27,647 shops. Further, 1,715 shops were sealed.

The report further said that 6,232 fuel stations were inspected across the province with warnings issued to 1,512 stations for violation of the government SOPs.

Similarly, fines worth Rs1.4 million were imposed on 2,059 businesses and 180 fuel stations were sealed.

Additionally, 9,877 markets across the province were inspected and warnings were issued to 2,484 markets for noncompliance with SOPs.

A fine of Rs549,530 was imposed on 344 markets and 55 markets were sealed.

Further, the district administration inspected 955 bus stands across the province in which warnings were issued to 466 and fines worth Rs354,805 were imposed on 57 bus stands.

For violating the government SOPs, 37 bus stands were sealed.

District administration officials also visited and inspected 12,546 transport vehicles across the province. Drivers and owners of 3, 534 vehicles were warned to follow the virus protocols and 1,311 vehicle owners were fined Rs980,431. A further 307 transport vehicles were banned.

Furthermore, 9, 143 industrial units were inspected in which warnings were issued to 874 units for violation of SOPs. At least 762 industrial units were fined Rs443,195 and 258 units were sealed. 

Published in The Express Tribune, June 10th, 2020.