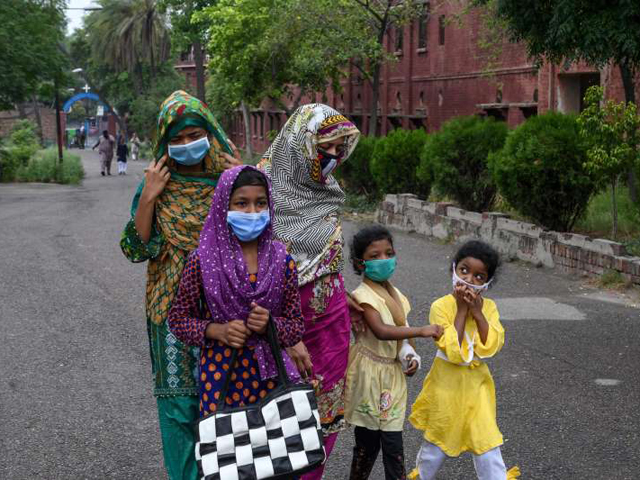 ---
ISLAMABAD / KARACHI / PESHAWAR / LAHORE / QUETTA / MUZAFFARABAD: The novel coronavirus emerged in the central China city of Wuhan towards the end of last year and proliferated to almost the whole world within a couple of months. It's not the virulence or fatality, but the infectivity of the new virus – also known as SARS-CoV-2 – that has set off a global frenzy.

The Covid-19 respiratory illness caused by this mysterious contagion has so far infected more than 6.8 million people in 202 countries and territories of the world – and over 397,000 of them have died and counting.

Pakistan, despite its close proximity with China, remained coronavirus-free until February 26 when a young man from Karachi tested positive after returning from Iran – one of the worst-hit countries. After a brief hiatus following the first case, Covid-19 cases spiked as more pilgrims returning from Iran tested positive for the virus.

Nearly one and a half months after imposing the lockdown across the country, Prime Minister Imran Khan announced to ease the lockdown in phases.

The nationwide tally of Covid-19 patients stands at 105,929 with 38,903 cases in Punjab, 39,555 in Sindh, 14,006 in Khyber-Pakhtunkhwa, 6,788 in Balochistan, 952 in Gilgit-Baltistan, 5,329 in Islamabad and 396 in Azad Jammu and Kashmir.

The virus has claimed at least 2,113 lives while around 34,355 coronavirus patients have recovered.

The situation remains fluid and we're updating stats as soon as new figures are officially released.

Follow The Express Tribune's live coverage of the pandemic here.




12:20am: PML-N spokesperson Marriyum Aurangzeb tests positive for coronavirus

Pakistan Muslim League-Nawaz (PML-N) spokesperson Marriyum Aurangzeb on Monday night said that she has tested positive for Covid-19.

She told The Express Tribune that she has gone into self-isolation at home while experiencing mild symptoms including fever.

She said she might have contracted the virus at Lahore High Court premises where she attended a hearing with the party leaders including former prime minister Shahid Khaqan Abbasi and Tariq Fazal, who are already diagnosed with the respiratory disease.




11:10pm: Only 86 MNAs to attend budget session amid coronavirus pandemic

The ruling and opposition parties in the lower house have agreed on a formula to hold the budget session of the National Assembly through participation of only 86 lawmakers – the minimum number required to maintain NA quorum – in order to stop the spread of contagious coronavirus disease.

Under rule 5 of the National Assembly, if at any time during a sitting, the attention of the NA speaker is drawn to the fact that less 'than one-fourth' of the total membership of the assembly is present, the speaker has to suspend the business.

Full story here




10:55pm: FM Qureshi, Irish counterpart discuss Covid-19 challenges

Foreign Minister Shah Mahmood Qureshi held a telephone conversation with his Irish counterpart Simon Coveney on Monday and discussed range of issues including Covid-19 pandemic, cooperation at the multilateral fora and the prospects for enhanced bilateral cooperation.

Underscoring that the global pandemic is the gravest challenge to confront humanity in a century, the foreign minister offered condolences over loss of precious lives and commended the effective measures being taken by Ireland to contain the outbreak, according to a statement issued by the Foreign Office.

FM Qureshi briefed Simon, who is also a deputy prime minister of Ireland, about the latest situation of coronavirus in Pakistan and steps being taken by the government to contain its spread.

Read more here




10:34pm: G-B reports one more Covid-19 death, 20 new cases

Gilgit-Baltistan reported 20 more Covid-19 cases, taking the tally to 952 in the region.

According to G-B health department, one more patient succumbed to the deadly disease, taking the total to 14.

A total of 597 patients have also recovered from the respiratory disease in the region.


District wise distribution of active positive cases of COVID19 in Gilgit-Baltistan#CombatCoronaVirus #CoronaFreeGB #InshAllah #StayHomeStaySafe pic.twitter.com/93MvQtk4z7

— Health Department Gilgit-Baltistan (@HealthDeptGB) June 8, 2020


9:15pm: Sindh govt warns to suspend public transport amid SOPs violations

With blatant and repeated flouting of the agreed-upon standard operating procedures (SOPs), the Sindh Transport and Mass Transit Department is once again considering the suspension of intra-city public transport in the province, just days after giving transporters the go-ahead to ply the roads.

Sindh Transport and Mass Transit Minister Awais Qadir Shah said on Monday that the department had received hundreds of complaints about violations of the defined SOPs for public transport, adding that these violations posed a great risk of further spreading coronavirus.

Details here




9:10pm: Federal govt to provide 1,000 oxygenated beds to provinces in June

Minister for Planning, Development and Special Initiatives Asad Umar on Monday said the federal government would provide 1,000 oxygenated beds to the provinces during the month of June to cope with the fast-emerging rush in large city hospitals due to Covid-19 pandemic.

Talking to media persons at the National Command and Operation Centre (NCOC) after chairing a meeting to review Covid-19 situation, he said more beds would be provided to the hospitals across the country in July.

Umar said the federal government would also provide required help to the provinces.

Full story here




8:45pm: Balochistan reports four more deaths, 272 new Covid-19 cases

The Balochistan health department has confirmed another four casualties due to coronavirus in the past 24 hours to bring the provincial death toll to 58.

Health officials, in today's situational report, also confirmed emergence of 272 new cases of Covid-19, taking the province's tally to 6,788.

2,360 patients have recovered from the disease in the province so far.




6:45pm: 12 more die of Covid-19 in K-P as 519 new cases raise tally to 14,006

The Khyber-Pakhtunkhwa (K-P) health department has confirmed another 14 fatalities due to coronavirus in the past 24 hours to bring the provincial death toll to 587.

Four Covid-19 patients died in Peshawar, two each in Malakand and Mansehra, and one each in Mardan, Dir Lower, Abbottabad and Haripur.

519 new cases were also confirmed, taking the total cases to 14,006.

37 more patients recovered to take the total recoveries to 3,579. 81,442 total tests have been conducted in the province so far.


519 new cases confirmed taking the total cases to 14,006. 12 more lives were lost (4 Peshawar, 2 Malakand, 2 Mansehra, 1 each in Mardan, Dir Lower, Abbottabad, Haripur) taking total to 587. 37 patients recovered taking tally to 3,579. 81,442 total tests conducted in KP. pic.twitter.com/7aNosCgYJw

— Health Department KP (@HealthKPGovt) June 8, 2020


6:40pm: Govt cracks down on safety breaches, coronavirus cases top 100,000

Authorities in Pakistan have stepped up enforcement of government safety measures after a rise in the daily number of coronavirus infections pushed total cases to more than 100,000.

Official statistics released on Monday showed 103,671 infections and 2,067 deaths from the virus. Record numbers of new infections over the last 10 days partly reflect increased testing.

The federal and provincial governments lifted lockdown last month, putting protocols in place for the reopening of markets, industries and public transport — including mandatory wearing of masks and social distancing.

Read full story here




5:42pm: Coronavirus cases to peak in Pakistan by end of July or August: PM

Prime Minister Imran Khan on Monday said that the government expects a peak in coronavirus cases by end of July or early August.

The government had earlier said they expect Pakistan's coronavirus peak by end of May or early June.

The premier said it is a fact that the virus will spread and the "the trend our experts have observed is that it spreads, then peaks after a few weeks and then the curve will flatten".

"The purpose of flattening the curve is to ease the pressure on hospitals."

"We can manage the pandemic if we observe the SOPs in place and take precautions," the premier urged the people.

[/fbvideo]

Read more here


5:10pm: PM Imran Khan addresses media on Covid-19 situation
Live: Prime Minister Imran Khan expressing views on Corona virus situation in Pakistan https://t.co/8Q8qPzSoWI

— Radio Pakistan (@RadioPakistan) June 8, 2020


5:00pm: President, Governor Sindh inquire after Sheikh Rasheed

President Arif Alvi and Governor Sindh Imran Ismail called on Railways Minister Sheikh Rasheed to inquire after his health.

The minister had tested positive for coronavirus earlier in the morning today.


4:30pm: WHO's WhatsApp service
Stay informed on the latest information about #COVID19 from trusted sources.

Try WHO WhatsApp service
👉 https://t.co/NiHHv2gzhU

Start by typing 'hi'.#coronavirus pic.twitter.com/VQNkpjlSom

— World Health Organization (WHO) (@WHO) June 8, 2020
4:15pm: NIH Rapid Response Team conducts Sero-Prevalence Survey for COVID-19
Rapid Response Team of NIH, engaged in field activities in Sero-Prevalence Survey for COVID-19. pic.twitter.com/2XaXMuUfaL

— NIH Pakistan (@NIH_Pakistan) June 8, 2020


4:00pm: SC asks govt to draft Covid-19 legislation

The Supreme Court on Monday asked the federal government to draft legislation to tackle Covid-19 and its effects.

A four-judge bench, led by Chief Justice of Pakistan Gulzar Ahmed, heard the suo motu case on COVID-19 and wondered how policy can be formulated through executive orders as it should be formulated under a law.

"Where is the law which says that Covid-19 poses a threat to life," questioned the CJP.

He added that work cannot be done through press conferences, rather there should be a law regarding the pandemic's outbreak.

Read story here




3:50pm: Sheikh Rashid says he is showing no symptoms for COVID-19

Railway Minister Sheikh Rashid on Monday said that though he had tested positive for Covid-19 he was showing no symptoms and was fine.

I have been tested Positive for COVID-19 though I have no symptoms of COVID-19, whatsoever. I am fine, Alhamdu Lillah. Need your prayers.

-SR-

— Sheikh Rashid Ahmad (@ShkhRasheed) June 8, 2020


3:30pm: Sindh mulls shutting public transport over SOP violation

Sindh Transport department is mulling over closing public transport again after it received hundreds of complaints of SOP violation in public transport.

Sindh Transport Minister Owais Qadir Shah said that the provincial transport department was receiving hundreds of complaints of violation of SOPs.

"Drivers, public transporters and passengers are not following SOPs which is dangerous, the transport minister said that fines have also been imposed on buses, coaches and other public transports but the situation is largely the same.

He warned that if the violations continue public transport will have to be closed again.

Owais Qadir Shah said that traffic police was not cooperating to implement SOPs.


3:00pm: 29 deaths reported in Sindh

Sindh on Monday reported 1,447 new cases of coronavirus taking the provincial total to 39,555.

As many as 29 deaths were reported from across the province taking the death toll to 679.

8, 513 tests have been conducted in the past 24 hours and 19,137 people have so far recovered from the virus.

A total of 435 patients are said to be critical while 83 people are said to on ventilators in Sindh.

Story here




2:30pm: Another police official loses battle against COVID-19 in Peshawar

Peshawar SHO Nisar Khan passed away on Monday after contracting coronavirus.

The SHO was admitted in Peshawar's Khyber Teaching Hospital.
2:00pm: A 71-year-old COVID-19 patient celebrates his birthday
A doctor at a hospital in Peshawar brought cake to the ICU on the request of 71 years old corona patient to celeberate his birthday and bring smile on his face. ❤❤
(TNN)#Doctors#Covid_19 #coronavirus pic.twitter.com/CaFUEpELKT

— Tajik Sohail Habib (@DrTajikSohail) June 8, 2020


1:45pm: Sindh health minister writes to speaker provincial assembly

The provincial health minister has written a letter to Speaker Sindh Assembly and has urged him to ensure lawmaker above the age of 55 and those who suffer from comorbidities do not attend assembly sessions due to the increasing number of Covid-19 cases.

Read story here




1:15pm: Govt to increase hospital beds with oxygen

Planning Minister Asad Umar has said that the government is focusing to improve the health care system of the country providing essential equipment to hospitals.

Briefing the media in Islamabad today, he said the National Command and Operation Center has reviewed the health care system and requirements of hospital in its meeting.

He said it has been decided that a special package will be prepared in this regard for hospitals across the country in consultation with all provinces and other federating units.

He said the federal government will ensure provision of one thousand ICU beds to hospitals during this month. He said 250 ventilators have been provided to all four provinces including Gilgit baltistan and Azad Kashmir.


We have decided in the NCOC meeting this morning that the federal government will ensure increase of 1000 beds with oxygen supply capability in the major cities of the country within the month of june

— Asad Umar (@Asad_Umar) June 8, 2020


12:30pm: Federal Minister Sheikh Rasheed tests positive

Federal Minister for Railways Sheikh Rasheed has tested positive for the novel coronavirus.

Although the minister is not showing any symptoms, the minister has gone into self-isolation for two weeks.

Read story here


11:45am: CM Buzdar urges people to be cautious 
CM Punjab Sardar Usman Buzdar says we will have to learn to live with coronavirus by adhering to precautions as citizens can protect themselves@PakPMO @UsmanAKBuzdar https://t.co/1Jgj3Z4dvg

— Radio Pakistan (@RadioPakistan) June 8, 2020


10:00am: Former premier Shahid Khaqan Abbasi contracts coronavirus

Former prime minister Shahid Khaqan Abbasi tested positive for coronavirus on Monday.

PML-N President Shehbaz Sharif prayed for the speedy recovery of the party leader and said that the increasing number of coronavirus patients in the country was concerning.

Read story here




9:00am: Pakistan crosses 100,000 mark

As many as 4,728 new coronavirus cases have surfaced in the country over the last 24 hours taking the total tally to 103,671.

These include 38,903 in Punjab, 38,108 Sindh, 13,487 Khyber-Pakhtunkhwa, 6,516  Balochistan, 5,329 Islamabad, 932 Gilgit-Baltistan and 396 in Azad Kashmir.

The death toll from the virus stands at 2,067 with 65 deaths reported over the last 24 hours.

34,355 patients have so far recovered from the disease.




8:30am: PM Imran urges Punjab, K-P govts to slash expenditures amid Covid-19 pandemic

Prime Minister Imran Khan on Sunday urged the Punjab and Khyber-Pakhtunkhwa (K-P) governments to slash their non-development expenditures in line with the Centre's policy to ward off the adverse impact of Covid-19 pandemic on economy.

While chairing a high-level meeting over the upcoming proposed fiscal budgets of Punjab and K-P for the year 2020-21, the premier directed the PTI-led provincial governments to create job opportunities in the urban areas hit hard by the coronavirus crisis.

PM Imran said that due to Covid-19 pandemic, the world economies are facing unprecedented challenges and in the upcoming fiscal budget, the development expenditures needed to be enhanced to boost employment opportunities.

Read story here




8:00am: Punjab further relaxes business restrictions despite rise in Covid-19 cases

The Punjab government has granted further exemptions to businesses operating in limited capacity to curtail the spread of coronavirus despite witnessing a sharp rise in the new cases following Eidul Fitr.

According to a notification issued by the primary and secondary healthcare department on Sunday night, bakeries and milk shops are now allowed to operate 24 hours a day, seven days a week "subject to adoption of SOPs/guidelines".

Chicken and meat shops are also allowed to operate from 9am to 7pm throughout the week.