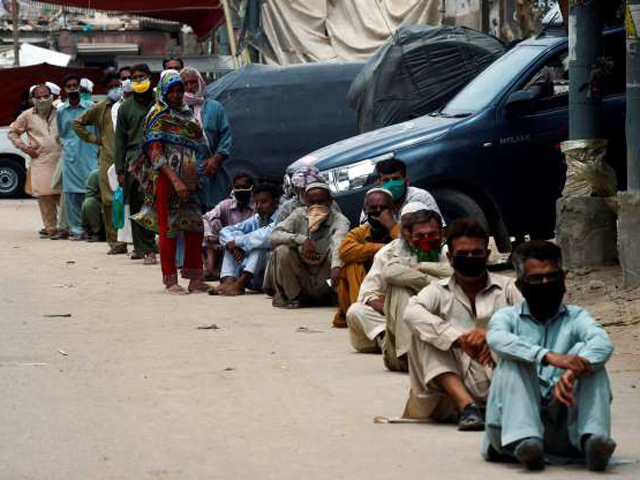 ---
Ehsaas relief resumes in Waziristan sans biometric verification
Several beneficiaries had faced difficulties in collecting the amount due to previous requirement
---
The federal government has resumed relief cash transfers in Waziristan under the Ehsas Emergency Cash Programme while circumventing biometric verification, which was causing hindrance for beneficiaries.

Daily wage earners in Waziristan who were eligible under the programme had been facing difficulties in withdrawing money due to the requirement of biometric identification and subsequent verification by NADRA.

Beneficiaries facing this problem will now be paid exclusively via the designated branches of collaborating banks and can side-step the biometric verification process.

A new SMS will now be sent to eligible beneficiaries through the 8171 number. The message will detail the name and CNIC number of the beneficiary, as well as the date on which the amount can be collected and the address of the designated branch from where the money can be withdrawn.

According to Ehsaas representatives, the process has already kicked off and the messages are being sent in phases to beneficiaries for whom biometric verification was proving to be a hindrance.

The beneficiaries are required to carry their original CNIC as well as the mobile phone on which they have received the message for one-time cash relief.

According to the prime minister's special assistant, Dr Sania Nishtar, direct payments through partnering banks is now a key facet of the Ehsaas programme and is only to facilitate those who had faced issues earlier. Banks have to ensure all necessary precautionary measures to avoid the spread of the coronavirus, she added.

Dr Nishtar informed that this new disbursement process will be carried out across the nation in phases - so as to avoid overcrowding at designated branches - and everyone on the beneficiary list who had faced this issue will receive new messages regarding this.

Previously, biometric verification through fingerprint or thumb impressions was a mandatory step for eligible persons to receive financial aid through the Ehsaas programme.

The banks partnering with the federal government for the disbursement process include Habib Bank Limited in Sindh, Punjab and Balochistan, and Bank Alfalah in Khyber-Pakhtunkhwa (K-P), Gilgit Baltistan, and Azad Jammu and Kashmir.

Roughly Rs117.49 billion have been distributed among 96.63 million eligible families, according to Ehsaas officials.

The programme has recently kicked off for emergency cash distribution to daily wage earners, low-income labourers, and small shopkeepers in the North and South Waziristan regions of K-P.