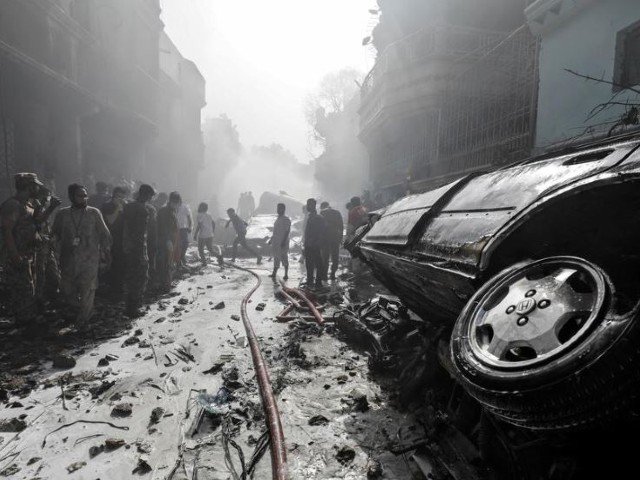 ---
KARACHI: As announced by the government, the Pakistan International Airlines (PIA) has started to pay compensation to the families of the Karachi plane crash victims.

According to sources, families of 82 victims of the ill-fated flight have been given Rs1 million while the two girls who were injured have been provided Rs500,000 each.

The PIA plane – Airbus A-320, carrying an estimated 99 people on board, crashed into a residential area near Karachi airport on May 22, resulting in 97 casualties.

During the ill-fated flight, the pilots made a first landing attempt and the plane briefly touched the ground multiple times, before attempting to land for a second time.

Separately, the federal government last month had announced it would bear the expenses to compensate Model Colony residents whose houses and cars were damaged when the plane crashed inside the locality.

Meanwhile, the Aircraft Accident and Investigation Board (AAIB) has sought all data being used in an emergency, including the fire brigade and air controller, from the Civil Aviation Authority (CAA) as part of its second round of probe in the PIA airplane crash tragedy.

Sources said the air crash experts have sought the record of the conversation between the flight captain of PK-8303 and the air traffic controller on an emergency basis. They have also summoned the conversation record of the Department of Fire and other departments concerned, who were present on the ground on the day of the incident.

The AIIB team has asked the authorities to submit the video recording of the radar in MP4 format.

The data also includes the vehicles being used as an emergency response as the PK-8303 made bid for second landing after the belly landing in the first attempt.

Moreover, technical teams have started planning on extracting the parts of the crashed plane from the roof of the residential place. The engine of the Airbus 320 and some parts of the landing gear are still present at the upper portion of the house. Both the parts are stuck under the overhead water tank. Meanwhile, the probe team in France has successfully downloaded the data of the cockpit voice recorder and flight data recorder.

PIA pilot violated landing protocol: CAA

The CAA has alleged that the pilot of the national flag carrier plane had violated landing protocols. According to a report issued on Tuesday, the pilot disregarded air traffic control's (ATC) direction to lower the altitude.
COMMENTS
Comments are moderated and generally will be posted if they are on-topic and not abusive.
For more information, please see our Comments FAQ