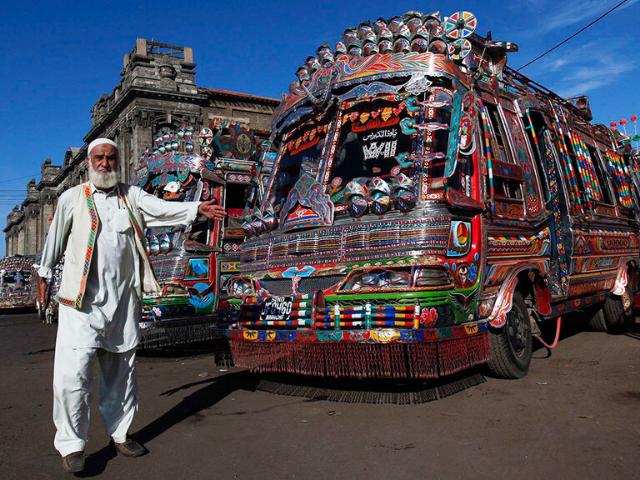 ---
Karachi buses get the green light
Ride-hailing services also restored, SOPs issued by govt
---
KARACHI:

Sindh Transport Minister Awais Qadir Shah announced on Tuesday that the government had granted permission to resume ride-hailing services in Karachi and intra-city transport services across the province, starting today (Wednesday).

He made the announcement after a meeting with transporters, clarifying, however, that the resumption of public transport services was subject to conditions in line with the standard operating procedures (SOPs) issued to protect the public against the coronavirus.

Transport guidelines

Outlining the guidelines to be observed while using public transport, he said that only two persons would be allowed to travel in a vehicle booked via a ride-hailing company at a time, adding, though, that more persons could be allowed to travel at a time in case of an emergency.

Moreover, he stated that online bus-hailing enterprises had only been permitted to offer seat-to-seat services while the use of air conditioners was prohibited while carrying passengers.

Besides, transporters have also been instructed to keep sanitisers in vehicles and only allow persons wearing face masks to ride their vehicles, he said, adding that buses could only pick and drop passengers at specific terminals.

According to a notification issued by the transport and mass transit department, buses, terminals and waiting areas must be cleaned and disinfected, while social distancing must be observed during ticketing, boarding, traveling and alighting. Further, it stated that the body temperatures of every passenger as well as the driver and conductor must be checked before boarding, and no one with a cough or fever should be allowed on board.

The notification added that only half the seats should be filled, with reasonable distance between them, and ventilation should be ensured by opening windows or ventilators. Unwell or elderly passengers are also not permitted on board.

Inter-district and inter-province transport is still prohibited.

Action against violations

The transport minister warned that if any transporter failed to follow these guidelines, they would be restricted from operating and action would be taken against those not carrying sanitisers in vehicles and allowing people to ride their vehicles without wearing face masks.

He said that he had formed a monitoring and inspection team, comprising transport and revenue board officials, to ensure that SOPs issued for public transport were duly followed, maintaining that he had received assurances from transporters that they would observe the guidelines and allow only limited number of passengers to board their vehicles.

Meanwhile, in a meeting of transporters, Karachi Transport Ittehad president Irshad Bukhari gave assurances that drivers and fare collectors would use face masks, hand sanitisers and gloves, while passengers would only be allowed to sit seat by seat. He added that transporters failing to follow the SOPs would not receive any support.

Recent developments

Ride-hailing services and intra-city buses had been suspended as the government earlier imposed a lockdown to try and curb the spread of the novel coronavirus.

In accordance with directives from the provincial government, Careem and Uber had temporarily suspended services in the province of Sindh from late March. Mass transit startup Airlift had also decided to temporarily suspend its services as the number of Covid-19 cases rose in Pakistan. Airlift had initially shut down its services till April 6, 2020.

Transporters, on the other hand, had persistently requested the government to allow them to resume services as they continued to face financial loss in the face of a pandemic-induced lockdown, warning that they would bring their buses onto the streets despite the ban earlier this week.