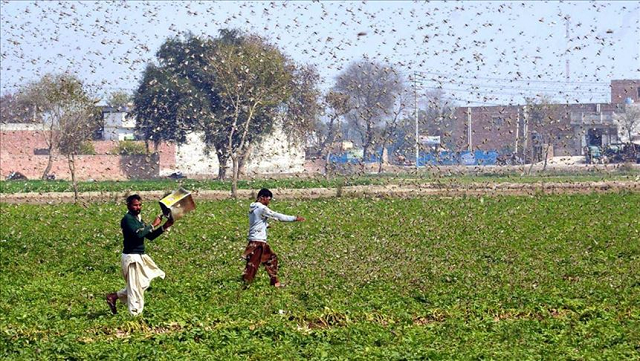 ---
KARACHI: Farmers in Pakistan have voiced concern over inaction and lack of coordination between provincial and federal governments to draft an effective strategy to control locust swarms, which are wreaking havoc in the country and pose food security risks amid Covid-19.

In a teleconference on Friday, Sindh Abadgar Board Vice President Mahmood Nawaz Shah lamented that authorities have done little to contain the threat of locust since it first emerged in May 2019.

"As control measures were not put in place in a timely and effective manner, Pakistan saw extraordinary increase in locust infestations on crops," he said.

He pointed out that never in its history had the country faced an issue of food security but the locust invasions can change that scenario.

The official added that according to Food and Agriculture Organization (FAO), huge swarms of the insect are developing in Yemen and Africa and soon they would be on their way to Pakistan.

He added that 38% of the area in Pakistan was favourable for locust breeding and with monsoon season approaching in the coming months, locust infestation can cause a dent of over Rs500 billion to the agricultural economy and affect the food security of Pakistan.

"This will be the last straw that will break the back of the rural economy of Pakistan, which is already suffering due to the impact of Covid-19," he said.

The official cautioned that the adverse impact of locust on agricultural production would in turn cause devastation for other sectors of the economy.

"Therefore, it is critical that the federal and provincial governments leave political differences aside and take urgent measures to eradicate the locust problem," he said.

The window of time to effectively control the problem is quite narrow and the prime time to eliminate the insect is when it is breeding in desert.

To end this menace in a comprehensive manner, aerial sprays are required, he stressed.

The definite roles of provincial and federal government should be outlined so that their efforts are complemented.

"Currently there seem to be disjointed efforts, which are damaging the cause of fighting this national threat," he said. It is a regional threat and control measures should be coordinated with India and Iran for effective control of the problem, he said.

Published in The Express Tribune, May 30th, 2020.

Like Business on Facebook, follow @TribuneBiz on Twitter to stay informed and join in the conversation.