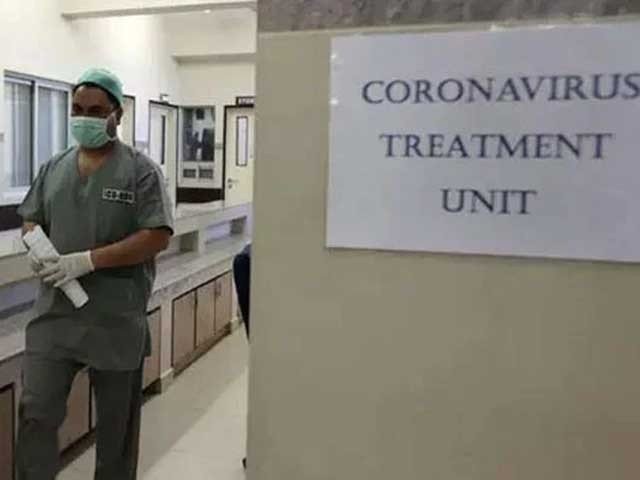 ---
KARACHI: Scores of coronavirus patients poured into Karachi's hospitals as Eidul Fitr came to an end, further burdening facilities that were already overwhelmed. Consequently, several patients were reportedly denied admission due to a lack of beds, even as the National Disaster Management Authority insisted there was no shortage of beds or ventilators.

"We had to treat many patients in ambulances and we tried to do it in the best possible way," a senior official at Dow University of Health Science's (DUHS) Ojha campus told The Express Tribune on condition of anonymity.

Stating that the healthcare facility saw a sudden influx of Covid-19 patients on Tuesday and Wednesday, he confirmed that many were denied admission due to lack of capacity, while only seriously ill patients were admitted for treatment. Several others kept waiting in the hospital's crowded corridors, he said.

DUHS spokesperson Naeem Tahir, while not denying the reports, maintained that the situation was under control and no patients were being turned away.

Worrying numbers

According to a senior doctor at Dr Ruth Pfau Civil Hospital, Karachi (CHK), all major hospitals in the metropolis, including CHK, Jinnah Postgraduate Medical Centre (JPMC), Indus Hospital and DUHS, had run out of space. Providing free treatment for Covid-19, these facilities are frequented by those unable to afford private healthcare.

762 new Covid-19 cases, 14 more deaths in Sindh

"I have been contacted by at least 12 families, including my own relatives, seeking admission for Covid-19 patients, but I cannot find a single empty bed," the doctor, who asked not to be named, said helplessly. He claimed that the health department had been warned that such a situation was likely to arise after May 20 but no arrangements were made to accommodate the expected influx.

According to data shared with The Express Tribune by the health department, as of Wednesday, all 12 beds in CHK's intensive care unit (ICU) for coronavirus patients were occupied, including two with patients on ventilators and another two with patients placed on bilevel positive airway pressure machines.  Similarly, all 19 beds in JPMC's high dependency unit (HDU) and 17 in the ICU, with two having patients on ventilators, are occupied.

While CHK medical superintendent Dr Khadim Hussain Qureshi denied reports of patients being turned away, he admitted the unavailability of ventilators. "We are a public sector hospital and cannot say no to any patient," he said, adding, however, that no ventilators were available there at the moment.

Nevertheless, Dr Qureshi claimed that the hospital's isolation ward still had seven beds vacant, adding that he expected to receive 27 new ventilators by next week.

"All hospitals are now in constant contact with each other and critical patients are referred to facilities where ventilators are available," he said, explaining how hospitals were managing the increased burden and insisting that isolation wards at most other hospitals still had enough space.

Authorities understating corona infections in prisons: JPP

But the numbers paint a different picture.

The Indus Hospital has 15 ICU beds and 13 HDU beds for coronavirus patients. All of them are occupied, as per the health department's data. Moreover, the hospital's 15-bed isolation ward is also filled to capacity.

Likewise, 10 ICU beds and 16 in the isolation ward at the Sindh Institute of Urology and Transplantation are all occupied. However, two beds out of 30 in its HDU are vacant.

The scenario is not too different at DUHS, where just one out of 10 ICU beds and seven out of 40 in isolation wards are vacant.

A 'manageable' situation?

However, Sindh health department spokesperson Atif Vigho categorically denied the reports of hospitals running out of space for Covid-19 patients.

"We still have ventilators available [for coronavirus patients] in some hospitals," he said, adding that the isolation facilities at the Expo Centre and PAF Museum had space too. "And beds are even available at some hospitals."

Admitting that the situation was not good, he maintained that it was still manageable.

These views were reiterated by JPMC executive director Dr Seemin Jamali, who said that the state of affairs was still manageable even though the Covid-19 patients visiting the hospital had risen during Eid. "The situation is not favourable but there is still some space for Covid-19 patients at JPMC."

Indus Hospital head Dr Abdul Bari remained unavailable for comment.