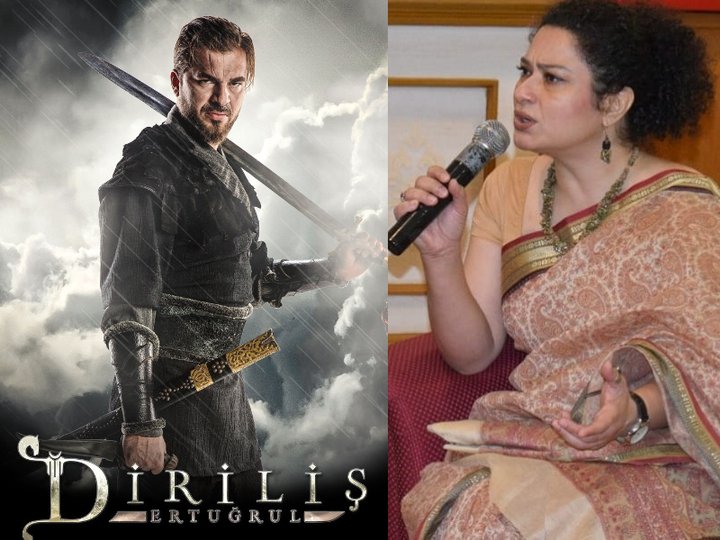 ---
KARACHI: The saga of culture, art, tradition and religion is a delicate one, and with the onslaught of Turkish mega-hit Diriliş: Ertuğrul, many are forced to ponder about the underlying formula of its runaway success in Pakistan.

Interestingly, this is not the only sensitive vein that's been touched by Ertuğrul and its appeal for the masses. The likes of Yasir Hussain and Mansha Pasha, feel that Ertuğrul's success might as well herald the ruin of our own local content.

Renowned actor Saba Qamar, however, doesn't agree with the aforementioned narrative. "I would like to say that everyone's income is in the hands of Allah. Only Allah can kick away your bread and butter. No human is capable of doing so if He doesn't will it," she told The Express Tribune.




"It really doesn't matter how many international shows we air. Even if a single drama manages to capture your audience's imagination, it's a win. If you have the talent, it will always shine through regardless of the competition."

The Cheekh star's sentiments were echoed by veteran actor Sania Saeed, who has been a fixture on local TV for decades, having worked in top serials such as Aseer Zadi, Sang-e-Marmar, and Kitni Girhain Baaki Hain to name a few.

"I think Ertuğrul's success is about the storytelling, the novelty of the story and the fact that it comes from a different culture," said Sania, in a conversation with The Express Tribune. "That's why stories were told in the first place, right? People would travel from one place to another, telling stories about the places they'd come from and that is how culture and languages were propagated."

This led us back to a probing question: Is there an element of religious affinity that's making troves of Pakistanis watch the serial, making it possible for it to rack up 200+ million views on YouTube? Pakistani film actor Sahiba Afzal even went as far as to suggest that the success of Ertuğrul is a testament to the fact that the Pakistani audience wants to watch "brave men and covered women" on screen but viewers beg to differ.




"I think they (the public) are being shown men and women who are completely different from the kind of men and women they're used to seeing on our screen and our plays," Sania said. "These women are industrious, working women. They move freely in their tribes, lead them and run the economy," she added defiantly.

"It's not only them being covered. They're khanjar- (machete) carrying, sword- swaying women. They are physically strong, which means their bodies weren't limited and are free. They feel safe in their environment."

She also shed light on the kind of qualities that men in Ertuğrul boast of, apart from their bravery. "Their men are not only warriors, but they are also vulnerable, loving, compassionate, and dedicated to their families and their women. They are not afraid to cry when their fathers, comrades, or soldiers die. They are not afraid to cry when they're thinking of the woman they love or when their wife is in pain when their children are born," said Sania.




Saba, who is known for being straightforward and unfiltered, also agreed with Sania over the fascination with and acceptance of 'foreign content'. "It's human nature to want change, and so when we seek it, we seek it in Netflix, we seek it in Bollywood and Hollywood films as well," she said.

"I think people watched Ishq e Mamnoon with the same kind of fervour as Ertuğrul. They would watch Kyunki Saas Bhi Kabhi Bahu Thi and Kahaani Ghar Ghar Ki too and all of these were equally popular. I think people just need an explanation or excuse to explain why they are liking it," shared Sania.

"It's also about the way that characters have been developed that people are liking. It's a story well told, the production value is really good and we just feel proud because we identify with it very strongly as Muslims. So, I think people are just very proud that it's been made by a country that is also predominantly Muslim," she elaborated.

As far as the threat to local content is concerned, both Sania and Saba are of the view that we need to work harder and demand more explanations rather than pointing fingers.

"Haven't we had Bollywood films in cinemas?" questioned Saba. "I think we just need to mentally grow and evolve a little and polish our own skills instead of criticising others."




Sania chimed in, expressing more concern for the blueprint of how this transaction came about at PTV. According to Sania, a more important question that needs to be asked is where the money spent on acquiring Ertuğrul was planned to be spent had Ertuğrul not come about?

"Was there a plan? Or does all this get done on whims such as, 'Oh, the PM said 'buy it, so buy it!' What is the policy?" she questioned. "There's no point in screaming after something like this happens. There has to be a negotiation that is done continuously with the government to create a policy for your country. A while later after Ertuğrul finishes, everyone will forget all this and move on and this discrepancy will be buried. Who is negotiating with a clear-cut policy after or before that?"

Have something to add to the story? Share it in the comments below