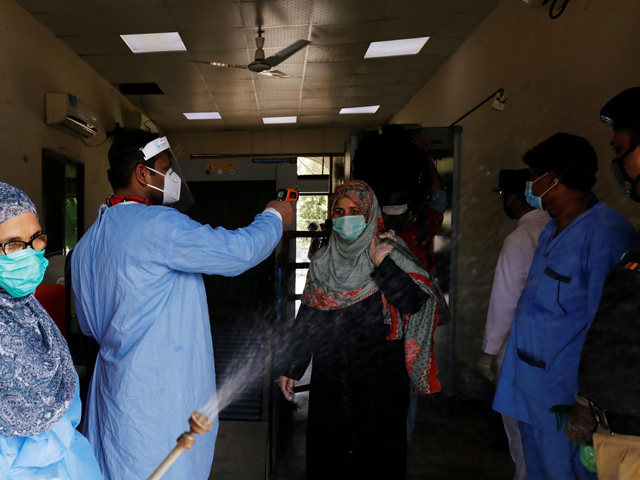 ---
X ISLAMABAD / KARACHI / PESHAWAR / LAHORE / QUETTA / MUZAFFARABAD: The novel coronavirus emerged in the central China city of Wuhan towards the end of last year and proliferated to almost the whole world within a couple of months. It's not the virulence or fatality, but the infectivity of the new virus – also known as SARS-CoV-2 – that has set off a global frenzy.

The Covid-19 respiratory illness caused by this mysterious contagion has so far infected more than 5.6 million people in 202 countries and territories of the world – and over 350,000 of them have died and counting.

Pakistan, despite its close proximity with China, remained coronavirus-free until February 26 when a young man from Karachi tested positive after returning from Iran – one of the worst-hit countries. After a brief hiatus following the first case, Covid-19 cases spiked as more pilgrims returning from Iran tested positive for the virus.

Nearly one and a half months after imposing the lockdown across the country, Prime Minister Imran Khan announced to ease the lockdown in phases.

The nationwide tally of Covid-19 patients stands at 60,176 with 21,118 cases in Punjab, 24,206 in Sindh, 8,483 in Khyber-Pakhtunkhwa, 3,616 in Balochistan, 651 in Gilgit-Baltistan, 1,879 in Islamabad and 223 in Azad Jammu and Kashmir.

The virus has claimed at least 1,240 lives while about 19,142 coronavirus patients have recovered.

The situation remains fluid and we're updating stats as soon as new figures are officially released.

Follow The Express Tribune's live coverage of the pandemic here.




1:10am: Hospitals overflow as Covid-19 spikes

Scores of coronavirus patients poured into Karachi's hospitals as Eidul Fitr came to an end, further burdening facilities that were already overwhelmed. Consequently, several patients were reportedly denied admission due to a lack of beds, even as the National Disaster Management Authority insisted there was no shortage of beds or ventilators.

"We had to treat many patients in ambulances and we tried to do it in the best possible way," a senior official at Dow University of Health Science's (DUHS) Ojha campus told The Express Tribune on condition of anonymity.

Read more here




11:20pm: 13 fresh Covid-19 cases raise G-B tally to 651

The Gilgit-Baltistan health department has confirmed 13 more cases of coronavirus in the past 24 hours to bring the region's tally to 651.

463 patients have recovered with nine deaths while active cases stand at 179 in the region.




9:45pm: Balochistan reports 80 more cases to raise Covid-19 tally to 3,616

The Balochistan health department, in its daily situational report, has confirmed 80 more cases of coronavirus in the past 24 hours to bring the provincial tally to 3,616.

The virus has claimed 41 lives while 1,289 patients have recovered in the province so far.




7:30pm: K-P reports nine more deaths, 224 new coronavirus cases in 24 hours

The Khyber-Pakhtunkhwa (K-P) health department, in its daily situational report, has confirmed nine more casualties due to Covid-19 in the past 24 hours to bring the provincial death toll to 425.

Seven deaths were reported from Peshawar, and one each from Swat and Kohat.

224 new cases – 45 from Torkham and 10 from Int'l flights center – were also reported, taking the total to 8,483.

54 more patients have recuperated, taking the total number of recoveries to 2,632. Active cases stand at 5,426 in the province.


224 new cases confirmed (45 from Torkham, 10 from Int'l flights center) taking the total to 8,483. 9 more lives were lost (7 Peshawar, 1 Swat, 1 Kohat) taking the total to 425. 54 more patients recovered taking tally to 2,632. Active cases at 5,426 pic.twitter.com/f5f6ihHrEf

— Health Department KP (@HealthKPGovt) May 27, 2020


6:15pm: Sindh govt spends over Rs2.7bn to set up two new hospitals

Sindh Chief Minister Syed Murad Ali Shah, presiding over a Covid-19 response meeting on Wednesday, directed the health department to make at least 500 monitors and 200 ventilators available in Sindh apart from completing 50-bed hospital in Gulistan-e-Jauhar and a 200-bed Infection Disease Control hospital in NIPA by June 2020.

"We have arranged Rs2.7 billion to upgrade the existing facilities and operationalise two new hospitals in the city and hopefully with their start, the government would be able to accommodate a large number of patients, in case of further spread of the pandemic."

Read more here


4:50pm: More than 800 children under 10-years of age test positive in Sindh
So far 882 children under age of 10 have tested #Covid19 positive in #Sindh. This sharp increase in number shows how careless we have been & have unfortunately brought this virus home. It is still not too late to be careful. Cant we defer shopping & socialising?

— Murtaza Wahab Siddiqui (@murtazawahab1) May 27, 2020


Read story here


3:40pm: NDMA receives another batch of donations from Singapore
#NDMA received 3rd batch of donations from Singapur.#Temasek Foundation handed over to Pak HC Ms Rukhsana Afzaal 20 #COVID19 testing kits of 10000 tests capacity.
Kits allocated @pdmakpk for testing in KP Province.@pid_gov@PTVNewsOfficial @appcsocialmedia @RadioPakistan pic.twitter.com/6Fpxvo26Pf

— NDMA PAKISTAN (@ndmapk) May 27, 2020
2:30pm: Spokesperson Balochistan Government Liaquat Shahwani talking to media in Quetta
#Live: Spokesperson Balochistan Government, Liaquat Shahwani talking to media in #Quetta. #TogetherWeCan https://t.co/4feud4GuSH

— Radio Pakistan (@RadioPakistan) May 27, 2020
2:00pm: Sindh reports new cases

Authorities in Sindh reported 699 cases in the province over the last 24-hour period. There are now 24,206 confirmed novel coronavirus cases in the province.

Officials added that six more patients succumbed to the virus.




1:30pm: Pakistan Navy continues helping families in need

The Pakistan Navy has continued its initiative to provide assistance to deserving families affected by the novel coronavirus.

A spokesperson of Pakistan Navy said ration and protective equipment was provided in far-flung coastal areas of Sindh and Balochistan. The Navy also provided assistance to the deserving families in the suburban areas of Karachi including Hawksbay, Manora, Salah Abad, Younis Abad, Kimari Town, Shanti Nagar and Pahlwan Goth.




11:40am: Ensuring availability of ventilators: Yasmin Rashid

Health Minister Punjab Dr Yasmin Rashid has said that the availability of ventilators is being ensured in all hospitals of the province.

During a meeting, she also reviewed the number of virus patients in hospitals across Punjab.




11:00am: 'Doctors, paramedic are our real heroes' 

Adviser to Chief Minister Khyber Pakhtunkhwa on Information Ajmal Wazir has said that the doctors and the paramedics fighting on the frontline against the novel coronavirus our the country's real heroes.

He also appealed to recovered patients to donate their plasma to assist the treatment of other patients.




10:25am: At least 19,142 recover from virus

According to the government's official portal, at least 19,142 people have recovered from the novel coronavirus in Pakistan.




9:15am: 176 stranded Pakistanis to return from India

At least 176 Pakistanis stranded in India due to Covid-19 lockdown will return home via Attari-Wagah border today.

These Pakistanis were stranded in different Indian states including Chhattisgarh, Gujarat, Madhya Pradesh, Maharashtra, Punjab, Rajasthan, Uttar Pradesh and Uttarakhand and Delhi due to the extended lockdown and closure of Attari-Wagah border following the outbreak of coronavirus.

In line with the Prime Minister Imran Khan's directions, for safe and smooth repatriation of stranded Pakistanis, the High Commission of Pakistan in New Delhi remained in close contact with the Indian side and the Foreign Office has been coordinating with other national authorities in Pakistan.

More than four hundred stranded Pakistanis have already been repatriated from India via Attari-Wagah border since 20 March 2020.


8:45am: Karachiites ignore Eid health advisory

While Karachi witnessed low-key Eid celebration, with many grieving the plane crash and feeling sombre amid the coronavirus pandemic, precaution was largely thrown to wind during Eid prayers.

Arrangements for Eid prayers were made on roads, Eidgah ground, imambargahs and mosques, where people were witnessed hugging, shaking hands and ignoring the government's health advisory by and large. Many did not even wear facemasks and completely disregarded social distancing. Citizens also ordered food from eateries, with no fear of contracting the virus.

However, no arrangements for Eid prayers were made in the polo ground this time around.

Read more here


8:30am: Covid-19 guidelines not followed during Eid holidays

National Command and Operation Centre was informed that the surge in Covid-19 cases is likely to accentuate due to unsatisfactory following of guidelines and standard operating procedures by the masses.

The meeting noted that the following of standard operating procedures SOPs and guidelines regarding COVID-19 remained very scarce during Eidul Fitr holidays.

The forum stressed the enhanced role of federating units for implementing guidelines and SOPs of COVID-19 to contain the pandemic.


8:00am: 1,446 new cases reported

The emergence of 1,446 new infections over the last 24 hours has taken the nationwide tally of coronavirus to 59,151.

As many as 21,118 cases have so far been detected in Punjab, 23,507 in Sindh, 8,259 in Khyber-Pakhtunkhwa, 3,536 in Balochistan, 1,879 in Islamabad, 638 in Gilgit-Baltistan, and 214 in Azad Kashmir.

The death toll stands at 1,225 with 28 deaths reported during the last 24 hours.