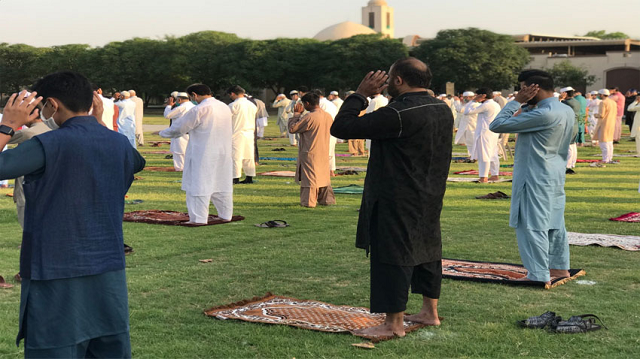 ---
Socially distanced Eid in times of pandemic
Where Eid is traditionally spent in the joyous company of loved ones, this year many opted to maintain distance
---
KARACHI: For Muslims around the world, Eid is an opportunity to gather as friends and family and celebrate the end of Ramazan- the Islamic month of fasting. As the most significant event in the Muslim calendar, traditionally, it is a time when greetings are exchanged and the young and old indulge in making merry with food, laughter and togetherness. However, this year, when festivities are eclipsed by the pandemic threat and congregational gatherings are discouraged, many have chosen to skip meeting friends and family and rather spend the three-day holiday staying at home.

"I come home to Karachi with my family every year to celebrate Eid among my loved ones. But we couldn't do that this year since all air services were suspended and we have been put in self-isolation to keep ourselves safe from the disease," said Nadeem Ahmed who lives in New York city. "However, we are still in touch with friends and family through digital means, and although we couldn't be among our loved ones in the flesh, we shared our greetings through WhatsApp nonetheless," he added.

Whereas, although Hanif Ghauri who belongs to Multan and works in Karachi had all his intentions to visit his hometown this Eid, the government's decision to suspend intercity public transport left the immigrant worker crestfallen. "My father's unwell, so I wished to spend Eid with him this year but since the government suspended intercity buses and I couldn't afford to hire a private car, I had no choice but to stay in Karachi and spend the holiday by my lonesome," Ghauri expressed.

With the coronavirus tally climbing to 58,000 cases and 1,202 deaths nationwide, easing of the smart lockdown before the grand festival appears to have put the country in perils of a healthcare crisis waiting to happen. Despite many pledging to stay at home this year, the city's markets still appeared abuzz with shoppers and revelers, the night before Eid. "I didn't shop for myself this Eid but I had ordered clothes online for my nieces and nephews. I was avoiding going to the market but the order never shipped, so I had to head out to the store last minute on chand raat and was shocked to see the crowd," said Mrs Mazhar, a resident of Karachi.

On the other hand, Dr Anees Shaikh, who firmly believes in the need to maintain social distancing in times of pandemic, said that although he ritualistically visits his brother every Eid, he has decided to stay at home this year and rather make most of his greetings through digital means. Similarly, Nazir Ahmed, a senior IT consultant who originally belongs to Sukkar but works in Karachi, said it was his first Eid in the last two decades which he couldn't spend with his family. "Everyone, including my mother who herself is an asthma patient, insisted that we should all go to Sukkar to spend the holidays. But I bluntly refused because it is impossible to maintain social distancing in a joint family and I couldn't risk putting the health of those I love in jeopardy," said Ahmed. "A few of our relatives did not care about that and continued to meet and interact with everyone during the lockdown, which resulted in two positive cases in my own extended family," he added.

Speaking to The Express Tribune, senior journalist Abid Soomro said that the fear of coronavirus has put a damper on the spirit of Eid and made people rather apprehensive about travelling to their hometowns for holiday. "I think it was the Spanish Flu which last confined people to their homes like coronavirus has and it's not just Eid but people don't even want to attend funerals of their own kinsfolk anymore. Recently, a colleague who works for a local newspaper passed away because of coronavirus in Shikarpur and believe you me, there were hardly four to five people there to perform his funeral rites."

However, where many restricted their travels in times of pandemic, there has been a continued social media outcry on the matter coming from those working in the Middle East in response to the middle eastern government's decision to restrict emergency flights to illegal residents and those rendered jobless. "My job is still intact but I wanted to celebrate Eid with my family in Mirpurkhas. But despite many attempts, I couldn't get the ticket to fly home," said Amanullah who works for an oil exploration company in the UAE. "I had made all my plans to not only celebrate Eid at home this year but also looking forward to arranging my younger sister's wedding. But now, it appears all my plans have gone in vain," he lamented.

Published in The Express Tribune, May 27th, 2020.