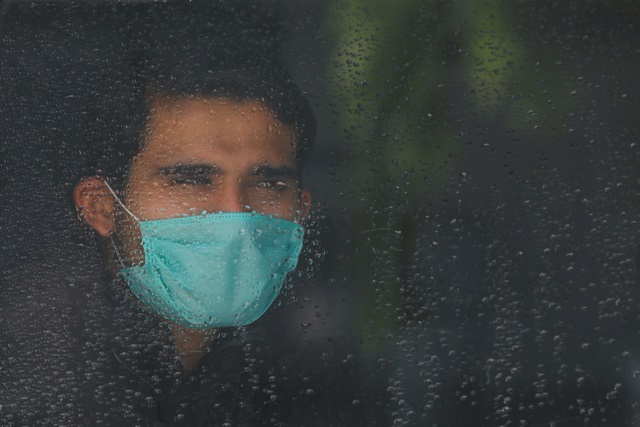 ---
ISLAMABAD / KARACHI / PESHAWAR / LAHORE / QUETTA / MUZAFFARABAD: The novel coronavirus emerged in the central China city of Wuhan towards the end of last year and proliferated to almost the whole world within a couple of months. ItÔÇÖs not the virulence or fatality, but the infectivity of the new virus ÔÇô also known as SARS-CoV-2 ÔÇô that has set off a global frenzy.

The Covid-19 respiratory illness caused by this mysterious contagion has so far infected more than 5.5 million people in 202 countries and territories of the world ÔÇô and over 345,000 of them have died and counting.

Pakistan, despite its close proximity with China, remained coronavirus-free until February 26 when a young man from Karachi tested positive after returning from Iran ÔÇô one of the worst-hit countries. After a brief hiatus following the first case, Covid-19 cases spiked as more pilgrims returning from Iran tested positive for the virus.

Nearly one and a half months after imposing the lockdown across the country, Prime Minister Imran Khan announced to ease the lockdown in phases.

The nationwide tally of Covid-19 patients stands at 58,545 with 20,654 cases in Punjab, 23,507 in Sindh, 8,080 in Khyber-Pakhtunkhwa, 3,536 in Balochistan, 638 in Gilgit-Baltistan, 1,728 in Islamabad and 223 in Azad Jammu and Kashmir.

The virus has claimed at least 1,211 lives while about 18,314 coronavirus patients have recovered.

The situation remains fluid and┬áweÔÇÖre updating stats as soon as new figures are officially released.

Follow┬áThe Express TribuneÔÇÖs live coverage of the pandemic┬áhere.




1:08am: Karachiites ignore Eid health advisory

While Karachi witnessed low-key Eid celebration, with many grieving the plane crash and feeling sombre amid the coronavirus pandemic, precaution was largely thrown to wind during Eid prayers.

Arrangements for Eid prayers were made on roads, Eidgah ground, imambargahs and mosques, where people were witnessed hugging, shaking hands and ignoring the governmentÔÇÖs health advisory by and large. Many did not even wear facemasks and completely disregarded social distancing. Citizens also ordered food from eateries, with no fear of contracting the virus.

However, no arrangements for Eid prayers were made in the polo ground this time around.

Read more here




11:07pm: 68 new cases take Balochistan Covid-19 tally to 3,536

At least 68 people have contracted the novel coronavirus in Balochistan, bringing the provincial tally to 3,536.

Some 1,156 patients have recovered from the respiratory disease while the virus has claimed 41 lives in the province so far.




9:40pm: 70 doctors diagnosed with Covid-19 at Lahore General Hospital

With 10 more testing positive for coronavirus, the number of Covid-19 positive doctors at Lahore General Hospital has risen to 70.

YDA Punjab President Dr Salman Haseeb Chaudhary and YDAP Patron Dr Aatif Majeed are among those diagnosed with the highly contagious disease.

Both of them were performing duties in the corona ward.

In a statement issued on Tuesday, the association has warned of taking ÔÇÿstrict stepsÔÇÖ if proper quarantine facilities and minimum exposure policy among other measures are not taken for the protection of the fraternity by the government.




9:28pm: Another 176 stranded Pakistanis to return from India tomorrow

Another 176 Pakistanis stranded in India due to Covid-19 lockdown will return home via Attari-Wagah border on Wednesday, the Foreign Office said.

These Pakistanis are stranded in different Indian states including Chhattisgarh, Gujarat, Madhya Pradesh, Maharashtra, Punjab, Rajasthan, Uttar Pradesh and Uttarakhand and Delhi due to the extended lockdown and closure of Attari-Wagah border following the outbreak of coronavirus.

More than 400 stranded Pakistanis have already been repatriated from India via Attari-Wagah border since March 20.




9:00pm: G-B reports one more death, 18 new cases of Covid-19

The Gilgit-Baltistan (G-B) health department has confirmed one more casualty due to coronavirus in the past 24 hours to being the regionÔÇÖs death toll to nine.

Eight more people contracted Covid-19 to take the tally to 638, it said in the daily situational report.

457 patients have recovered from the disease while active cases stand at 172 in the region.


Daily COVID19 cases summary in Gilgit-Baltistan #FightCorona #CoronaFreeGB #InshaAllah pic.twitter.com/cUhDowKxfR

— Health Department Gilgit-Baltistan (@HealthDeptGB) May 26, 2020


6:55pm: Eight more succumb to Covid-19 in K-P as cases jump to 8,259

The Khyber-Pakhtunkhwa (K-P) health department, in its daily situational report, has confirmed eight more deaths due to coronavirus in the past 24 hours to bring the provincial death toll to 416.

Four casualties were reported from Swat, two from Peshawar, and one each from Malakand and Bajaur.

179 new cases were also confirmed to take the tally 8,259 in the province.

49 more patients recovered, taking the total to 2,578. Active cases stand at 5,265.


179 new cases confirmed in last 24 hours taking the total confirmed cases to 8,259 in KP. 8 more lives were lost (4 Swat, 2 Peshawar, 1 Malakand, 1 Bajaur) taking the total to 416. 49 new patients recovered taking the tally to 2,578 in KP. Active cases at 5,265. pic.twitter.com/JZHNsRHnhK

— Health Department KP (@HealthKPGovt) May 26, 2020


6:40pm: Sindh govt to launch anti-Covid-19 programme

The Sindh government has decided to launch an anti-Covid-19 programme, along same lines as campaigns against other diseases, aiming to curb the rapid spread of the coronavirus by raising awareness among masses about its prevention and by widening the range of plasma therapy.

Speaking particularly with regards to passive immunisation therapy, Sindh Blood Transfusion Authority (SBTA) Director Dr Durre Naz Jamal told The Express Tribune that the therapy, being carried out in collaboration with the National Institute of Blood Diseases (NIBD), had produced encouraging results.

Read more here




6:20pm: K-P MPA Humayun Khan tests positive for Covid-19

Pakistan Tehreek-e-Insaf (PTI) member of Khyber-Pakhtunkhwa Assembly Humayun Khan has tested positive for Covid-19.

Khan, who won the 2018 general election from Lower Dir, was tested on showing symptoms of coronavirus two days ago. He has gone into self-isolation at home as an initial precautionary measure and did not meet anyone on Eidul Fitr.

The lawmaker, who was overseeing the provincial governmentÔÇÖs measures to stem the spread of the virus in Lower Dir, has appealed to the masses to pray for his health.




5:00pm: Speaker of Turkish Grand National Assembly phones NA Speaker

Speaker of Turkish Grand National Assembly Mustafa Sentop telephoned his Pakistani Counterpart Asad Qaiser and expressed grief over the loss of precious human lives in plane crash incident.

They also exchanged views on important matters, including bilateral relations and regional situation.

The Turkish Speaker congratulated Asad Qaiser for his complete recovery from coronavirus.

Asad Qaiser stressed the need for enhanced cooperation at the international level to face the challenge of COVID-19 pandemic.

He thanked Mustafa Sentop and said that Turkey has always supported Pakistan's stance.

They also agreed to continue working for regional development and prosperity.


4:30pm: No dearth of ventilators and PPE in the country: NDMA chairman

National Disaster Management Authority (NDMA) Chairman Lieutenant General Muhammad Afzal has said there is no dearth of ventilators and personal protection equipment (PPE) to treat the Covid-19 patients across the country and ÔÇ£everything is under controlÔÇØ.

Briefing media in Islamabad on Tuesday, he said at the moment, there are 4,200 ventilators in public and private hospitals in addition to 500 ventilators in military hospitals, adding that only 128 patients are on ventilators across the country, Radio Pakistan reported.

Lt-Gen Afzal said around 1,350 ventilators are being used for corona patients, which is less than half of the total capacity.


Live: Chairman @ndmapk Lt. General Muhammad Afzal addressing a press conference in #Islamabad. #TogetherWeCan #CoronavirusPandemic #Covid_19 #CoronaFreePakistan #PakistanFightsCorona https://t.co/EsNSU7Vl92

— Radio Pakistan (@RadioPakistan) May 26, 2020


Full story here


4:15pm: Taking precautions our social responsibility: AJK president

The Azad Jammu and Kashmir (AJK) President Sardar Masood Khan has stressed that people and the influential circles of the society should ensure implementation of all precautionary measures till an effective vaccine of the novel coronavirus is developed.

"Care in social gatherings and mandatory compliance of advisories issued by the government and the medical experts is the collective social responsibility shared by all of us," he asserted and warned that violation of the health advisory may have negative impacts on our personal and collective lives.

The AJK president was talking to the people from different strata of life who called on him at his residence in Horna Mera near Rawalakot.

Those who called on him here included Presidential Advisor, Sardar Shabbir Khan (Gulf Group), Sardar Saeed Aziz, Sardar Tauseef Aziz, Sardar Shahzeb Khan, Sardar Zarreen Khan,  President Pakistan Muslim League-Nawaz (PML-N) constituency LA-4 Sardar Ashiq Khan, Sardar Altaf Khan, Sardar Javed Khan and other political, religious and social figures.

They extended Eid greetings and also offered condolences over the death of AJK president's uncle Sardar Nazir Khan.


3:45pm: WHO issues strategic objectives to end the COVID-19 pandemic
3:15pm: Sindh govt issues advisory for discontinuation of isolation of covid-19 patients
2:45pm: 573 new cases reported in Sindh

As many 573 new cases were reported in Sindh taking the provincial tally to 23,507.

In his daily media briefing, Sindh Chief Minister Murad Ali Shah said five more death were reported from across the province taking the total to 374.

A total of 2,327 tests were conducted in the past 24 hours.  

Full story here


2:30pm: NCOC meeting held to review COVID-19 situation

A meeting of National Command and Operation Center presided by Chief of Army Staff General Qamar Bajwa was held in Islamabad on Tuesday.

It reviewed the situation of coronavirus in the country and the steps taken to contain its spread.
2:00pm: PM's Relief Fund for COVID-19 crosses Rs4b mark

Prime Minister's Covid-19 Pandemic Relief Fund-2020 has crossed the Rs4 billion mark.


PM Relief Fund has crossed the
4 Billion Mark Masha'ALLAH. Generosity & Jazba of all donors is commendable. This indeed is a great cause.Together we can & Together we must. Govt to contribute Rs. 4 for every rupee donated to relief fund. #KeepContributing Account Details Below:

— Faisal Javed Khan (@FaisalJavedKhan) May 26, 2020


In a tweet on Tuesday, PTI leader Senator Faisal Javed commended the generosity and passion of all the donors.

He said this indeed is a great cause and the government will contribute four rupees for every rupee donated to the fund.


1:20pm: Advisor to K-P CM Ajmal Wazir addresses media
Live: Advisor to CM on Information Ajmal Khan Wazir talking to media in #Peshawar. #TogetherWeCan #CoronavirusPandemic #Covid_19 #CoronaFreePakistan #PakistanFightsCorona https://t.co/aA6yQSqnAK

— Radio Pakistan (@RadioPakistan) May 26, 2020
1:00pm DRAP to issue notices to suspend trial of hydroxychloroquine

Special Advisor to Prime Minister on Health on Tuesday said that Drug Regulatory Authority of Pakistan, in view of the decision taken by Executive Group of Solidarity Trial, will issue notices to those undertaking hydroxychloroquine trials in Pakistan to put them on hold till further instructions.


Drug Regulatory Authority of Pakistan, in view of the decision taken by Exct Grp of Solidarity Trial, will issue notices to those undertaking HCL trials in Pakistan to put them on hold till further instructions. <311>

— Zafar Mirza (@zfrmrza) May 26, 2020
12:30pm: Pakistanis stranded in India to return today

At least 179 Pakistanis stranded in India from the start of the lockdown are due to return today through the Wagah Border.

A total of 193 Pakistani citizens were repatriated via the Wagah border crossing at the start of the month.

The stranded Pakistani nationals, including women and children, were screened and transferred to quarantine centres in Lahore upon their arrival in Pakistan.
11:00am: Executive Group of the Solidarity Trial to suspend clinical trial of hydroxychloroquine
The Executive Group of the Solidarity Trial, representing 10 countries, met on Saturday and has agreed to review by temporarily suspending clinical trial of hydroxychloroquine in COVID-19 patients. High mortality has been reported! <310> https://t.co/a5vtSHolRI

— Zafar Mirza (@zfrmrza) May 26, 2020
10:00am: Japan offers cooperation to Pakistan to overcome challenges posed by coronavirus

Japan has offered to continuously cooperate with Pakistan to overcome the challenges posed by the spread of COVID-19 worldwide.

In his letter to Foreign Minister Shah Mahmood Qureshi, the Japanese Foreign Minister Toshimitsu Motegi also expressed his heartfelt condolences and sympathies to the government and families over the loss of precious lives in Karachi plane crash.


9:30am: PM Imran, Abu Dhabi crown prince discuss Covid-19 pandemic, debt relief

Prime Minister Imran Khan and Crown Prince of Abu Dhabi Sheikh Mohammed bin Zayed al Nahyan on Monday discussed matters related to the global outbreak of Covid-19, and prospects of enhanced bilateral cooperation to address the pandemic.

The deliberation was held during a telephone call made by the United Arab Emirates (UAE) prince to the premier.

Read story here


9:00am: Number of COVID-19 cases soar to 57,705

The number of coronavirus infection cases in the country has soared to 57,705 with 1,356 cases reported during the last 24 hours.

According to National Command and Operation Center, 20,654 cases have so far been detected in Punjab, 22,934 in Sindh, 8,080 in Khyber-Pakhtunkhwa, 3,468 in Balochistan, 1,728 in Islamabad, 630 in Gilgit-Baltistan, and 211 in Azad Kashmir.

18,314 patients have so far recovered from the virus while the death toll stands at 1,197 with 30 reported during the last 24 hours.