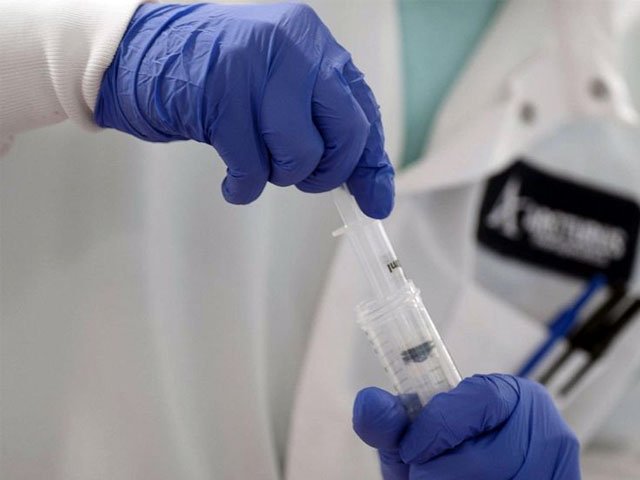 ---
Sindh appeals to recovered coronavirus patients for plasma donations
Over a 100 patients across the country are in need of plasma therapy, says Dr Tahir Shamsi
---
KARACHI:


The Sindh health department on Monday appealed to former Covid-19 patients for plasma donations, upon being informed that the stock donated voluntarily has now depleted.

The plasma collected from patients, who have already recovered from the novel coronavirus, was being used for passive immunisation of immunocompromised patients and has so far borne fruitful results.

Speaking to The Express Tribune, Dr Tahir Shamsi of the National Institute of Blood Disease said that the demand for plasma therapy has increased exponentially in the past month. "At least 50 patients have received the experimental treatment thus far and the results have been satisfactory."

Now, however, the stock of voluntarily donated plasma has depleted, he said, adding that the institute has notified the Sindh government, the provincial health department and the Sindh Blood Transfusion Authority, as well as other relevant department and agencies.

According to Dr Shamsi, over a 100 patients across the country are in need of plasma therapy. "The demand for plasma therapy has increased significantly."

Meanwhile, appealing to recovered Covid-19 patients for donations, Sindh Health Minister Dr Azra Pechuho said that the donations are a national service and will help treat coronavirus patients across the country.

Passive immunisation can prevent patients from requiring the ventilator, she said while flagging the concern that there has been an increase in the number Covid-19 infections in persons with pre-existing heart conditions.

The process of collecting donations is being carried out under the supervision of the blood transfusion authority with strict adherence to SOPs, she added.

Dr Pechuho also said that those willing to donate can contact the National Institute of Blood Disease and Bone Marrow Transplantation in Karachi, the Liaquat University of Medical and Health Sciences in Jamshoro and the Peoples University of Medical and Health Sciences in Nawabshah.

Recovered patients can also reach out on the helpline setup by the National Institute of Blood Diseases at 0333 2976390 for plasma donations, said Dr Shamsi while making the same appeal.

Several hospitals in Pakistan have been carrying out plasma therapy for passive immunisation of Covid-19 patients, with the first patient recovering successfully through the treatment in early May.

Passive immunisation is not a new medical treatment and has been done for the last 125 years.

According to Dr Shamsi, the therapy was used to cure patients of diseases like SARS, Ebola and influenza in the recent past.

Earlier, he had confirmed that the technique was being used in over 1,500 hospitals in some 80 countries to cure coronavirus patients.