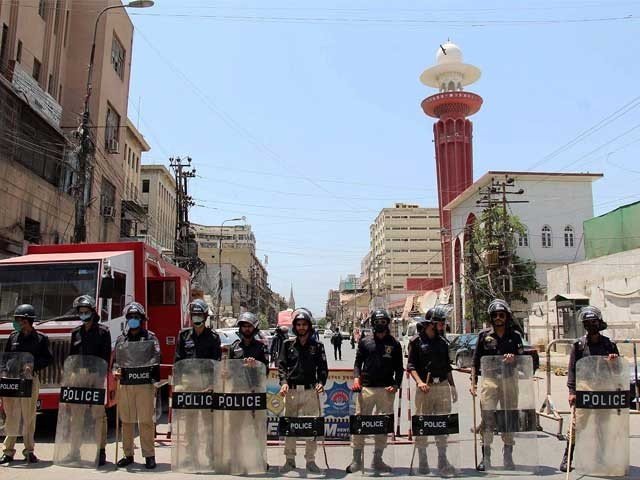 ---
ISLAMABAD / KARACHI / PESHAWAR / LAHORE / QUETTA / MUZAFFARABAD: The novel coronavirus emerged in the central China city of Wuhan towards the end of last year and proliferated to almost the whole world within a couple of months. It's not the virulence or fatality, but the infectivity of the new virus – also known as SARS-CoV-2 – that has set off a global frenzy.

The Covid-19 respiratory illness caused by this mysterious contagion has so far infected more than 5.3 million people in 202 countries and territories of the world – and over 335,000 of them have died and counting.

Pakistan, despite its close proximity with China, remained coronavirus-free until February 26 when a young man from Karachi tested positive after returning from Iran – one of the worst-hit countries. After a brief hiatus following the first case, Covid-19 cases spiked as more pilgrims returning from Iran tested positive for the virus.

Nearly one and a half months after imposing the lockdown across the country, Prime Minister Imran Khan announced to ease the lockdown in phases.

The nationwide tally of Covid-19 patients stands at 57,041 with 20,077 cases in Punjab, 22,934 in Sindh, 8,080 in Khyber-Pakhtunkhwa, 3,468 in Balochistan, 630 in Gilgit-Baltistan, 1,641 in Islamabad and 223 in Azad Jammu and Kashmir. The virus has claimed at least 1,179 lives while at least 17,482 coronavirus patients have recovered.

The situation remains fluid and we're updating stats as soon as new figures are officially released.

Follow The Express Tribune's live coverage of the pandemic here.




11:39pm: G-B reports 11 new coronavirus cases

Gilgit-Baltistan has reported 11 new cases of coronavirus, bringing the total number of cases to 630.

At least five patients have recovered from the respiratory disease. As much as 178 patients are under treatment. The virus has claimed eight lives in the region so far.




11:26pm: Two more people infected with Covid-19 in AJK

Two more people have tested positive for the novel coronavirus in Azad Jammu and Kashmir, bringing the region's tally to 223.

At least 99 patients have also recovered from the contagious disease. Covid-19 has claimed two lives in the region so far.




10:42pm: 61 new cases take Balochistan Covid-19 tally to 3,468

At least 61 new Covid-19 cases have reported in Balochistan in the last 24 hours, taking the provincial tally to 3,468.

According to a spokesman of provincial health department Dr Wasim Baig, 21,597 coronavirus tests have been conducted in the province, out of which 197 were taken in last 24 hours.

He further said that the deadly virus has claimed 41 lives in Balochistan so far.




8:33pm: Govt may reimpose lockdown after Eid if situation gets worse: PM's aide

Special Assistant to the Prime Minister on Health Dr Zafar Mirza has feared that cases and deaths due to Covid-19 could increase in the coming days, saying the government will evaluate the prevailing situation immediately after Eid and can review its decision of relaxation in lockdown if the situation gets worse, Radio Pakistan reported.

In a media briefing on Monday, he said that the lockdown was relaxed in the country in view of the Eid festival but it seems people are under the wrong impression that prevalence of the disease is reducing.

According to the de facto health minister,  it is being observed that movement and interaction of people have increased during Eid holidays and SOPs are not being properly followed, which could lead to disastrous situation. "Social distancing and other precautionary measures are key to stop the spread of this killer disease."

Read more here




8:00pm: Coronavirus claims 10 more lives in K-P

The novel coronavirus has claimed 10 more lives in Khyber-Pakhtunkhwa (K-P), taking the provincial death toll to 408.

According to K-P health department, 175 new cases have also reported in the province in the last 24 hours.


175 new cases confirmed in last 24 hours taking the total to 8,080 in KP. 10 more lives were lost (5 Peshawar, 2 Malakand, 1 Swat, 1 Bajaur, 1 Khyber) taking the total to 408. 60 new patients recovered taking the total to 2,529 in KP. Active cases at 5,143. pic.twitter.com/4anDZcJK08

— Health Department KP (@HealthKPGovt) May 25, 2020


7:55pm: 'Social distancing sole prevention until Covid-19 vaccine available'

Azad Jammu and Kashmir President Sardar Masood Khan has urged the people of AJK to maintain precautionary measures and follow standard operating procedures (SOPs) to help stop the spread of novel coronavirus.

He made the appeal while addressing the participants of a post Eidul Fitr luncheon hosted at his Horna Mera residence near Rawalakot on Monday.

The president told the attendees that until coronavirus vaccine is developed, social distancing and other precautionary measures are the sole prevention of this disease.

Read more here




4:10pm: Dr Mirza addresses media on coronavirus situation

SAPM Dr Zafar Mirza while adderssing a press conference said people, markets not following SOPs as directed by the government.

He warned that if people continued to flout SOPs the way they are doing currently, the situation is fast going to get out of hands.


#Live: SAPM on Health @zfrmrza talking to media in #Islamabad. https://t.co/nFc2dqnaov

— Radio Pakistan (@RadioPakistan) May 25, 2020


4:00pm: Parliamentary secretary for education contracts Covid-19

Parliamentary secretary for the ministry of education, Wajeeha Akram, tested positive for Covid-19 on Monday.

The PTI leader is said to have gone into isolation in her house in Islamabad.


3:45pm: Tourists stuck as authorities block access to Naran and Kaghan

A number of people were stuck in traffic as authorities blocked access to the tourists valleys Naran and Kaghan. The people were stopped from entering the scenic valleys as they tried to make their way through Mansehra

All tourist spots were ordered to be closed during Eid holidays by the government.




3:30pm: Sindh health minister calls for blood donations

Sindh health minister Dr Azra Fazal Pechuho called on recovered Covid-19 patients to donate blood needed to treat Covid-19 patients through passive immunisation.

She said the number of coronavirus patients was fast increasing. She appealed to the recovered patients to help the Sindh government by donating their blood.

She said it was a deed in the best interests of the entire nation as other provinces could also be assisted through the blood donations.




2:15pm: Sindh reports 443 new cases

CM Sindh Murad Ali Shah said that the province reported 443 fresh cases of coronavirus in a day.

However, he clarified that the province reported a comparatively lower number than usual owing to the less tests conducted because of Eid. The province carried out only 1,852 tests in the last 24 hours.

Two more patients were reported to have succumbed to the virus, whereas 614 patients recovered in a day.




1:30pm: K-P labour minister to also get himself tested

Minister for Labour Khyber-Pakhtunkhwa Shukat Yousafzai said he will also get himself tested after the provincial chief secretary tested positive for Covid-19 earlier in the day.

The labour minister said he and CM K-P Mahmood Khan had offered Eid prayers together a day ago at the Governor House.

He, however, stated that the officials had ensured social distancing while offering prayers.




1:00pm: CM K-P wishes Dr Niaz a speedy recovery

Khyber-Pakhtunkhwa Chief Minister Mahmood Khan wished provincial chief secretary, Dr Kazim Niaz, a speedy recovering after the latter tested positive for Covid-19.

The CM said Dr Niaz has been rendering his services in the fight against Covid-19 in the province non-stop.

He paid tribute to the chief secretary and his team for having worked tirelessly to contain the spread of the virus.




12:35pm: K-P chief secretary tests positive for coronavirus

Khyber-Pakhtunkhwa Chief Secretary Dr Kazim Niaz was tested positive for Covid-19.

He was said to be the leading the province's fight against the virus from the frontlines.

The provincial chief secretary was reported to have gone into quarantine.




11.30am: YDA Balochistan president tests positive for Covid-19

President of the Young Doctors Association Balochistan chapter Dr Yasir Achakzai tested positive for the coronavirus. Dr Achakzai has been on the frontlines of Balochistan's Covid-19 response, and the protests by the association to demand PPE for doctors, paramedics and nurses.
He had been serving at Sandeman Provincial Hospital, Quetta until three days ago.




10:05am: Over 17,482 recover from coronavirus

According to the government's online portal, a total of 17,482 patients have recovered from coronavirus in Pakistan so far.




10:00am: Country records 1,748 new cases: NCOC

According to the National Command and Control Centre, Pakistan's Covid-19 tally reached 56,349 after the country recorded over 1,700 cases in a day.