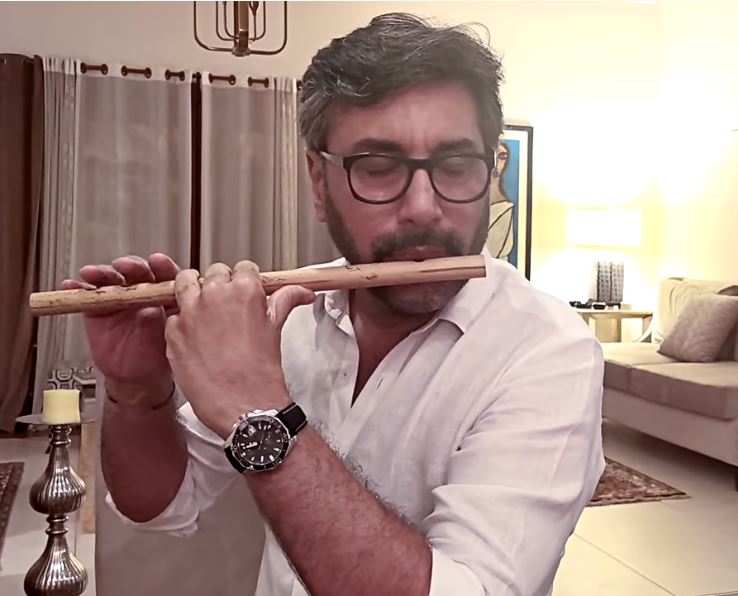 ---
Paying an ode to doctors, healthcare workers and anyone on the frontline risking their lives in the war against Covid-19 is just basic courtesy – especially for those directly benefiting from the relief provided by these people.

Several Pakistani celebrities have attempted to do so by uniting for a cover of Mehdi Hasan's Ye Watan Tumhara Hai, hoping to pay tribute to these warriors and everyone else who's struggling in this time of crisis.

As per to the song's description, the rendition is "dedicated to the nation's unsung heroes and all those waging war against the pandemic. It is a salute to the armed forces, doctors, engineers, scientists, artists, overseas Pakistanis and the entire Nation."

The soundtrack has been produced by Naqash Haider (alias Shany) while the project is managed and produced by Haris Qadeer. Featuring only actors, it shows the potential of several Pakistani celebrities, tapping into some of their unexplored talents.

The song takes off with Adnan Siddiqui on the flute, something we've heard him do before but rarely ever get to enjoy, followed by Imran Abbas effortlessly singing the initial verses, something we have never seen the actor do. It then leads to a collectively put together chorus by various actors, moving on to show Zara Noor Abbas, Hira Mani and Ahsan Khan gradually completing the bridge in their nurturing and soulful voices.


Bringing a pause, the song then shows Faisal Qureshi narrating, "Is zameen ki mitti mein khoon hai shaheedon ka. Arz e Paak markaz hai, qoum ki ummeedon ka," following which, the video returns to Zubab Rana, Nimra Khan, Omar Shahzad singing the succeeding verses. Veteran actor Asma Abbas and model-turned-actor Zhalay Sarhadi also chime in, after which Asad Siddiqui and Yasir Hussain show off their lesser-known singing skills.

Enters Gohar Rasheed with another narration. "Meer e Karwan hum hain, roh e karwan tum ho. Mirza hum to faqat onwan hein, asal dastan tum ho," he says.

After this, we are brought to final bridge and chorus, ending off with Anoushey Abbasi, Kinza Hashmi, Hayat Khan, Sadia Khan, Salman Saqib (Mani) and Shany, along with everyone else, collectively utilising their melodious voices to bring the song to powerful close.

The rendition is a symphonic tribute to the sovereignty of the country, featuring a special effort to uplift nationalism. "Don't forget, you are the guardian of your own paradise. Pakistan zindabad!" concludes
the description of the song, along with thanking all the artists involved and praising their effort to present it as one.

Have something to add to the story? Share it in the comments below.