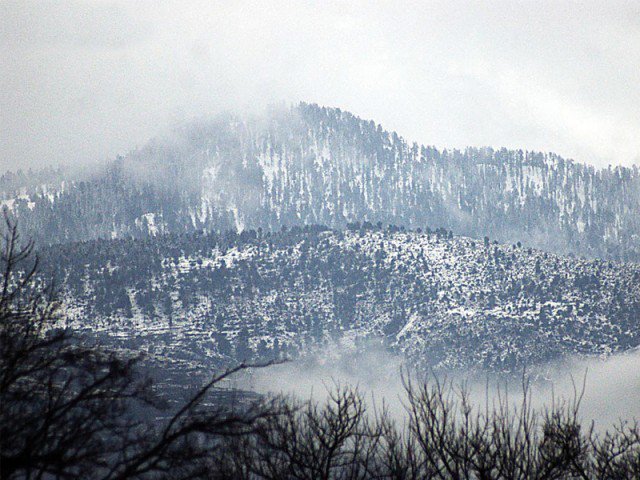 ---
NATHIAGALI: The season of hovering clouds and erratic rainfalls over snow-covered mountains in the tourist destination of Galiyat has arrived.

But the breathtaking weather and landscapes of the area seem out of the reach of the public due to the looming fear of the novel coronavirus (Covid-19).

The number of tourists visiting the scenic valleys has declined sharply since March 18, due to lockdown imposed to curb the spread of Covid-19.

Located at an altitude of about 8,205 feet, 80 kilometres between Abbottabad and Murree on Himalaya mountain range, Galiyat comprises the scenic valleys of Nathiagali, Dongagali, Ayubia, Changagali, Bagnotar, Baragali, Harnai and Thandiani. These destinations used to be flooded with foreign and domestic tourists come May to catch the last of the snow, much of the spring and just the beginning of summer in these hill stations. However, these valleys are now showing a deserted look.

All small and luxury hotels in the valley have been closed since mid-March. Other attractions such as charpoy, chair lifts, five stars hotels, guest houses, motels, government rest houses, cottages, parks, zigzag hiking and trekking trails are also closed.

These buildings, some dating back to the British era, are located at a panoramic elevation from where visitors can see the natural beauty of the valley including waterfalls, biodiversity and mountainous beauty of Kalabagh, Bagnotar, Jhika Gali, Nathiagali, Dongagali, Baragali, Thandyani and Ayubia with ease in a single day.

Dongagali-Ayubia, Mukshpuri Tops and Mirajani hiking trails between Nathiagali and Dongagali at an elevation of about 9,500 feet, used to attract many thrillseekers to see the amazing natural beauty of Kashmir while passing through thick vegetation and pine trees.

Former Ambassador Manzoorul Haq said: "The Galiyat scenic beauty and fresh air besides its colonial-era walking trails have always attracted me to spend some time there during the hot summer. This year, perhaps I will be unable to visit my dream place due to Covid-19."

Galiyat Development Authority (GDA) Director-General Raza Habib said: "There was no doubt that Covid-19 has badly affected the tourism sector in Galiyat. Around 220 hotels including 156 registered have been closed since March 18."

The provincial government is mulling a contingency plan to allow the tourism industry in the province to reopen. While it has come up with a set of standard operating procedures for the hospitality industry to follow, the decision on reopening tourism this year has yet to be made.  

Published in The Express Tribune, May 20th, 2020.