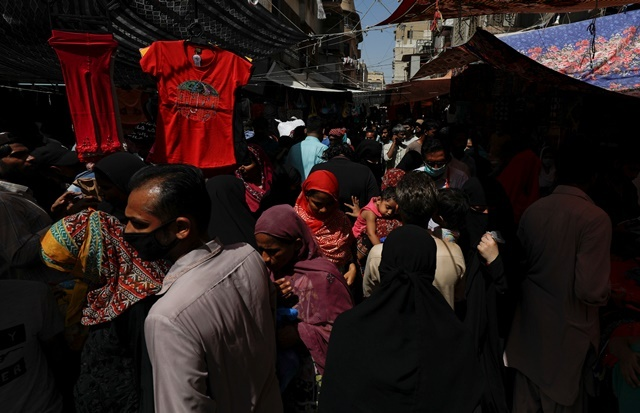 ---
ISLAMABAD / KARACHI / PESHAWAR / LAHORE / QUETTA / MUZAFFARABAD: The novel coronavirus emerged in the central China city of Wuhan towards the end of last year and proliferated to almost the whole world within a couple of months. It's not the virulence or fatality, but the infectivity of the new virus – also known as SARS-CoV-2 – that has set off a global frenzy.

The Covid-19 respiratory illness caused by this mysterious contagion has so far infected more than 4.8 million people in 202 countries and territories of the world – and over 320,000 of them have died and counting.

Pakistan, despite its close proximity with China, remained coronavirus-free until February 26 when a young man from Karachi tested positive after returning from Iran – one of the worst-hit countries. After a brief hiatus following the first case, Covid-19 cases spiked as more pilgrims returning from Iran tested positive for the virus.

Nearly one and a half months after imposing the lockdown across the country, Prime Minister Imran Khan announced to ease the lockdown in phases.

The nationwide tally of Covid-19 patients stands at 45,095 with 15,976 cases in Punjab, 17,947 in Sindh, 6,554 in Khyber-Pakhtunkhwa, 2,885 in Balochistan, 556 in Gilgit-Baltistan, 1,034 in Islamabad and 144 in Azad Jammu and Kashmir.

The virus has claimed at least 969 lives while at least 12,489 coronavirus patients have recovered.

The situation remains fluid and we're updating stats as soon as new figures are officially released.

Follow The Express Tribune's live coverage of the pandemic here.




11.37 pm: AKUH begins plasma therapy trials

A new clinical trial evaluating the effectiveness and safety of plasma therapy, a form of passive immunisation treatment for Covid-19 patients, is being carried out by Agha Khan University Hospital (AKUH) according to a statement issued on Tuesday.

"Plasma therapy can potentially help treat patients with moderate to severe Covid-19 infections," said AKUH Pathology and Laboratory Medicine department's Dr Natasha Ali, who is part of a team of six from the faculty working on the trial. "This trial is part of the university's [AKUH's] science-based approach to evaluating novel treatments that can help save lives during this pandemic," she added.

Read more here




10:40pm: Malls see mixed response as they reopen in Sindh

As shopping malls reopened in the city after over two months on Tuesday, they were met by a mixed response by customers. While some malls saw an influx of consumers rushing to buy items for Eidul Fitr, others remained largely empty.

The Sindh government gave permission for shopping malls to open throughout the week, a day after the Supreme Court ordered that malls across the country be reopened. As per the notification issued, the malls may remain open from 8am to 5pm, on the condition that they implement the government's standard operating procedures (SOPs). Beauty salons, play areas and food courts in malls are to remain closed.

More here




10:31pm: 65 new coronavirus cases raise Balochistan tally to 2,885

The Balochistan Health Department, in its daily situational report, has confirmed 65 new cases of Covid-19 in the past 24 hours to bring the provincial tally to 2,885.

608 patients have recovered from the disease in the province with 38 deaths so far.




10:10pm: 'Pay wages, bonuses to workers or face action'

Industrialists refusing to pay salaries and bonuses to their workers are violating their agreement with the Sindh government and will be reprimanded accordingly, stated Sindh Industries and Commerce minister Jam Ikramullah Dharejo on Tuesday.

Dharejo warned that factory owners disregarding the agreement would not only be issued fines but their factories and mills would also be sealed if necessary. The factory owners had been bound by the Sindh government to pay their employees during the lockdown and now, with the opening of many factories, there is less of an excuse not to do so, he added.

Dharejo maintained that the rights of labourers would be protected by the provincial government at all costs, further stressing that with Eidul Fitr approaching, employers must take extra care of their workers. He added that the non-payment of salaries and benefits during this time was not only illegal but a violation of human rights.




9:20pm: 12 more contract coronavirus to raise AJK tally to 144

As many as 12 patients have been tested positive for Covid-19 in Muzaffarabad in the last 24 hours that has taken the total number of patients in Azad Jammu and Kashmir (AJK) to 144.

The state government, on the other hand, reviewed its earlier decision taken on Monday to impose a stricter lockdown and allowed traders to open shops and businesses three days a week, a spokesperson for the state government confirmed on Tuesday.

According to the spokesperson, a total of 4,242 people in the state have been tested so far, of which 144 were found infected and 77 of them have recovered and discharged from the hospitals, said Dr Mustafa Bashir, a member of AJK cabinet.




8:30pm: Sindh govt allows shopping malls to remain open seven days a week till Eid

In compliance with the Supreme Court's directives, the Sindh government has allowed shopping malls to remain open throughout the week across the province while ensuring standard operating procedures issued by the authorities till Eidul Fitr.

In a notification issued on Tuesday, the provincial government also allowed businesses to function seven days a week. However, the business timings will remain 8am to 5am.


8:10pm: Balochistan extends Covid-19 lockdown till June 2


7:55pm: Six more Covid-19 cases raise G-B tally to 556

Six more people have contracted coronavirus in Gilgit-Baltistan (G-B) to raise the region's tally to 556, health department officials said on Tuesday.

390 patients have recovered with four deaths in the region so far. Active cases stand at 162.


District wise distribution of #COVID19 cases summary in Gilgit-Baltistan @deputy_hunza @DCNagarGB @DCGILGIT @DCDiamer @DCGhanche @DC_Ghizer @AstoreDeputy @DCSkardu @DKharmang #CombatCoronaVirus #CoronaFreeGB #InshAllah pic.twitter.com/59rO2xOZEu

— Health Department Gilgit-Baltistan (@HealthDeptGB) May 19, 2020


7:50pm: PIA flight brings home 274 stranded Pakistani students from Wuhan

A special Pakistan International Airlines (PIA) flight carrying 274 students from Wuhan city in China arrived in Islamabad, Ministry of Foreign Affairs said in a statement on Tuesday.

During the period of lockdown in Wuhan, the Chinese authorities took extraordinary measures to ensure the safety and security of the Pakistani students, read the statement.

Details here




6:39pm: Pakistan calls for sustained international action to mitigate pandemic

State Minister for Health Dr Zafar Mirza on Tuesday called for coordinated, collective and sustained actions by the international community to suppress and mitigate Covid-19 pandemic, ease the burden on the health systems and support national and global economies.

Addressing to 73rd Session of World Health Assembly held in Geneva, via video conference, Mirza said some of the lessons learned from the coronavirus outbreak included the need for enhanced investments in national and global pandemic preparedness, detection and response mechanisms.

Full story here




6:30pm: High mortality rate recorded in Covid-19 patients put on ventilators

The Sindh health department has revealed in one of its report that the mortality rate is very high among the hospitalised Covid-19 patients requiring ventilators in Pakistan as well as across the world.

According to the report published on May 17, out of 134 coronavirus patients put on ventilators, 115 had succumbed to the deadly disease in Punjab.

Likewise in Karachi's Dow University Hospital, among 16 virus infected patients placed on ventilators, only two had recuperated from the mysterious disease originated in China.

More here




6:07pm: Scientists report positive outcome of passive immunisation trial

The health authorities have made public the preliminary findings of an ongoing clinical trial of plasma therapy to treat the Covid-19 patients in the country, saying that positive outcome has been achieved in the cases of 86% of the patients.

Fourteen patients having severe to critical disease were treated with plasma therapy during the trial, Dr Tahir Shamsi, head of the National Institute of Blood Diseases, said in a statement. Overall 86% of the patients, according to the findings, achieved positive outcomes as per the laid-down criteria of the trial.

Read more here




5:59pm: First Covid-19 patient recovers via plasma treatment in Peshawar

A Covid -19 patient who underwent plasma treatment at Hayatabad Medical Complex (HMC) has recovered in Peshawar.

This is the first time a patient had recovered from the treatment at HMC, said medical director of the hospital Dr Shehzad Akbar Khan, adding that the patient was brought in critical condition.

He said the plasma was donated by another patient who had recovered earlier in the hospital.




5:45pm: K-P reports 11 more deaths, 324 new cases of Covid-19

The Khyber-Pakhtunkhwa (K-P) Health Department, in its daily situational report, has confirmed 11 more deaths due to coronavirus in the last 24 hours to raise the provincial death toll to 345.

Seven deaths were reported from Peshawar, two from Abbottabad, and one each from Nowshera and Bajaur.

324 new cases – 53 from Int'l flights center – were also confirmed, taking the total to 6,554.

114 more patients have recovered taking the tally to 2,058. Active cases stand at 4,151 in the province.


324 new cases confirmed (53 from Int'l flights center) taking total to 6,554 in KP. 11 new deaths were reported (7 Peshawar, 2 Abbottabad, 1 Nowshera, 1 Bajaur) taking the total to 345. 114 new patients recovered taking the tally to 2,058 in KP. Active cases at 4,151. pic.twitter.com/9Nw7mFXlMb

— Health Department KP (@HealthKPGovt) May 19, 2020
5:30pm: Information Minister Shibli Faraz briefs media on decisions taken in federal cabinet meeting
Information Minister @shiblifaraz briefs media persons about decisions taken in Federal Cabinet meeting. https://t.co/IUCT3RNlHC

— Radio Pakistan (@RadioPakistan) May 19, 2020


Story here




4:30pm: Essential services, depts combating Covid-19 to function over Eid

The provincial government of Sindh has said all essential services and all departments involved in the fight against the novel coronavirus will continue to function over the coming Eid holidays.




4:00pm: PBC urges resumption of normal court activities

The Pakistan Bar Council's (PBC) on Tuesday urged the superior judiciary to resume normal functionality and resume all court proceedings.

PBC Vice-Chairman Abid Saqi, in a statement, appreciated Monday's Supreme Court (SC) order regarding the closure of shopping malls.

Read full story here




3:15pm: Sindh govt develops education app for students

Pakistan Peoples Party (PPP) Chairman Bilawal Bhutto shared a video on Twitter of the application designed by the Sindh government for educational purposes for students of kindergarten up to grade 5.

He said the app is in English, Urdu and Sindhi.

Sindh Govts English, Urdu & Sindhi education aap for grades KG to 5. https://t.co/mrLAJHvYMl #StudyAtHome #COVID #StayHomeStaySafe pic.twitter.com/YBuuw62FTn

— BilawalBhuttoZardari (@BBhuttoZardari) May 19, 2020
2:35pm: People not taking Covid-19 seriously after SC's remarks, AG tells court

Attorney General for Pakistan (AGP) Khalid Javed Khan told the Supreme Court that people were not taking the Covid-19 threat seriously after the apex court's remarks making it difficult for the administration to take measures to curb the deadly pathogen.

Advocate General Sindh endorsed the opinion saying the lockdown is no more effective as shops have been allowed to open.

However, Chief Justice of Pakistan Gulzar Ahmed stated that this was not owing to the apex court's remarks but because police inspectors were permitting businesses to reopen after receiving bribes.

He further clarified that the Supreme Court did not make any remarks against the Sindh government.

Read more here.


1:55pm: Highest number of single-day deaths reported in Sindh today: CM Murad

Sindh Chief Minister Murad Ali Shah said today marks the highest number of deaths reported in the province.

He said 19 deaths were reported in the last 24 hours, raising the province's death toll to 299, while at least 252 patients recovered.

3,803 tests were conducted in the last 24 hours and 706 persons tested positive for Covid-19.

The total number of cases in Sindh stands at 17,947.


1:50pm: 10-member Chinese medical team visits NCOC

A ten-member Chinese military medical team visited the National Command and Operation Centre in Islamabad.

The team, headed by Major General Huang Qingzhen, was apprised about Pakistan's efforts to contain the spread of coronavirus and its future emergency response measures.

The delegation was briefed on Pakistan's National Test Track and Quarantine (TTQ) strategy - a major initiative launched by NCOC earlier this month.

The Chinese medical team shared their experiences of early identification, early isolation and early treatment, which helped China tackle the virus.

The NCOC officials appreciated the delegation for sharing their expertise and thanked the Chinese government for their support in fighting against Covid-19.

Read more here.


1:35pm: 'Punjab govt, health dept incapable of curbing the virus'

The Grand Health Alliance (GHA) has accused the Punjab government and its health department of being incompetent and not helping the doctors in limiting the spread of the deadly pandemic.

Addressing a press conference at Punjab's Institute of Cardiology (PIC) Young Doctors Association (YDA) leader Dr Zeeshan said that 48 PIC members had been affected by the coronavirus; 25 of them are still in quarantine.

"We have only have received only 774 N-95 masks so far in the last two months while 2,100 medical staff work in one shift," he stated.

Read more here.


1:20pm: Railway operations to resume to facilitate people for Eidul Fitr

Federal Minister for Railways Sheikh Rashid said Pakistan Railways is resuming limited operations during relaxation in lockdown to facilitate people for Eidul Fitr.

He said this while talking to Japanese Ambassador Kuninori Matsuda in Islamabad.

The minister said implementation of standard operating procedures (SOPs) issued by the government will be ensured during travel.


12:20pm: Dr Shehbaz Gill says premier's decision for a smart lockdown has been welcomed globally 

Prime Minister Imran Khan's special aide Dr Shehbaz Gill said the premier's decision for a smart lockdown has been supported not only in Pakistan, but across the globe.

He further said after the Supreme Court's (SC) decision, the Pakistan Peoples Party (PPP) needs to review its decision pertaining to a complete lockdown in the country.

Gill added that the Sindh government's implementation of a strict lockdown has produced negative results, adding that the cases in Sindh are similar to the rest of the provinces.

The SAPM also said Sindh's strict lockdown has greatly impacted the poor, as well as the economy.

"The Supreme Court's decision will help reduce the problems of the poor and underprivileged, as well as run the pressurised economy," he said.


12:00pm: First round of consultations of PM's debt relief initiative begins at the UN

The first round of consultations on the prime minister's initiative for global debt relief has begun at the United Nations.

Ambassadors from over 22 countries discussed the matter.

In his opening remarks, read by Pakistan's UN Ambassador Munir Akram, Foreign Minister Shah Mahmood Qureshi emphasised the need for addressing the debt distress of many developing countries, which could eventually become a debt crisis.

President of the United Nations General Assembly (UNGA) Tijjani Muhammad-Bande welcomed the premier's initiative and called for quickly moving on debt and concessional finance to support the most vulnerable people around the world.


11:30am: PAF aircraft carries medical equipment from Beijing to Pakistan

Pakistan Air Force IL-78 cargo aircraft carrying 16 tonnes of medical equipment from Beijing has arrived in Pakistan.

The relief goods included 20 biosafety cabinets, 50 ventilators, 300,000 testing kits, 65,000 N95 face masks, and 10,000 surgical gowns.


10:35am: ANP leader Ghulam Ahmed tests positive 

Awami National Party (ANP) leader Ghulam Ahmed Bilour has tested positive for Covid-19.

He said he has self-isolated and is taking precautionary measures.


10:30am: Punjab governor says providing ration to poor is govt's top priority 

Punjab Governor Chaudhry Sarwar said providing ration to the poor is the government's top priority.

The governor said welfare organisations will help distribute ration up to one million families, adding that it has already been distributed to 500,000 people in Punjab.


10:10am: Special flight carrying stranded Pakistanis in Indonesia departs for Islamabad

A special Pakistan International Airlines (PIA) flight carrying 237 stranded Pakistanis in Jakarta has departed for Islamabad early morning.

Ambassador Abdul Salik Khan and a team of officers and staff of the Embassy saw off the passengers.

This was the second such flight during the past five weeks. Earlier, on 18 April 2020, 221 Pakistanis had returned to Pakistan from Indonesia.

Around 450 Pakistanis were stranded in different parts of Indonesia due to flight cancellations and lockdowns amid Covid-19.


9:55am: 'Govt, SC on the same page regarding lockdown strategy 

Minister of State for Climate Change Zartaj Gul said the government welcomed the Supreme Court's verdict on the lockdown because both are on the same page regarding the lockdown strategy.


9:30am: OIC to mobilise resources to help tackle Covid-19

The Organisation of Islamic Cooperation (OIC) has vowed to mobilise all their resources to help contain the spread of the virus.

The OIC General Secretariat said it would pursue a response campaign until Covid-19 was contained, adding that the aim of the campaign is to showcase efforts of the OIC member states, the General Secretariat and OIC institutions.


9:10am: Federal cabinet to meet today

The federal cabinet chaired by the prime minister will meet today to discuss the overall situation of the country.

The meeting will discuss the developments of Covid-19 in the country, following the easing of restrictions.


9:00am: Govt to donate four rupees for every rupee donated to relief fund

Prime Minister Imran Khan said the government will donate four rupees for every rupee donated to the Covid-19 Relief Fund.

The premier said he met recipients of the Ehsaas Emergency Cash programme on Sunday.

Yesterday I met recipients of #EhsaasEmergencyCash Category IV for labourers laid off work, funded by Prime Minister's COVID Relief Fund. For every rupee donated, govt will give 4 more. Ehsaas data & transparency rules apply fully. Applications are open at https://t.co/yQ1oWiVt8w

— Imran Khan (@ImranKhanPTI) May 19, 2020
8:35am: 'Peak period of Covid-19 cases from first to third week of June'

Federal Minister for Science and Technology Fawad Chaudhry has stressed the need for joint research and development on Covid-19 amongst Pakistan, Bangladesh, Sri Lanka and India.

The minister said it is necessary to calculate the figures of herd immunity in our region, adding that it is the most dangerous aspect of the virus.

A committee of the Ministry of Science and Technology, headed by Dr Attaur Rehman and comprising of seven scientists predicted a peak period of coronavirus cases from the first to the third week of June.


7:55am: Nationwide tally at 43,983

After new cases emerged in the country, the nationwide tally jumped to 43,983.

In the last 24 hours, 36 patients succumbed to the deadly disease. The country's death toll stands at 939, while at least 12,489 patients have recovered.


7:00am: Shibli Faraz says restrictions may be reimposed if not SOPs not followed

Federal Minister for Information and Broadcasting Shibli Faraz said restrictions may be reimposed if precautionary measures are not taken and standard operating procedures (SOPs) are not followed.

The minister appealed to the opposition parties to avoid political point-scoring in regards to the coronavirus, adding that national unity is necessary to defeat the deadly disease.

He said the government is trying to maintain a balance between economic activities and preventative measures to curb the spread of the virus.

The minister maintained that train operations will resume from May 20. He said the industrial sector has also been allowed to operate, adding that industrialists must ensure that standard operating procedures (SOPs) are being implemented.

Faraz said the production of personal protective equipment (PPEs) has started in Pakistan and surplus products will be exported.