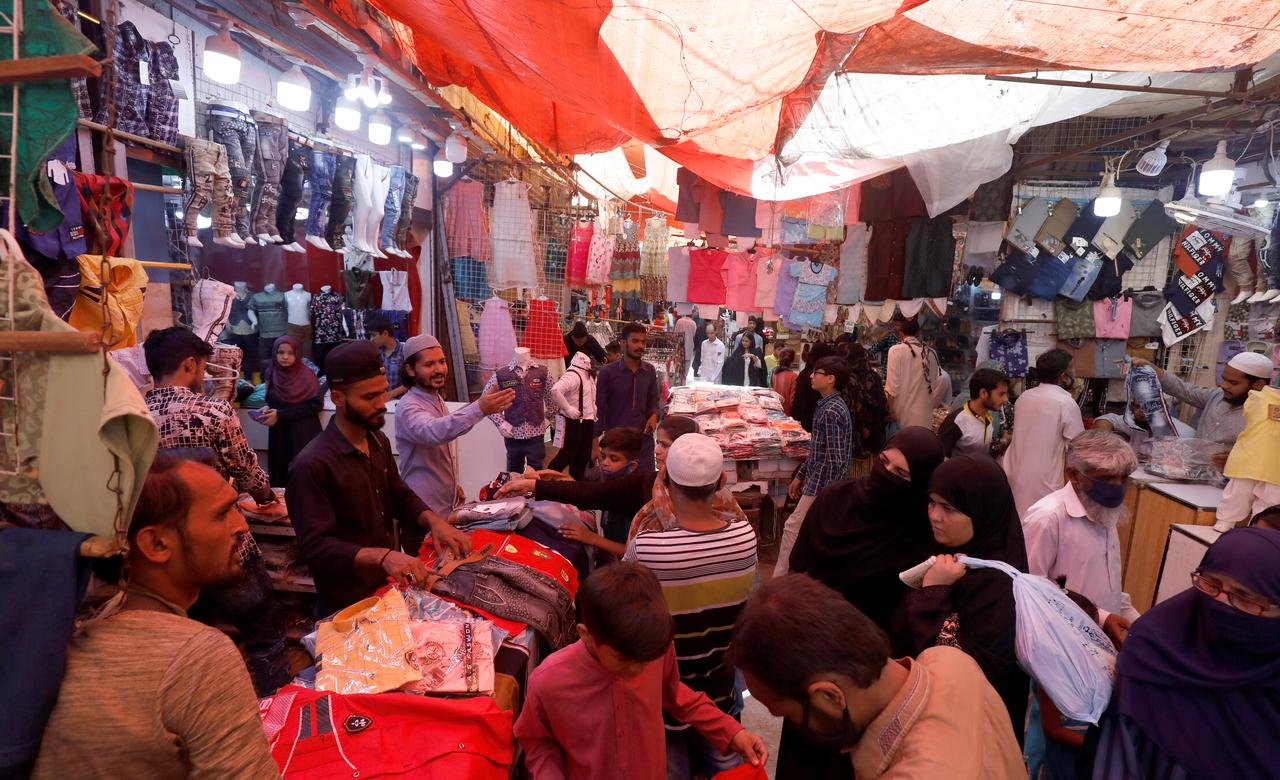 ---
Eid shopping spree gains momentum in Lahore
Online sales jump from 2% to 20%
---
LAHORE: Just a week before Eidul Fitr, the shopping festivities have gained momentum with the emergence of makeshift Eid kiosks in the commercial areas and the share of online sales jumping from 2% to 20% with roaring business in the provincial capital.

Speaking to The Express Tribune, traders highlighted that following easing of lockdown restrictions by the government, Eid shopping has started picking up pace as shoppers, especially women and families, started to throng markets in the city.

Though most shopkeepers and traders complained about huge losses owing to the prolonged lockdown, they expressed their satisfaction over the restoration of their businesses before Eidul Fitr, even for a limited time. A kiosk owner of Iqbal Town's famous Karim Block market, Muhammad Ali, said it was happening for the first time that business activities ware limited during the festive season. "I believe the Eid business has shrunk to 40% when compared to previous years. Brand stores and local outlets having online sale channels have attracted a lot of business during the coronavirus lockdown," he pointed out.

Manager of a local garment brand, Mohsin Butt, said a rising number of coronavirus patients and the lockdown have compelled citizens to opt for online shopping.

"Online sales of all local brands have multiplied during the past month and a half. Earlier, we were handling only a few dozen orders daily but during the lockdown this number has jumped to hundreds. Online sales are increasing with every passing day," he disclosed.

Shopping patterns, he indicated, suggest that the lockdown has shrunk purchasing power of customers, which forced online retailers to change their sale strategy. "Since our overheads are limited due to closure of shops and we have huge stocks in hand, most online retailers have put their stocks on sale.

Earlier, all brand stores and local retailers made discount offers after the festive season when sales were low," he maintained.

An e-commerce technology provider, Imran Ayub, highlighted that when the entire country was closed down owing to coronavirus lockdown last month, his company received several enquiries to bring small businesses online. "From a grocery store to garments shop, from a small retailer to brand store, everyone was asking us to bring his business online ahead of the shopping season," he revealed.

A local departmental store official, Ahmad Raza, said, "Though the government had never asked grocery and departmental stores to go into lockdown, we preferred to close our outlet as a precaution. However, instead of wasting them, we have put all our over 5,000 products online for sale." An online shopper, Maria Khan, said she had bought shoes and dresses for her children and herself while sitting in the comfort of her home during the lockdown.

"Most of these products have already been delivered, while a few shipments are in transit. Though I cannot deny the pleasure of traditional shopping and eating out, this e-commerce thing has made our life a lot easier. I never enjoyed sale offers during Eid season but this time I bought three pairs of shoes for my children at flat 20% discount a week before Eid," she said with joy.

She also indicated that most women's garment brands have already closed their online sales channels for delivery before Eidul Fitr owing to a huge demand. "I believe this coronavirus-induced lockdown will change the way we live our lives or shop once it is over," she added.

Lahore Chamber of Commerce and Industry President Irfan Iqbal Sheikh, who is a chain store owner, said the lockdown had badly affected the entire trade sector but e-commerce had provided a little relief in the trying times. "Earlier, our online sales were hardly 2% of our total business but this number has touched 18-20% during the past two months," he revealed.

Published in The Express Tribune, May 19th, 2020.