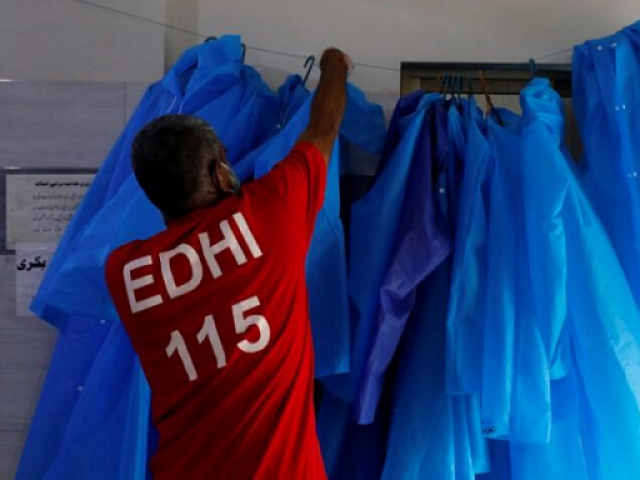 ---
PESHAWAR: A 56-year-old ambulance driver from Peshawar has succumbed to the novel coronavirus (Covid-19), making him arguably the first rescue worker in the country to fall victim to the contagious virus.

Farid Gul had been working as a driver at the Edhi Centre in Peshawar, which he joined in 1996 after retiring from the army.

Gul had contracted the virus while ferrying Covid-19 patients to hospitals and quarantine centres. He was subsequently admitted to the Combined Military Hospital (CMH) in Peshawar for treatment where he succumbed to the virus. He was laid to rest in his ancestral graveyard at Taro area on the outskirts of the provincial capital.

Speaking to The Express Tribune, Gul's colleague Farid Khan, at the Edhi Centre in the Gul Bahar area of the city where they both worked, said that he was a great human being, a kind person who loved his work.

Fard said that Gul had seen everything, from the aftermath of floods to bomb blasts in the province. Nothing would daunt Gul, Farid said, adding that the former soldier would always be found at the spot of some mishap to help people and try to save lives.

Gul would not take leaves or even a weekly off because he believed that as a driver, he had more responsibilities than some of his colleagues, and if he performs his duty every day, he could save more lives, Farid added.

Gul's son Awais Khan told The Express Tribune that his late father had tested positive for the virus and was hospitalised for some time.

He said that his father had not only served his country but its ailing people as well.

"We never saw him free as he would always be working for Edhi," Awais said, adding that his late father believed that working for the poor and the needy was a great cause and that is why he was hired as a driver at the Edhi Centre.

Awais further said that his father lost his life to the virus because he was working as a frontline worker. "He sacrificed his life while serving ailing people," he added.

Published in The Express Tribune, May 18th, 2020.