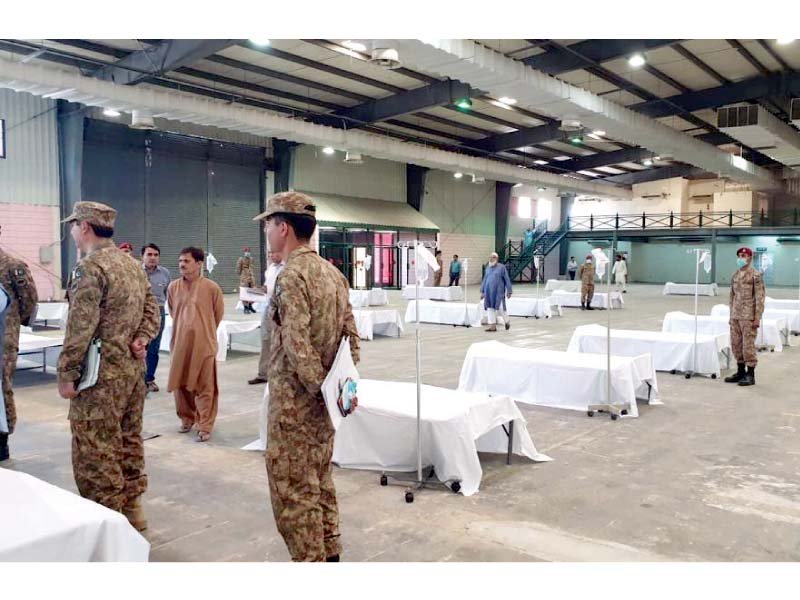 ---
Tales of survivor: What two weeks in Karachi's largest isolation centre look like
Covid-19 survivors recount how cordial staff, top notch facilities and routine kept their fears at bay
---
KARACHI: Not many things hit people harder than the fear of dying and not being able to see their loved ones. The novel coronavirus is an exceptional personal challenge in that it hits people with both. Not only could it be fatal in extreme cases, should the worst come to pass, it would likely be away from those one cherishes.

Understandably then, those who contract Covid-19 suffer from intense mental anguish when they are forced to go into isolation. Keeping their spirits up, as such, becomes a major challenge for those who look after them.

However, as far as Karachi's largest field isolation centre is concerned, those who have beaten the virus after a short stay there have no complaints. In fact, they said the cordial atmosphere ensured by the staff coupled with high standard of facilities available at the centre were crucial factors in helping them keep their sanity while in isolation.




"I was already in panic mode before my test came positive," recounted Abdul Aziz, who was admitted to the facility on April 16 and discharged on May 8. "I had developed a cough and fever some 10 days before and it simply wouldn't get better. The over-the-counter drugs I tried were totally ineffective, so in my mind I was already fearing the worse."

"And then came the test results and my worst fears intensified," he said. "I was already thinking would I survive this, of course. But then I was wondering how would I live in sickness away from home and my kids. I was also concerned about their safety and wellbeing and whether I had infected them already."

It was with these fears in mind that Aziz walked into the large isolation facility set up at Karachi's Expo Centre. "I was surprised at how easy it was. I was already registered in their system. At the reception, which was beautiful with glass panels on all sides and fully air conditioned, I was handed a bag with all the items I would need – clothes, cutlery and utensils, soap, toothbrush and other daily use items," he said. "My fears were still there, but the atmosphere assured me I was in the best hands."

Recalling his experience, Aziz said there were around 120 patients on 200 beds when he entered the main hall. "They all seemed at ease, considering the circumstances. Someone was getting their sugar checked, another their blood pressure. This happened routinely."

"We were served the best food three times a day. For Ramazan, the centre had the best arrangements for Sehri and Iftar. The staff also noted the names of patients who didn't wish to fast and they received their names regularly," he recalled. "The hall was disinfected every six hours. Everyone was provided their own facemask to wear at all times and a separate towel. They have the best arrangements to transfer patients to the hospital in case someone's condition worsens."

Health workers protest assault on JPMC doctor in Karachi

"After 14 days, patients are tested again. If they test negative, they get another test after 24 hours. You're only discharged after you test negative twice," he added. "My advice to people who contract Covid-19 is to be brave and be cooperative. This disease is rarely fatal but one needs to have courage."

"I pay great tribute to the doctors and other staff here," said another Covid-19 survivor Zahid Memon. "Who says we can't compete with the world? Our frontline health workers and those who defend the country's borders are giving their best to help us survive this pandemic. The administration of the centre is also sending rations and monetary assistance to the families of deserving patients," he told The Express Tribune.

"The isolation centre the Sindh government and the army has set up is magnificent," said another Covid-19 patient Mohammad Amir. "For the poor, the kind of treatment we receive here, it is like a guesthouse fit for a king."

"We get internet and Skype facilities to keep in touch with out family members every day. We get board games like carom to keep our mind off our anxieties. I personally was lost in my childhood memories when they gave us the games," he added. "I felt like a real VIP. There's no difference between a rich patient and a poor one here, thanks to the staff."