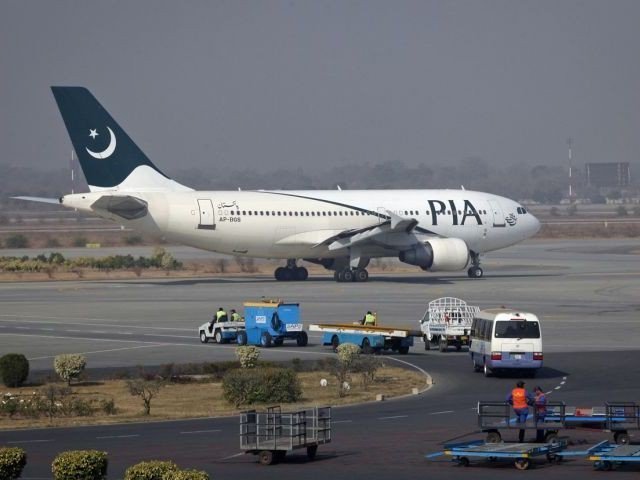 ---
KARACHI: A PIA plane carrying 84 passengers reached Lahore from Karachi on Saturday as domestic flights partially resumed in the country after they were suspended in March to stem the spread of the coronavirus pandemic.

A private airline also operated flights from Islamabad and Lahore.

A day earlier, a Civil Aviation Authority spokesperson said 68 flights would operate from Jinnah International Airport in Karachi, 32 from Allama Iqbal International Airport in Lahore, 32 from Islamabad International Airport, eight from Quetta International Airport and four from Bacha Khan International Airport in Peshawar.

The PIA and Serene Air are operating flights in the mornings and afternoons.

In a video statement, Aviation Minister Ghulam Sarwar Khan said 20% of domestic flights would resume from Saturday but in a limited capacity. His announcement came after the National Command and Operation Centre (NCOC) on Covid-19 reached a decision on the matter.

The minister said social distancing would be followed on the flights and planes would cap seating at 50% of their capacity.

He added that the Aviation Division had prepared very strict standard operating procedures (SOPs) to ensure disinfection, social distancing and the safety of the airline crew and passengers.

The SOPs require disinfection of the aircraft prior to boarding, at least one vacant seat between passengers, compulsory wearing of masks and use of hand sanitiser.

No food and beverages are allowed on domestic flights. Airlines are required to maintain emergency personal protective equipment in aircraft to deal with any health emergency during the flight.

Passengers are required to fill health declaration forms before boarding the lane and subjected to thermal scanning on entry and exit into and from a city. All luggage is being disinfected and no meet and greet is allowed at the airport.

Domestic flights have been partially resumed but the ban on international flight operations has been extended until May 31.

The government had suspended domestic flights from March 26 to April 2 over the viral outbreak. However, flights between the Islamabad airport and Gilgit and Skardu were exempted from the suspension.

In April, the federal government extended the suspension of international and domestic flight operations in line with the national strategy to stem the spread of novel coronavirus.

However, during that period, PIA resumed its relief flights to repatriate stranded Pakistani nationals.

Earlier this month, PIA announced a special flight schedule to fly parliamentarians from Karachi to Islamabad for the first National Assembly session to be held during the Covid-19 pandemic.