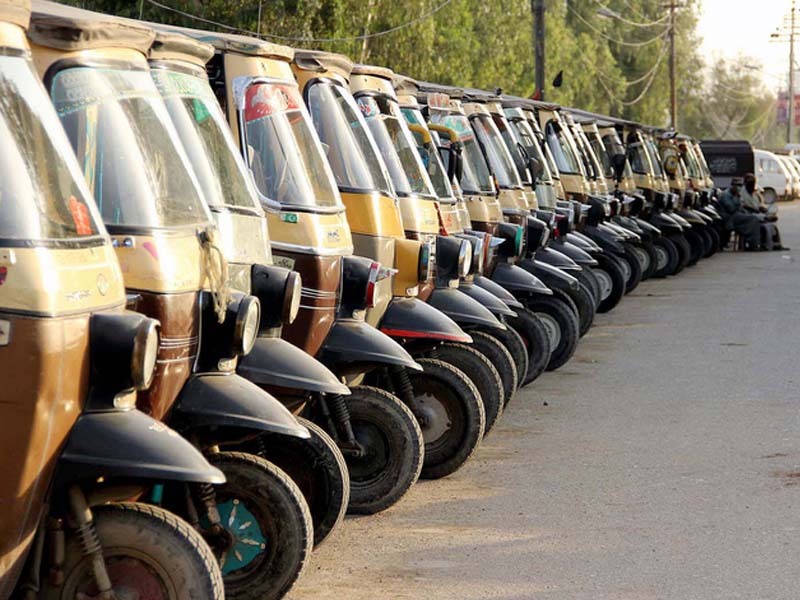 ---
Public transport closure remains a nuisance for Karachiites
As rickshaws defy ban, hiked fares take a toll on citizens' pockets
---
KARACHI: Despite businesses reopening across the country, the closure of public transport remains a bane for Karachi's poor as they struggle to reach major markets.

Every year in Ramazan, the markets at Saddar, Tariq Road, Hyderi, Jama Cloth, Liaquatabad and other areas see an influx of shoppers, particularly women, seeking affordable purchases ahead of Eidul Fitr.

This year, though, the markets are emptier than usual - partly due to the closure of public transport, which leaves only citizens with access to private transportation or those who can afford expensive fares able to visit markets.

A survey by The Express Tribune revealed that illegal Chingchi rickshaws had resumed operations on some major and minor routes, while CNG and two-stroke rickshaws have been plying in the city despite the ban for several days.

The fares for these transport services, though, have skyrocketed. Trips that cost Rs20 before the lockdown now cost Rs30 for a passenger.

Plus, with passengers sitting side by side, social distancing remains far from being implemented. Yet no action has been taken by the traffic and city police.

Punjab permits opening of malls, public transport from May 18

A citizen, Mohammad Hanif, told Express that he paid Rs100 for a ride from Orangi Town to Saddar, using three different rickshaw routes. Sporting a face mask and with a bottle of sanitiser in his pocket, Hanif lamented that preventing the coronavirus had become the citizens' responsibility.

Pointing out that with nine passengers in a Chingchi rickshaw, social distancing rule was being blatantly violated, he remained thankful for the commuting option. "It is not a substitute for buses but still a blessing for people."

Lambasting the Sindh government for "treating Karachi as a stepmother would," he complained that public transport remained closed even though commercial activities had been restored. "These expensive rides are taking a toll on our wallets," he said, demanding that the government allow public transport to resume services.

In the eyes of another citizen, too, Chingchi rickshaws were not a solution. "They are running on select routes so very few people are able to benefit," he explained.

Meanwhile, Karachi Transport Ittehad president Syed Irshad Hussain Shah Bukhari stressed the need to realise that Chingchi rickshaw service providers were poor people working hard to survive in a world upturned by the pandemic. But, he added, the government should allow public transport to resume as the transporters were facing near starvation.

In a recent meeting, the transporters had sought the lifting of the ban, assuring Sindh Transport Minister Awais Qadir Shah that they would follow the government's standard operating procedures.

Stating that the public transporters' fate remained in limbo with the lockdown being extended to May 31, Bukhari claimed the starving transporters were being treated with cruelty. "I have been appealing to the Sindh Chief Minister for a relief package," he added.