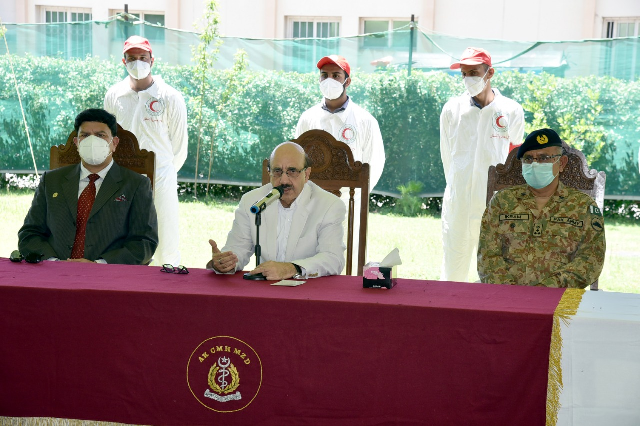 ---
'AJK keeps coronavirus at bay because govt, people and paramedic staff on same page'
Azad Kashmir has the highest rate of recovery of Covid-19 patients, says President Masood
---
MUZAFFARABAD: Azad Jammu and Kashmir (AJK) President Sardar Masood Khan has appreciated frontline health workers fighting Covid-19 pandemic for successfully controlling the spread of contagion.

"AJK has the highest rate of recovery of Covid-19 patients because our government, people and the medical community are on one page to combat the pandemic," he said while addressing a ceremony held to distribute personal protective equipment (PPEs) and medicines among doctors, nurses and paramedical staff in Muzaffarabad.

The spirit of doctors and other medical staff to save lives of the people at the risk of their own lives had contributed to control the Covid-19 situation in the region, the president said while acknowledging that the people had also set an example by complying with the lockdown directives.

He said due to the timely actions of the AJK government and determination of doctors , the total number of Covid-19 patients is 108 only. "Of them, 76 have recovered while 28 are still under treatment in hospitals, and none of them is on ventilator and only one patient has died due to coronavirus so far."

President Masood said that there is no separate isolation facility or hospital in AJK at the time of outbreak of Covid-19 "but now we have 68 isolation centres".

India is preparing for 'buccaneering salvo' against Pakistan, says AJK president

The virology department has been upgraded and the testing facility has been provided besides Muzaffarabad, in Rawalakot and Mirpur while a proposal is also under consideration to impart training to 1,500 members of medical staff to respond to Covid-19 pandemic in future, he added.

He paid great tributes to philanthropists for reaching out to the affected people, and helping the government in tackling the challenge caused by the outbreak of coronavirus.

He also appreciated National Disaster Management Authority, Pakistan Army, National Institute of Health Islamabad and particularly Red Crescent Society for extending fullest support to the people of Azad Kashmir during the Covid-19 crisis.

The president also said that as compared to the AJK, the people living in Indian Occupied Jammu and Kashmir (IOJ&K) are facing immense difficulties. "We have enforced lockdown to protect lives of the people while in occupied Kashmir, the people particularly the youth are being massacred under the garb of lockdown."

Coronavirus is rapidly spreading in IOJ&K and doctors are unable to properly treat the patients due to the shortage of PPEs, he added.