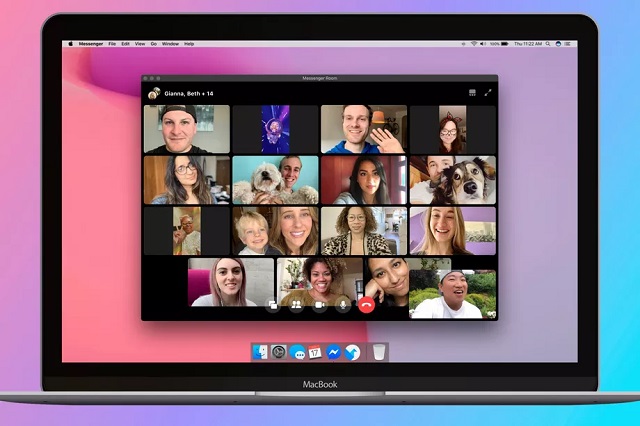 ---
Facebook's 50-person Messenger Rooms is here to rival Zoom
Messenger Rooms will enable as many as 50 people to participate in a call
---
Facebook has launched its new videoconferencing tool, Messenger Rooms, revealed the company's website.

Messenger Rooms will enable as many as 50 people to participate in a call with a tiled layout display of participant videos up to 16 on desktop and 8 on mobile resembling the design offered by competitor Zoom.

The new video conferencing tool lets you set limits on who can join, or you can make it public to anyone with the link even if they don't have a Facebook account.

Facebook has also added some great features like AR filters and virtual backgrounds.

Zoom rival, Google Meet, now adding 3 million users per day

"You can start and share rooms on Facebook through News Feed, Groups, and Events, so it's easy for you to drop by whenever you want," writes Stan Chudnovsky, Facebook's vice president of Messenger, in a blog post published today.

"You can choose who can see and join your room or remove people from your room and lock the room if you don't want anyone else to join."

Facebook users will be able to share links enabling non-users to join Rooms via a web browser on both desktop and mobile, eliminating requirements to download an app or create an account as on other services.

There will be no time limits on the calls.

To access the video chat tool simply tap the "People" section of Messenger, you'll have the option to create a room. From there, you can select the function of the room "hanging out" or "happy hour," among other choices, as well as a custom option and who is allowed in.

You can do the same from the top of the Facebook News Feed in the main app.

If you decide to make it public to your entire friend's list, it will show up at the top of the News Feed for your entire network, so beware of doing that on accident.

Teachers to stop using Zoom app after 'very serious incidents'

Recently, Microsoft introduced a new "Meet Now" feature for Skype that can accommodate video meetings of up to 50 people without downloading any apps.

Zoom, Cisco Systems, and Alphabet's Google also have rolled out updates of their video meeting tools while reporting record growth since the lockdowns began.

With the launch, Facebook joins a crowded field of companies rushing to dominate the market for video meetings, as millions of people locked in their homes around the world are now relying on these applications on for work, school, and social life.