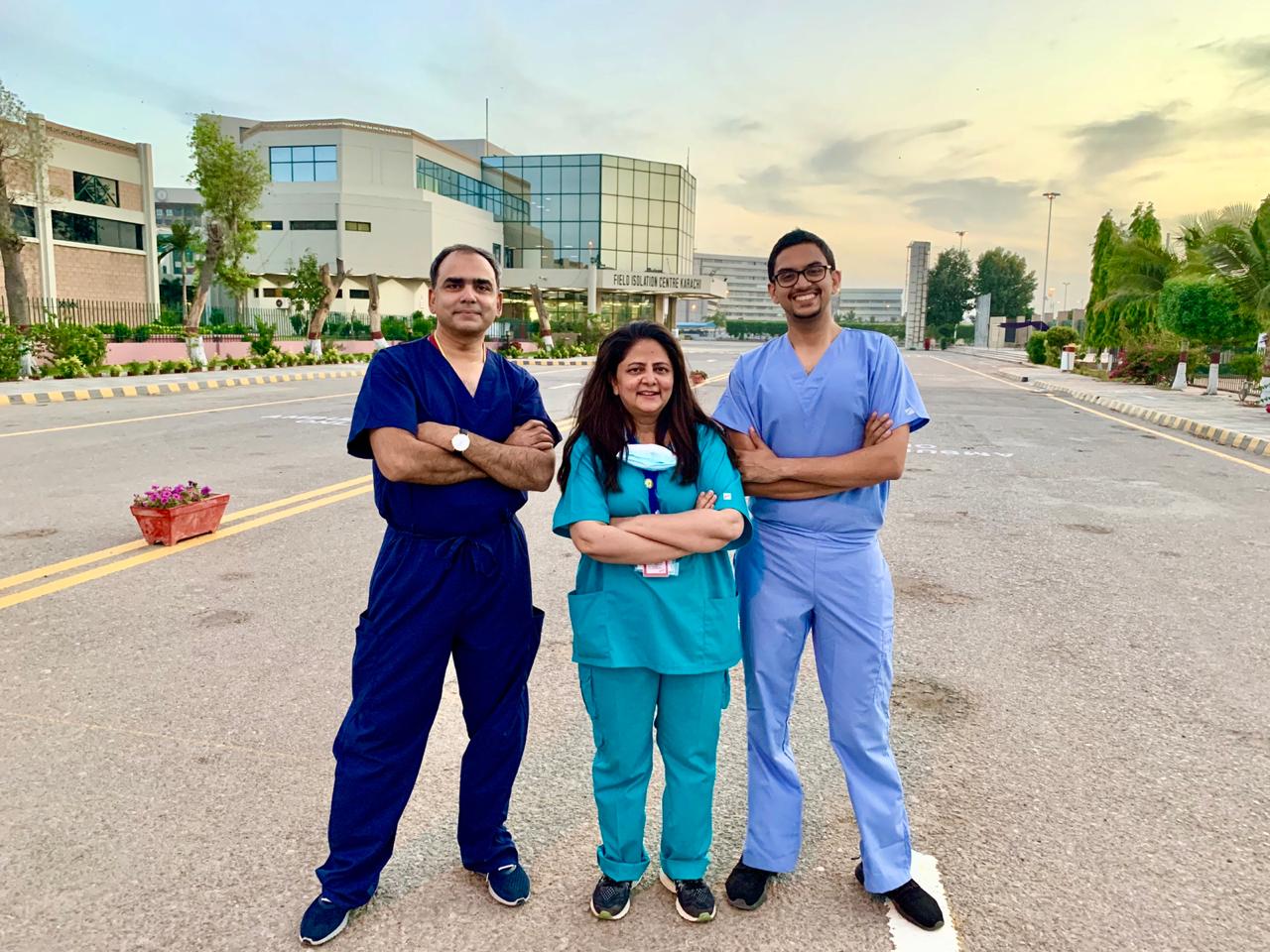 ---
Inside Karachi's Covid-19 isolation centre
The 1,200-bed facility set up at Expo Centre is a shining example of how people pull together in the face of emergency
---
KARACHI: Nothing pulls people together like times of crisis and at the isolation centre set up by the government at Karachi's Expo Centre, that is exactly what you witness. The Express Tribune conducted a visit of the facility and found frontline health workers – doctors, paramedics, and nurses – working tirelessly alongside military officials to keep the novel coronavirus pandemic at bay.

Since it became functional at the beginning of April, the facility with the capacity to house 1,200 patients has taken in 493 of them. By the first week of May, 148 of them or almost a third had recovered and been sent home. Only eight patients had to be referred to hospitals for further treatment, staff working at the facility revealed.




The isolation centre currently has more than 60 doctors and medical consultants assisted over a hundred paramedics, nurses, and volunteers. They report directly to Dr Nuzhat Khan, who also heads the surgery department of Aga Khan Hospital.

The centre is overseen by a four-member administrative group comprising senior Sindh health department officials, Civil Hospital Medical Superintendent Dr Khadim Qureshi, and District East Deputy Commissioner Dr Asif. The army, meanwhile, serves as the administrative guardian of the facility, playing a crucial role in keeping it seamlessly running.

Speaking to The Express Tribune, Dr Nuzhat revealed the isolation centre was the first paperless facility of its kind in Pakistan and was planned in just 36 hours. "This was a huge challenge for all us, the way we have managed to bring together medical professionals, officials, and volunteers," she said.

To house the medical staff and volunteers at the facility to mitigate risks of Covid-19 spreading, a 'city of containers' has been set up within the isolation centre. As many as 72 of them are currently living in the containers, which have been outfitted with all amenities.

The staff and volunteers work in six-hour shifts, each of which comprises 30 of them, The Express Tribune learned.




The centre has also been divided into 18 different units, including separate departments for infection control, human resources, training, supply chain, laboratory services, housekeeping, food, security, pharmacy, and others. The facility is both fully air-conditioned and computerised. More importantly, it comes with its state-of-the-art ventilation centre for patients who encounter breathing difficulties.

The head of Dr Essa Laboratory, Dr Farhan Essa, is providing laboratory services for the isolation centre. All medical tests that patients require would be conducted free of cost.

An extensive network of CCTV cameras has been installed at the centre to monitor both patients as well as the performance of all various units. Patients admitted to the facility are provided Skype, cellular, and landline telephone facilities so that they can remain in touch with both their families and doctors. As for meals, patients receive them thrice a day courtesy of NGOs like Saylani Welfare Trust and Alamgir Welfare Trust.

Despite all effort to make patients as comfortable as possible, Dr Nuzhat admitted that prolonged isolation was bound to make anyone suffer from depression or stress. "To ensure patients' mental wellbeing and speed up recovery, we have asked Dr Alina Bari to conduct daily Skype workshops," she told The Express Tribune.

"Depression has been observed to be the most common immediate response to learning that you are Covid-19 positive," Dr Alina said. "This is why we immediately launched a mental wellbeing programme in collaboration with NGOs and volunteers."

Among the staff at the isolation centre are eight transgender people, who are also staying at in-facility containers. "I have been working here for a month and we are just very happy to serve patients and assist medical staff," said Madam Malik, one of the transgender workers at the facility.