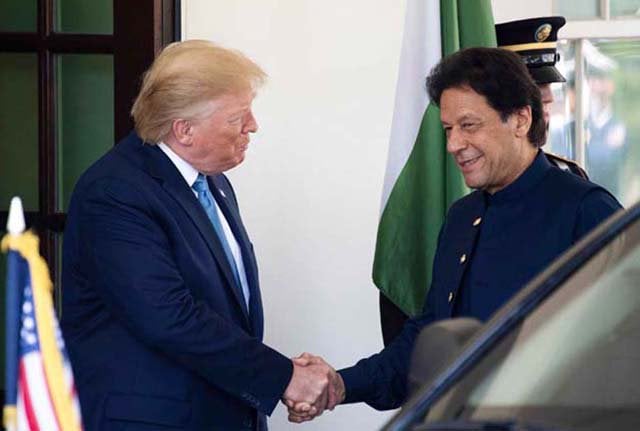 ---
US helps Pakistan in its Covid-19 battle
Trump administration officials say Pakistan continues to be a priority for Washington
---
KARACHI: Pakistan and the United States have been allies ever since the former won its independence and as the world faces the threat of novel coronavirus pandemic, the two nations find themselves frontline partners once again.

From designating Pakistan a major non-Nato ally to providing security and development assistance, Washington has been quick to assist Islamabad in its hour of need at several occasions in the past. And as both countries move to contain Covid-19, the US is providing vital support to Pakistan once again.

As the virus spread across the world, Washington moved quickly to designate Pakistan a priority country for emergency coronavirus assistance, US embassy officials said. According to them, the longstanding Pakistan-US health partnership started to train healthcare providers and procure urgently needed lab and emergency supplies with $2 million in US funding.

Recently, Washington has moved the cooperation on top priorities identified by Pakistani authorities in the second phase. According to the officials, Washington will provide Islamabad $15 million in new contributions fully paid by the American people.

The new contributions will include three new mobile labs aimed at helping Pakistani authorities test, treat and monitor citizens living in coronavirus hotspots, the officials said. The US will also fund high-tech emergency operations centers in Islamabad, Sindh, Punjab, Khyber Pakhtunkhwa, and Balochistan for disease monitoring and response, and train community healthcare workers to assist people in their homes to lessen the burden on hospitals, they added.

The officials also pointed out that Washington has contributed $2.4 million for new life-saving activities in Afghan refugee and host communities in Pakistan, administered by the United Nations Refugee Agency. They also underscored that the US is a leading supporter of debt relief and other exceptional measures agreed by G20 nations, which will provide substantial relief to Pakistan.

Last month, US President Donald Trump and Prime Minister Imran Khan also discussed a coordinated response to coronavirus and collaboration to mitigate the economic fallout, while expanding the two countries' health partnership.

A statement released by the US embassy said Washington is making a new contribution of $5 million to support Pakistan's Ehsaas Emergency Cash Programme. It has delivered 336 metric tons of ready-to-use therapeutic food for children diagnosed with acute malnutrition, and equipment for 50 health facilities to treat malnutrition, in collaboration with UNICEF and the Pakistan government. With the latest contributions, the US has now committed nearly $15 million in new funding to joint efforts to fight coronavirus and its economic impacts, the statement read.

"This is the latest chapter in a long, vibrant US-Pakistan health partnership," US Chargé d'Affaires Paul W Jones said in regards to the emergency coronavirus assistance. "Since designating Pakistan a priority country for coronavirus assistance, the United States has committed nearly $15 million in new coronavirus response funding to our joint efforts. All of these contributions were identified as top priority needs by Pakistani authorities and are fully paid by the American people," he pointed out.

"It builds on US contributions over the past 20 years of more than $1.1 billion in the health sector and more than $18.4 billion overall to the US-Pakistan development partnership," the American envoy added. "We appreciate the many Pakistani expressions of sympathy and support for Americans, and we Americans send with equal sincerity our sympathy and support for Pakistanis who have suffered. Together we can stop the spread of this deadly disease to protect our loved ones and regain our prosperity and freedom."

As early as March, the US ambassador announced Washington had made the country a priority for emergency assistance aimed at containing Covid-19. "The United States and Pakistan are longstanding partners in tackling global health challenges, and this partnership has been critical as we work together against coronavirus…to achieve our shared goals of health and prosperity of our peoples," the envoy said in a video statement released at the time.