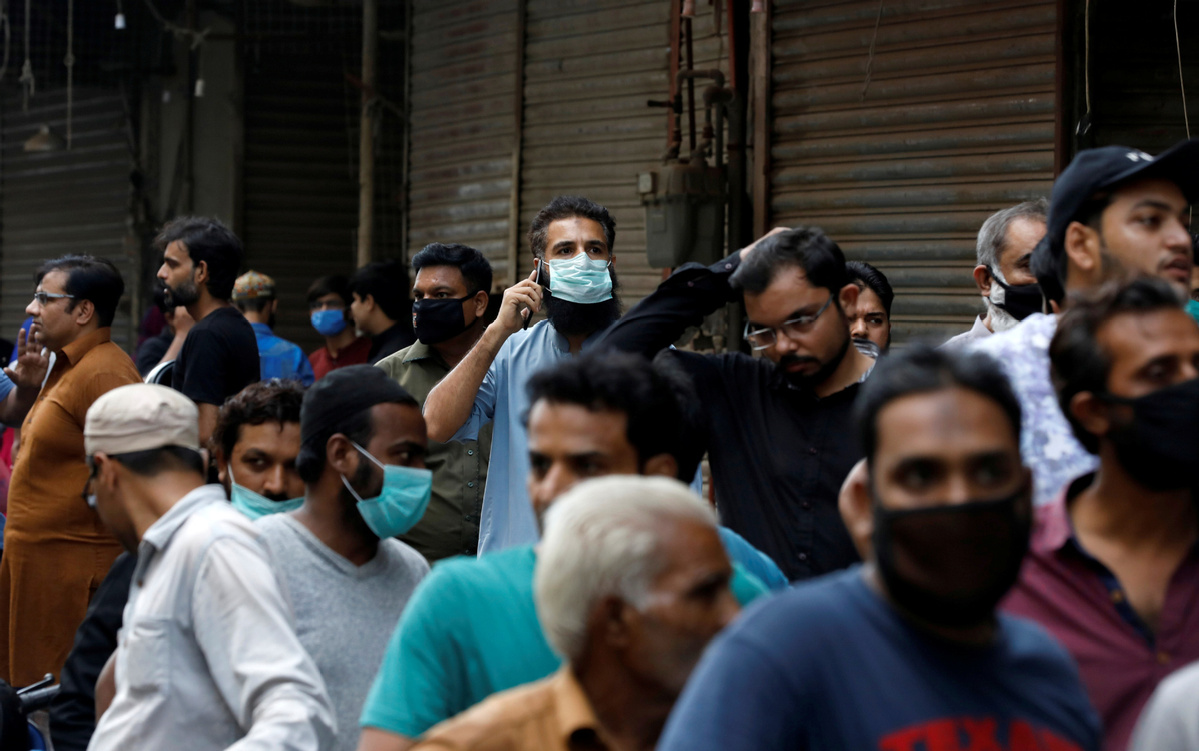 ---
LIVE: Govt enhancing health facilities to contain Covid-19 spike, says PM as tally hits 38,440
Coronavirus numbers are expected to rise and we are prepared for that, says Imran Khan
---
ISLAMABAD / KARACHI / PESHAWAR / LAHORE / QUETTA / MUZAFFARABAD: The novel coronavirus emerged in the central China city of Wuhan towards the end of last year and proliferated to almost the whole world within a couple of months. It's not the virulence or fatality, but the infectivity of the new virus – also known as SARS-CoV-2 – that has set off a global frenzy.

The Covid-19 respiratory illness caused by this mysterious contagion has so far infected more than 4.4 million people in 202 countries and territories of the world – and over 300,000 of them have died and counting.

Pakistan, despite its close proximity with China, remained coronavirus-free until February 26 when a young man from Karachi tested positive after returning from Iran – one of the worst-hit countries. After a brief hiatus following the first case, Covid-19 cases spiked as more pilgrims returning from Iran tested positive for the virus.

Nearly one and a half months after imposing the lockdown across the country, Prime Minister Imran Khan announced to ease the lockdown in phases.

The nationwide tally of Covid-19 patients stands at 38,440 with 13,914 cases in Punjab, 14,916 in Sindh, 5,678 in Khyber-Pakhtunkhwa, 2,457 in Balochistan, 501 in Gilgit-Baltistan, 866 in Islamabad and 108 in Azad Jammu and Kashmir.

The virus has claimed at least 822 lives while at least 10,155 coronavirus patients have recovered.

The situation remains fluid and we're updating stats as soon as new figures are officially released.

Follow The Express Tribune's live coverage of the pandemic here.




12:23am: Sindh governor approves Covid-19 relief ordinance

Sindh Governor Imran Ismail has approved the Coronavirus Emergency Relief Ordinance drafted by the Sindh government, after the provincial government removed clauses pertaining to utility concessions.

According to sources, the governor signed the ordinance after the clauses to which he had earlier objected were removed. The ordinance will be applicable across the province with effect from April 1, 2020.

Under it, payment of rents for shops, houses and offices will be delayed, while the business community will also be given concessions in various taxes. Furthermore, no employees may be laid off or their salaries withheld, though deductions may be made depending on the salary amount.

Read more here




12:12am: 'Covid-19 cases, deaths, recoveries, all on the rise in Sindh'

Announcing that the province saw the emergence of 817 new coronavirus cases, 12 more deaths and 535 fresh recoveries as of Friday morning, Sindh Chief Minister Syed Murad Ali Shah observed in a statement issued on the day that the situation was "critical."

"It [the situation] is critical as not just the recovery rate but the number of new cases and death toll are also increasing," he said.

Speaking about the newly reported cases, he said that the increase in the number was due to the surge in local transmission, explaining that the number of new cases also would increase by a larger margin with the expansion of the testing pool.

Read full story here




12:05am: Second police personnel loses battle against Covid-19 in Lahore

Another police personnel lost his life to Covid-19 while undergoing treatment for deadly disease at Jinnah Hospital in Lahore, a police spokesperson said on Friday night.

Constable Ramzan Alam was performing duties as Deputy Reader SDPO Iqbal Town Circle and was a resident of Fatehgarh Mughalpura, the spokesperson added.

He is survived by wife, three sons and two daughters.




11:25pm: Over 200 held for defying Youm-e-Ali procession SOPs in Sindh

Amid confusion about whether Youm-e-Ali processions were permitted in Sindh, as many as 200 participants were arrested Friday for violating standard operating procedures (SOPs) issued amid the Covid-19 pandemic.

The Sindh government, which had earlier imposed a ban on religious congregations and processions, reportedly later marginally relaxed its restrictions on the occasion, though on the condition that all participants would properly follow all precautionary instructions.

The relaxation was said to be on the request of Shia leaders, who gave assurances that all SOPs would be followed and the number of participants would be limited.

Read more here




11:00pm: 'AJK keeps coronavirus at bay because govt, people and paramedic staff on same page'

Azad Jammu and Kashmir (AJK) President Sardar Masood Khan has appreciated frontline health workers fighting Covid-19 pandemic for successfully controlling the spread of contagion.

"AJK has the highest rate of recovery of Covid-19 patients because our government, people and the medical community are on one page to combat the pandemic," he said while addressing a ceremony held to distribute personal protective equipment (PPEs) and medicines among doctors, nurses and paramedical staff in Muzaffarabad.

The spirit of doctors and other medical staff to save lives of the people at the risk of their own lives had contributed to control the Covid-19 situation in the region, the president said while acknowledging that the people had also set an example by complying with the lockdown directives.

Read more here




10:36pm: Public transport closure remains a nuisance for Karachiites

Despite businesses reopening across the country, the closure of public transport remains a bane for Karachi's poor as they struggle to reach major markets.

Every year in Ramazan, the markets at Saddar, Tariq Road, Hyderi, Jama Cloth, Liaquatabad and other areas see an influx of shoppers, particularly women, seeking affordable purchases ahead of Eidul Fitr.

This year, though, the markets are emptier than usual - partly due to the closure of public transport, which leaves only citizens with access to private transportation or those who can afford expensive fares able to visit markets.

Read more here




10:10pm: K-P extends public holidays till May 31

Departments exempted from lockdown will not be affected by the move, said a notification issued on Friday.




9:30pm: Balochistan reports one more death, 147 new cases of Covid-19

The Balochistan Health Department, in its daily situational report, has confirmed one more casualty due to coronavirus in the past 24 hours to raise the provincial death toll to 31.

It also reported 147 new Covid-19 cases to bring the tally to 2,457.

383 patients have recovered from the virus in the province so far.




9:00pm: 48-hour quarantine condition removed to facilitate more air travellers: Moeed Yusuf

Special Assistant to PM on National Security Division Moeed Yousif, while speaking at today's media talk, said more than 23,000 stranded Pakistanis in different countries have been brought back to the country so far.

Keeping in view the best international practices, he said, a 48-hour quarantine condition has been removed and now our capacity to bring back Pakistani expatriates has increased.

Yusuf said as per directions of the prime minister, 11 to 12 thousand people will be brought back to country every week. Our top priority is to help stranded poor workers and labourers in the Gulf States, he added.




8:45pm: Ehsaas initiative for people who lost jobs due to Covid-19 begins from Monday: Dr Nishtar

Special Assistant to PM on Poverty Alleviation Dr Sania Nishtar, while speaking alongside PM Imran in today's news conference, said category four of Ehsaas Emergency Cash programme will start from Monday.

She said category four is for the people who have lost their jobs due to Covid-19. Under this category around 34,000 applications have been received so far, she said, adding that deserving people can register themselves for this category on pmo.gov.pk

Dr Nishtar said the final decision for the applicants who have registered themselves through message service on 8171 for Ehsaas Emergency Cash will be made on Monday. Successful applicants will get their verifications via short message service on Monday, she added.




8:25pm: 100,000 healthcare workers to be trained for correct use of PPEs: Dr Zafar Mirza

Special Assistant to PM on Health Dr Zafar Mirza, while speaking at today's presser with Prime Minister Imran Khan, said 100,000 health workers, including doctors, nurses, and paramedics will be trained for correct use of Personal Protection Equipment (PPEs). He said the first phase of this training will be completed in four weeks.

Dr Mirza said another 5,000 intensive care unit workers will be trained to handle corona patients.

He said it is great achievement for the country that a Pakistani pharmaceutical company has concluded its voluntary licensing agreement with a US pharmaceutical company Gilead for the manufacture and sale of Remdesivir.

The health czar said this agreement also allows Pakistan to export the medicine to 127 countries facing corona pandemic.

Further details here




8:05pm: Decision to open shopping malls is left to provinces: Hammad Azhar

Minister for Economic Affairs Hammad Azhar, while accompanying PM Imran Khan in today's press conference, said pharmaceutical and essential items shops were allowed to work for the facilitation of people in the first phase of lockdown.

In the second phase, he said, construction industry was opened so that people can work and earn their wages. He said in third phase, vehicle and motorcycle manufacturing companies have been allowed to reopen from Monday next with strict SOPs.

The decision to open large shopping malls has been left to provinces, Azhar maintained.




8:00pm: Three fresh Covid-19 cases raise G-B tally to 108

With three more persons testing positive for Covid-19, the total number of patients have risen to 108 in Azad Jammu and Kashmi (AJK), officials of the state's health department said.

According to them, 76 patients have recovered and 32 are currently being treated in the hospitals. One person has died due to coronavirus in the state so far, they added.




6:37pm: First plasma therapy patient in Sindh recovers from coronavirus

A coronavirus patient who was the first person to undergo plasma therapy in the province has recovered from the virus, testing negative for it on Thursday.

The Liaquat University Hospital (LUH) confirmed that the infected lawyer, who had been critically ill before receiving plasma therapy 12 days ago, had recovered.

The lawyer, who hailed from Sanghar district but resided in Hyderabad, was admitted to the LUH along with his wife and son, both of whom had also tested positive for the contagious disease.

Read details here




5:45pm: K-P reports seven more deaths, 255 new Covid-19 cases in last 24 hours

The Khyber-Pakhtnukhwa (K-P) Health Department, in its daily situational report, has said that seven more people have succumbed to coronavirus in the past 24 hours to bring the provincial death toll to 291.

255 new cases of Covid-19 – 40 from Torkham and 15 from international flights quarantine centers – were reported, taking the tally to 5,678 in province.

Of seven casualties today, four were reported from Peshawar, two from Mardan and one from Swabi.

Meanwhile, another 108 patients have recovered from the mysterious disease in the province to take the total number of recoveries to 1,613. Number of active cases now stands at 3,774 in the province, according to health officials.


255 new cases confirmed (40 from Torkham, 15 from int'l flights quarantine centers) taking total to 5,678 in KP . 7 new deaths reported (4 Peshawar, 2 Mardan, 1 Swabi) taking total to 291. 108 new patients recovered taking total to 1,613 in KP. Active cases at 3,774. pic.twitter.com/VV3KXdyclS

— Health Department KP (@HealthKPGovt) May 15, 2020


4:40pm: Country faring better than predicted coronavirus figures: PM Imran

Prime Minister Imran Khan, in a televised address, on Friday said the country is faring better than the earlier predicted coronavirus figures

"The number of cases will continue to rise, but fortunately, our current numbers stand below the number of projected cases [by this time] which was 52,000."

"The numbers are expected to rise and we are prepared for that. The government is working towards enhancing its health facilities and increasing capacity."

[/fbvideo]

Read full story here




4:30pm: Punjab approves martyr's package for police officials  

Chief Minister Punjab Usman Buzdar has approved a package for the families of martyred police officials who succumbed to the virus in the line of duty.


وزیر اعلیٰ عثمان بزدارکی ڈسٹرکٹ پولیس لائنز ڈیرہ غازی خان آمد اور پولیس لائنز میں شہداء کی یادگار پر حاضری: وزیراعلیٰ نے یادگار شہداء پر پھولوں کی چادر چڑھائی اورفاتحہ خوانی کی۔
وزیر اعلیٰ پنجاب کا کورونا کے خلاف فرنٹ لائن پر موجود پولیس افسروں اور جوانوں کی خدمات کو خراج تحسین۔ pic.twitter.com/FIp7AsJblt

— Government of Punjab (@GovtofPunjabPK) May 15, 2020


4:00pm: Punjab CM relaxes lockdown

Punjab Chief Minister Usman Buzdar has further relaxed the lockdown in the province.

The Punjab government announced the reopening of malls, resuming public transport and business activity.

Punjab Industries and Trade Minister Mian Aslam Iqbal said shopping malls and the automobile industry will reopen from Monday, adding that the standard operating procedures (SOPs) have been finalised.

Face masks, hand sanitisers and thermal scanners will be used to ensure safety.


3:40pm: Chinese billionaire donates medical equipment to Pakistan

Chinese billionaire Jack Ma's Foundation and Alibaba Foundation sent a second batch of relief goods to Pakistan.

The plane arrived in Karachi today. It consists of ventilators, face shields, testing kits and disposable protective clothing.

China in action: 2nd batch of supplies from @JackMa Foundation and @AlibabaGroup Foundation including ventilators, face shields, test kits and disposable protective clothing arrived at Karachi on May 15🇨🇳🇵🇰 pic.twitter.com/7OvAmS9uGA

— Chinese Emb Pakistan (@CathayPak) May 15, 2020
2:40pm: Punjab reports 356 cases

Punjab health authorities reported 356 new cases, taking the provincial tally to 13,914.

Out of the 356 new cases, 168 emerged from Lahore.

Punjab's death toll has reached 234, while at least 4,720 patients have recovered.


2:25pm: Sindh reports 870 new cases

Sindh Chief Minister Murad Ali Shah reported 870 new cases, raising the province's tally to 14,916.

In the last 24 hours, 12 patients lost their lives, taking Sindh's death toll to 255, while at least 3,606 patients have recovered.


1:55pm: International flights suspension extended

The Civil Aviation Authority (CAA) issued a notification stating international flights will remain suspended till May 31.


1:45pm: K-P health minister says province's testing capacity is above 1,500 per day

Khyber-Pakhtunkhwa (K-P) Health Minister Taimur Khan Jhagra said 1,637 tests were carried out across the province yesterday - the second-highest tally to date.

He said K-P testing capacity is consistently above 1,500 per day.

KP Corona Testing Update.
1637 tests across KP yesterday, the second highest tally to date. with the 5 day average approaching 1500 tests per day. Great to now see KP testing consistently above 1500 tests per day. On the route to go higher, much higher. pic.twitter.com/vwY8V8RySL

— Taimur Khan Jhagra (@Jhagra) May 15, 2020


1:10pm: 'Pakistan is testing over 15,500 persons per day'

Federal Minister for Planning and Development Asad Umar said Pakistan has achieved the capacity of testing over 15,500 persons per day.

70 laboratories are fully functioning across the country, he added.

The minister said over 1,000 ventilators are being added to existing health facilities as the number of cases in the country continues to rise.

He said the federal government is working in close coordination with the provincial governments to curb the spread of the virus.




12:45pm: Planning Minister Asad Umar addresses the NA
Planning Minister @Asad_Umar speaking in National Assembly https://t.co/IPqxVeNwU9

— Radio Pakistan (@RadioPakistan) May 15, 2020
12:35pm: Murtaza Wahab says 534 recoveries, 11 deaths in 24 hours

Adviser to Sindh chief minister Murtaza Wahab said 534 coronavirus patients have recovered and 11 lost their lives in Sindh, in the last 24 hours.

The Sindh government spokesperson said overall there are 71 patients in the intensive care unit (ICU) and 35 are on ventilators in the province.

During the last 24 hours, 534 #COVID19 patients have recovered & 11 have unfortunately passed away in #Sindh. Overall there are 71 covid patients in ICU & 35 are on the Ventilator in Sindh.

— SenatorMurtaza Wahab (@murtazawahab1) May 15, 2020
12:20pm: Ahsan Iqbal says govt should reduce petroleum, gas prices

Addressing the National Assembly, Pakistan Muslim League-Nawaz (PML-N) leader Ahsan Iqbal said collective efforts are needed to contain the spread of the virus.

He criticised the government for not forming a comprehensive policy to combat Covid-19.

The PML-N leader said chartered planes should be dispatched to bring back stranded Pakistanis across the globe.

He further maintained that local governments in Punjab should immediately be restored and the federal government should declare an education emergency, reduce petroleum, electricity and gas prices to provide relief to those affected by the lockdown.

Read more here


12:10pm: PM Imran to address the nation today

A meeting, chaired by Prime Minister Imran Khan, will discuss developments of Covid-19.

The premier will be briefed about the virus following his decision to ease the lockdown across the country.

The meeting will compare the situation before and after the lockdown was relaxed.

Federal ministers, special assistants to the prime minister and health officials will attend the meeting.

After the meeting, the premier will address the nation.


12:05pm: 'Those on the frontline should recieve civil awards' 

Addressing the National Assembly, the Pakistan Tehreek-e-Insaf (PTI) leader Amir Dogar said health workers and members of the district administrations on the frontline against the pandemic should recieve civil awards.


11:50am: 7,000 stranded Pakistanis to be repatriated before Eidul Fitr

Federal Minister for Aviation Division Ghulam Sarwar Khan said 7,000 stranded Pakistani nationals will be repatriated before Eidul Fitr.

He said thousands of stranded Pakistanis, including students, workers, members of Tableeghi Jamaat and pilgrims have been repatriated.

Pakistani prisoners from Oman and the United Arab Emirates (UAE) were brought back free of cost.

The minister further maintained that the Aviation Division operated 181 inbound flights, adding that at least 250 Pakistani students from Wuhan will be repatriated through special flights on Monday.


11:10am: NA resumes session to discuss Covid-19

The National Assembly has resumed its session at the Parliament House in Islamabad to discuss the situation arising out of the pandemic.

The session is chaired by Presiding Officer Amjad Ali Khan Niazi.

It is ensuring the implementation of health guidelines and standard operating procedures (SOPs).


10:50am: Three parliamentary reporters, two senators test positive

Federal Minister for Science and Technology Fawad Chaudhry said three parliamentary reporters and two senators have tested positive for Covid-19.

ڈپٹی اسپیکر کی خواہش کے احترام میں اج پارلیمان جانے کا ارادہ کیا ، لیکن تین پارلیمانی رپورٹرز اور دو سینیٹرز کے کرونا مثبت آگئے ہیں اور یہ اب طے ہے کہ ان کو کرونا پارلیمان کی عمارت سے لگا لہذا۶ ارادہ ملتوی کر رہا ہوں امید ہے جلد ورچوئل سیشن بلایا جائیگا جہاں تسلی سے بات ہو سکے گی

— Ch Fawad Hussain (@fawadchaudhry) May 15, 2020


10:40am: 'Local manufacture of Remdesivir is an export opportunity for Pakistan'

Adviser for Commerce, Textile, Industry and Production and Investment Abdul Razzak Dawood said the local manufacture of Remdesivir is an important export opportunity for Pakistan's pharmaceutical sector.

He said exporting the drug during this time will also position Pakistan to play its rightful role on the global stage of public health.


10:30am: Pakistan to start manufacturing Covid-19 treatment drug Remdesivir 

Special Assistant to the Prime Minister on Health Dr Zafar Mirza said that Pakistan will soon start manufacturing the Covid-19 treatment drug Remdesivir.

Addressing a news conference in Islamabad, Prime Minister Imran Khan's aide said a Pakistani pharmaceutical company has conducted a voluntary licensing agreement with US pharmaceutical company Gilead for the manufacture and sale of Remdesivir.

He maintained that Pakistan is among the five countries that the US company signed a licensing agreement with.

Once the regulatory approvals are obtained, the production of the medicine can begin as early as eight weeks, Mirza added.

"Pakistan will also be able to export the medicine to 127 countries."


10:25am: 564 stores sealed in Lahore

The Lahore district administration has sealed 564 stores for violating standard operating procedures (SOPs) issued by the government.

10 shopkeepers were also arrested.


10:20am: Balochistan CM directs commissioners to present SOPs for Eid prayers

Balochistan Chief Minister Jam Kamal said long-term planning is necessary to handle the pandemic.

Presiding over a meeting with divisional commissioners in Quetta via video link, the chief minister directed the commissioners to present standard operating procedures (SOPs) for holding Eid prayers.


10:05am: K-P CM says better healthcare facilities is govt's top priority

Khyber-Pakhtunkhwa (K-P) Chief Minister Mahmood Khan said the provision of better healthcare facilities is the government's top priority.

He ordered concerned authorities to finalise the upgradation process of hospitals and the availability of medical equipment at health centres of merged districts.


9:55am: Punjab governor says 36 telemedicine centres are providing services to citizens 

United Nations Resident and Humanitarian Coordinator in Pakistan Julien Harneis called on Punjab Governor Chaudhary Sarwar in Lahore, to discuss Covid-19 developments.

Chaudhry Sarwar said the government has taken strict measures to ensure implementation of the lockdown.

He said 600,000 ration bags have been distributed to those affected by the lockdown and 36 telemedicine centres are providing services to the masses.


9:40am: Ban on religious gatherings defied in Sindh

Despite the Sindh home department issuing a notification restricting religious gatherings in the province, a large number of people have gathered at the Mazar-e-Quaid on the occasion of Youm-e-Ali.




The notification said restrictions on religious gatherings, including Taraweeh, rallies and processions, that were announced on April 23 would remain intact.

Read story here


9:15am: Nationwide tally stands at 37,218

The total number of confirmed coronavirus cases in the country stands at 37,218.

In the last 24 hours, 33 persons succumbed to the virus, raising Pakistan's death toll to 803, while at least 10,155 patients have recovered.


9:00am: Punjab govt imposes complete lockdown for next three days

The Punjab government has imposed a complete lockdown in the province for the next three days.

After easing the lockdown for the last four days, the Punjab government announced a strict lockdown on Friday, Saturday and Sunday.

All markets across the province will remain closed and law enforcement agencies will be stationed at markets to ensure implementation of government orders.

Grocery stores will remain open from 9am to 5pm. Only medical stores will operate after 5pm.

During congregational prayers, the government said mosques must ensure that standard operating procedures (SOPs) are followed.


8:50am: Postal services, delivery operations to resume in Punjab

The Punjab government has announced that postal services will resume operations from 9am to 5pm.

Inter-city vehicles will also be allowed to operate from 9am to 5pm, said a notification, adding that petrol pumps, truck puncture shops and oil depots will remain open round-the-clock.

24-hour delivery systems are permitted to resume.


8:30am: Shibli Faraz urges citizens to ensure precautionary measures

Federal Minister for Information and Broadcasting Shibli Faraz has urged the masses to ensure precautionary measures as the number of confirmed coronavirus cases continue to rise in the country.

Referring to the crowding of people in markets after the lockdown was eased, the information minister warned people that the cases would rise if people did not exercise caution.

Rs31 billion has been provided to Sindh under the Ehsas Emergency Cash programme, he added.


8:00am: PM stresses awareness campaign about Covid-19

Prime Minister Imran Khan has stressed the importance of a friendly awareness campaign about the novel coronavirus.

Addressing a meeting in Islamabad, the premier said instead of forcing people to adopt precautionary measures, the government must spread awareness about Covid-19.

He maintained that the lockdown is not a solution to containing the spread of the virus, adding that the government is making decisions based on the condition of the people.

The meeting discussed the availability of health facilities and an increase in the capacity of hospitals.


7:40am: Dr Zafar Mirza says training course on PPEs to be launched today

Special Assistant to the Prime Minister on Health Dr Zafar Mirza said a training course on personal protective equipment (PPE) will be launched at the Pakistan Institute of Medical Sciences today.

He said the online course will be accessible to over 100,000 healthcare workers across the country.

Launching today at PIMS first training course on PPEs use under the auspices of "We Care! National Campaign for Protection and Support of Frontline Health Care Workers". An online course which will be given to 100,000 HCWs across the country. All Hlth Ministers fully on board.

— Zafar Mirza (@zfrmrza) May 15, 2020
7:20am: Alvi advises universities to adopt info-communication technology 

President Dr Arif Alvi has advised universities to adopt innovative information communication technology for providing quality education to students amid the pandemic.