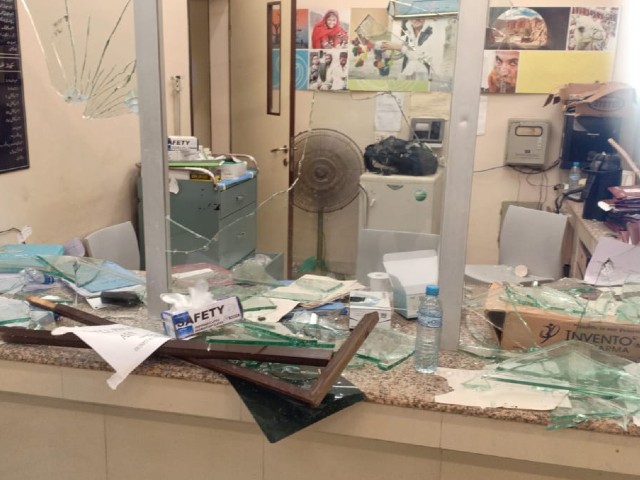 ---
Karachi hospital vandalised over 'refusal to hand over' Covid-19 patient's body
According to SOPs, authorities arrange funeral bath of infected patients before burying them in designated graveyards
---
KARACHI: Fear prevailed among the medical staff of Jinnah Postgraduate Medical Centre (JPMC) after over 20 enraged people vandalised an isolation ward at the hospital on Thursday night, following the administration's refusal to immediately hand over the body of a coronavirus patient to his family.

The 60-year-old patient had been shifted from the Dow University of Health Sciences' (DUHS) Ojha campus to JPMC on Wednesday in critical condition. He passed away on Thursday evening.

The mob attacked the ward on the hospital's ground floor after the management told them that the family could not take the body without permission of the administration. While they managed to take the body outside, it was brought back in after the Rangers arrived at the hospital.

Videos and photographs taken after the attack showed broken glass panes at a counter, with shards of glass, furniture and fans scattered on the floor. No one was injured in the attack.

Covid-19 hospital to be set up in Karachi

"Everything in the ward was ransacked," said JPMC executive director Dr Seemin Jamali, adding that the incident had created fear and panic among the medical staff who had been caring for other patients.

Dr Jamali stated that the Rangers and police were called to the hospital immediately, while at least 10 people were arrested for the violence. "The law enforcement agencies have now been deployed at the hospital."

She explained that it was not allowed for anyone to take a coronavirus-positive patient's body without following certain guidelines, as per the standard operation procedures (SOPs) devised by the government.




The SOPs dictate that the authorities arrange the funeral bath of the infected persons before burying them in specially designated graveyards, in order to reduce the risk of transmitting the virus to others.

"The incident undermined the efforts of hardworking medical professionals who are risking their lives to protect others," deplored Dr Jamali, pointing out that many healthcare workers had already fallen to the deadly disease in the line of duty.

'Intolerable behaviour'

Meanwhile, on the directives of Sindh Health Minister Dr Azra Fazal Pechuho, a case was registered against those involved in the vandalism.

Condition of 48-hour wait for testing abolished

In a statement issued on Friday, she condemned the attack, warning that such behaviour would not be tolerated. "The doctors, nurses and other staff working in the healthcare sector are our frontline heroes," Dr Pechuho said, adding that the security of hospitals would be ensured.

The minister said that the administration handed over the bodies of coronavirus victims to the family in line with certain SOPs. "We believe it is our responsibility to secure their family members as well as other people," she maintained.

Dr Pechuho further claimed that those responsible for the incident would be dealt with accordingly after a thorough investigation.


Family members of a patient attacked a portion of the JPMC, Karachi, damaging equipment, creating fear among doctors, nurses. At least 8 persons held. LEAs deployed outside hospital. pic.twitter.com/L3FcmxtMQe

— Sameer Mandhro (@smendhro) May 14, 2020