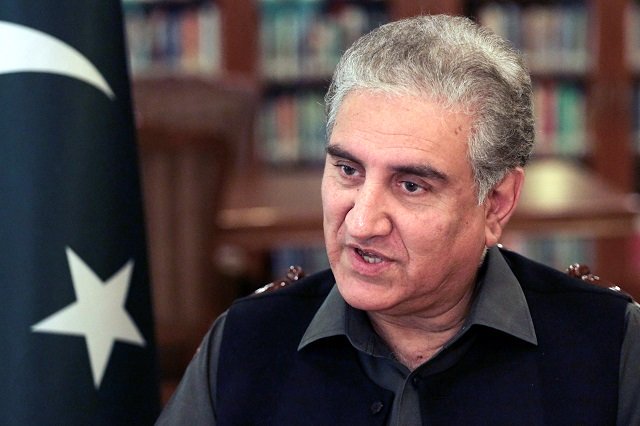 ---
Qureshi urges world to realise plight of Kashmiris
Foreign minister says people of occupied valley are facing siege for last nine months
---
ISLAMABAD: Foreign Minister Shah Mehmood Qureshi on Thursday declared that the people of the Indian Occupied Jammu and Kashmir (IOJ&K) had been forced to live under fear and observed the Covid-19 lockdowns were making the world realise what restrictions on Kashmiris' fundamental freedoms would feel like.

"Today the world is realising what a lockdown feels like. Now think about Kashmiris who have been under this lockdown and siege for nearly a year," he said in the Senate.

"Kashmiris' fundamental freedoms such as right to life, right to food, right to assembly and right to expression are all unavailable since India revoked the region's semi-autonomous status last year," he added.

"Our objective is to make India accountable over human rights violations, seek permission for international media and independent observers to visit occupied Kashmir, lifting of lockdown, ensuring food and medical supplies, release of political prisoners, abolishing draconian laws particularly reversal of all illegal steps taken by New Delhi since August 2019."

The minister said the whole nation was united on the Kashmir issue and Pakistan would continue to extend all possible support to the people of occupied valley and highlight Indian state terrorism on all forums.

He observed that people of occupied Kashmir were facing siege for the last nine months and they were being denied of their basic rights, adding these steps of India had exposed its so-called claim of being a secular state.

Pakistan condemns India's state-terrorism against Kashmiris

"The Indian forces have started massacre of innocent Kashmiris and their bodies are also not being handed over to their heirs. The youth are being kidnapped and subjected to severe torture in order to create fear in the region," he said.

"According to National Federation of Women Report, around 13,000 Kashmiri youth have been arrested so far and are being tortured. The entire Kashmiri leadership is behind bars and over 6,000 innocent people are incarcerated," he added.

The foreign minister declared that the Indian government wanted to impose the agenda of Rashtriya Swayamsevak Sangh in the occupied valley.

He pointed out that India had also changed the rules for acquiring domicile in the occupied valley to settle non-Kashmiris and convert Muslim majority into a minority there.

He said there were reports that Covid-19 had been spreading fast in the occupied region which was resultantly increasing the death toll.

"Educational institutions are already closed, while due to ban on internet service, no virtual education can be imparted to the students," he said.

The FM highlighted as a result of Pakistan's diplomatic efforts, the international community was now criticising India and Kashmir issue had come under discussion in the Security Council thrice.