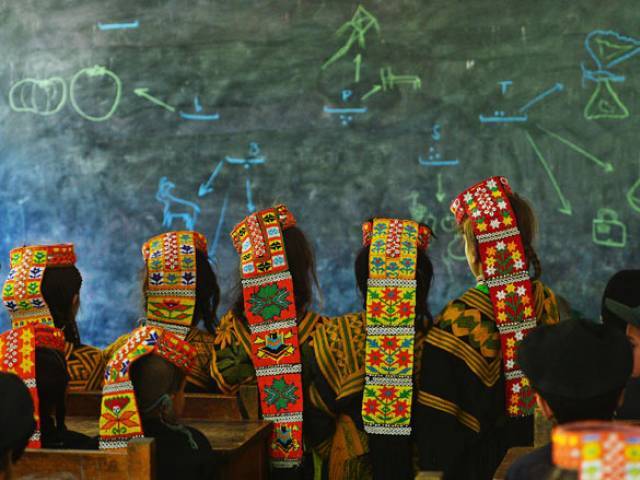 ---
Only locals to celebrate Chilam Joshi festival in Chitral
Festivities limited to three days from today
---
PESHAWAR: The annual spring festival, Chilam Joshi, organised by Kalash tribes in Chitral, will see muted celebrations this year owing to the spread of the novel coronavirus (Covid-19) pandemic.

The global spread of the virus, which has forced many countries to go into lockdown, means that the Kalash tribes will not be able to earn revenue from the droves of visitors who journey to their remote valleys every year to see the festival.

Chitral Deputy Commissioner Naveed Ahmed held a meeting with a delegation of notables from the Kalash Community regarding the festival which begins on May 14 (today). During the meeting, Ahmed said that a ban on large gatherings is in effect in all of Chitral under Section 144 of the Criminal Procedure Code (CrPC).

It was thus decided that due to the spread of Covid-19, neither foreign nor local tourists will be allowed to attend the festival. Moreover, Kalash tribes living in three valleys of Bumburet, Rambur and Birir, will also not be allowed to visit the other valleys to partake in celebrations there.

Moreover, the four-day festival will also be abridged to just three days this year.

Financial toll

Beyond a major religious and cultural festival, Chilam Joshi was a major source of revenue for residents of the remote valley. Hundreds of foreign and local tourists would visit the valley every year to catch a sight of the fabled Kalash tribes donning their iconic headdress and colourful clothes performing traditional rituals.

Not only would these tourists rent rooms in local hotels, eat food, but also purchase locally made merchandise.

The Kalasha people wait for the festivity as it brings business to the valley but the virus has hit them badly, said Umer Khan, a local of the valley told The Express Tribune.

"Previously we were running hotels in the three valleys, but due to coronavirus pandemic we have been forced to think about alternative sources [of income]," he said, lamenting that the valleys have been sealed by the local authorities.

"The one thing that is very sad for us is the absence of tourists as locals, especially those associated with the hotel business, will suffer a lot from not having any tourists," Yasir Sharakat, the owner of the Alexander Hotel in Bamburet.

"Tourism is a big source of income for the local community and in the past, there used to be a rush [of tourists] during these days but this year our hotels are closed."

Chitral Hotels Association President Idrees Khan told The Express Tribune that this will be a tough year for them as their main business season is about to start, but because of the pandemic, everything is closed.

People associated with the tourism industry have urged the government to announce a bailout package for the hotel industry and related services. 

Published in The Express Tribune, May 14th, 2020.