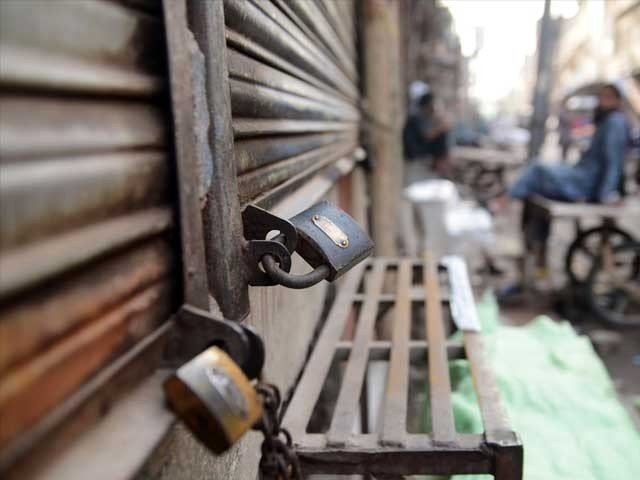 ---
11 shopping centres sealed in Rawalpindi
Eid rush continues in markets with little care for SOPs
---
RAWALPINDI: The Rawalpindi district administration on Wednesday sealed 11 small shopping centres in the city after shopkeepers there failed to adhere to the standard operating procedures (SOPs). However, this did not deter shoppers who continued to flock to markets to complete their Eid shopping.

Most city markets had re-opened on Monday after a 50-day lockdown, imposed to curb the spread of the novel coronavirus (Covid-19) pandemic.

As soon as the markets opened at 9am, shoppers flocked to markets such as Moti Bazaar, Bara Bazaar, Commercial Market, Saddar, Bank Road, Macy's Gate, Hospital Road, Adamjee Road, and Tench Bhatta Market. As a result, traffic congestion and snarl-ups were seen in these markets.

By noon, the market is full of women and girls busy in their Eidul Fitr shopping. Most of the rush was seen at stores dealing in garments, artificial jewellery and cosmetics.

Many shoppers disregarded social distancing and other preventive SOPs against Covid-19 infections as prescribed by the government.

Shoppers tried to complete their shopping for Eidul Fitr before the 5pm deadline for shops to close and mindful that markets will remain closed on the weekends.

Shopper Rashida Bibi at the Moti Bazaar said that owing to the restrictions introduced by the government during the 'smart lockdown', the markets will shut on Friday and will not reopen until Monday, hence she wants to get as much shopping done before then.

Suleman, who was trying to find Eid dresses with his family in Raja Bazaar area, said though he used to leave home to purchase daily-use items during the lockdown, his family had come out after almost a month for Eid shopping.

While people are trying to maintain social distancing and wearing masks, it is very difficult to do so in such congested markets, he added.

Owing to the demand and zeal of shopkeepers, traders in Bara Bazaar on Tuesday night closed the shutters of their shops and set up stalls outside the closed market to cater to the large number of shoppers who frequented them.

The Rawalpindi district administration, meanwhile, claimed that it was taking action against stores which had failed to follow SOPs. In this regard, they said that they had inspected 617 shopping centres and shops in the city and sealed 11 of them over the past 24 hours for violating the terms of the smart lockdown. Moreover, as many as 203 public places were disinfected in the city.

Rawalpindi Deputy Commissioner Captain (retired) Anwarul Haq said that the district administration and the price control magistrate are also active in monitoring food prices during Ramazan and that during May, they inspected 17,000 business centres and shops and imposed fines worth Rs5.3 million.

Meanwhile, health officials said that during this period, at least 52 new Covid-19 cases have been reported in Rawalpindi, raising the total number of cases in the city to 1,120. The virus has so far claimed as many as 59 lives in the city, including four in the past day.

Published in The Express Tribune, May 14th, 2020.