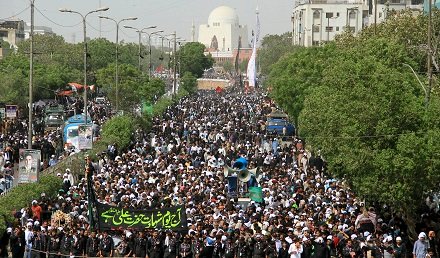 ---
Sindh restricts religious processions, gatherings amid Covid-19 fears
However, MWM plans to carry out Youm-e-Ali processions despite ban
---
KARACHI: The Sindh home department issued a notification on Wednesday clarifying that religious processions and gatherings were prohibited in the province, in the wake of confusion about restrictions on them.

According to the notification, the restrictions on religious gatherings, including Taraweeh, rallies and processions, that were announced on April 23 would remain intact.

It added that the decision had been made in consultation with religious scholars.

Despite the government ban, however, the Majlis Wahdat-e-Muslimeen (MWM) announced that they would go ahead with processions planned to commemorate Youm-e-Ali, which falls on Ramazan 21.

"We will start the main procession from Numaish and it will culminate at Imambargah Hussainiya Iranian in Kharadar," a MWM Sindh spokesperson told The Express Tribune, adding that they would follow the standard operating procedures set out by the government, such as maintaining social distancing and wearing masks and gloves. "We will organise the event come what may."

Over 730 fresh coronavirus cases surface in Sindh amid lockdown relaxation

He added that there was no such ban imposed in the other provinces, insisting that the Sindh government should not stop them. "The arrangements have been finalised in Punjab, Khyber-Pakhtunkhwa and Balochistan. No other government has any objections to it. We fail to understand why the Sindh government is putting restrictions on the processions," he remarked.