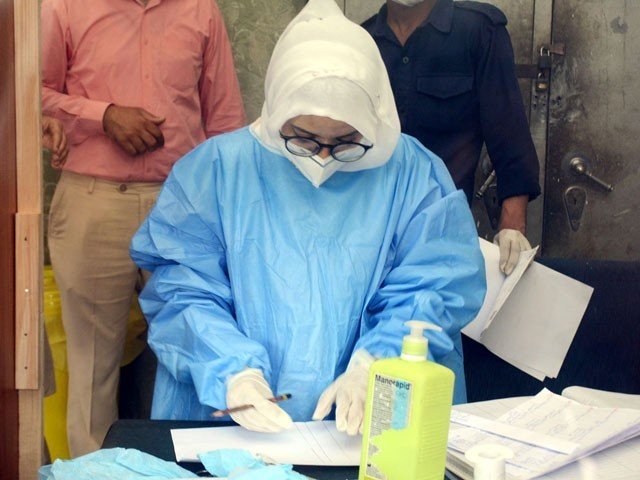 ---
Sindh's slow Covid-19 recovery conundrum
Clearance of patients pending as new samples pile up for testing
---
KARACHI: Though as many as 606 Covid-19 patients were sent home after recovery on Wednesday - by far the highest number reported in a day yet - this did little to raise Sindh's coronavirus recovery rate, which has been sluggish compared to those of other provinces.

One of the primary factors contributing to the province's slow recovery rate is the increasing burden of re-testing the samples of infected persons on laboratories.

Naturally, as the government increases the province's testing capacity, more and more cases continue to emerge. But at laboratories, the number of tests conducted daily is much higher than the tally of suspected cases screened for the infection every day.

"We are not just required to test new suspected cases, but also those who are infected and have completed their quarantine periods," explained Sindh health department spokesperson Meeran Yousuf.

The health department has boosted its testing capacity to 5,600 tests per day at the moment, and at least 100 tests conducted daily belong to those who were earlier diagnosed and now need to be re-tested for clearance.

Over 730 fresh coronavirus cases surface in Sindh amid lockdown relaxation

"This number will continue to increase as we test more and more suspected cases," said Yousuf. This is despite the health department deploying 250 technicians, who work round the clock, for testing coronavirus samples, she added.

Another health department official, on condition of anonymity, revealed to The Express Tribune that while new samples continued to arrive at laboratories for testing, the backlog of samples of patients needed to be re-tested was increasing day by day.

"The re-testing of several patients is pending," he said, adding that Sindh Health Minister Dr Azra Fazal Pechuho had ordered the immediate re-testing of infected patients so that the burden on hospitals could be reduced. "This is why, all of a sudden, the recovery of over 600 patients was reported on Wednesday," the official assessed.

Sindh had reported the recovery of a total of 2,835 coronavirus patients as of Wednesday morning.

Elaborating further on the matter, a senior doctor working for the health department told The Express Tribune that an infected person needed to test negative twice consecutively before he or she could be given clearance.

"While in some countries testing negative once suffices to clear a patient of the infection, here in Sindh, a patient is required to test negative at least twice for clearance," he explained.

The need for testing negative twice is justified by the discrepancies in test results that have been reported in the province over time.

Sindh amends epidemic diseases act

For instance, Sindh Assembly member Syed Rashid Shah Rashdi from Pir Jo Goth, who initially tested positive for the coronavirus, tested negative in the second screening and then once again tested positive the third time.

This is so because the virus acts differently in different bodies, claimed a health department official, noting that the pandemic was still very new and research on it was underway. Saying that the health department had been corresponding with health experts from the United Kingdom on the matter, he added that similar discrepancies were being observed there too.

According to health officials, Covid-19 victims in Sindh are usually found to be suffering from other ailments and conditions as well, such as diabetes mellitus, hypertension, heart diseases, asthma, chronic renal problems, comorbidities, liver cirrhosis, hepatitis and old age. The victims also included patients on dialysis and those of autoimmune diseases.

The health department data also shows that around five per cent of those who fell prey to the coronavirus had multiple diseases.